Campus groups work to prepare student voters for election day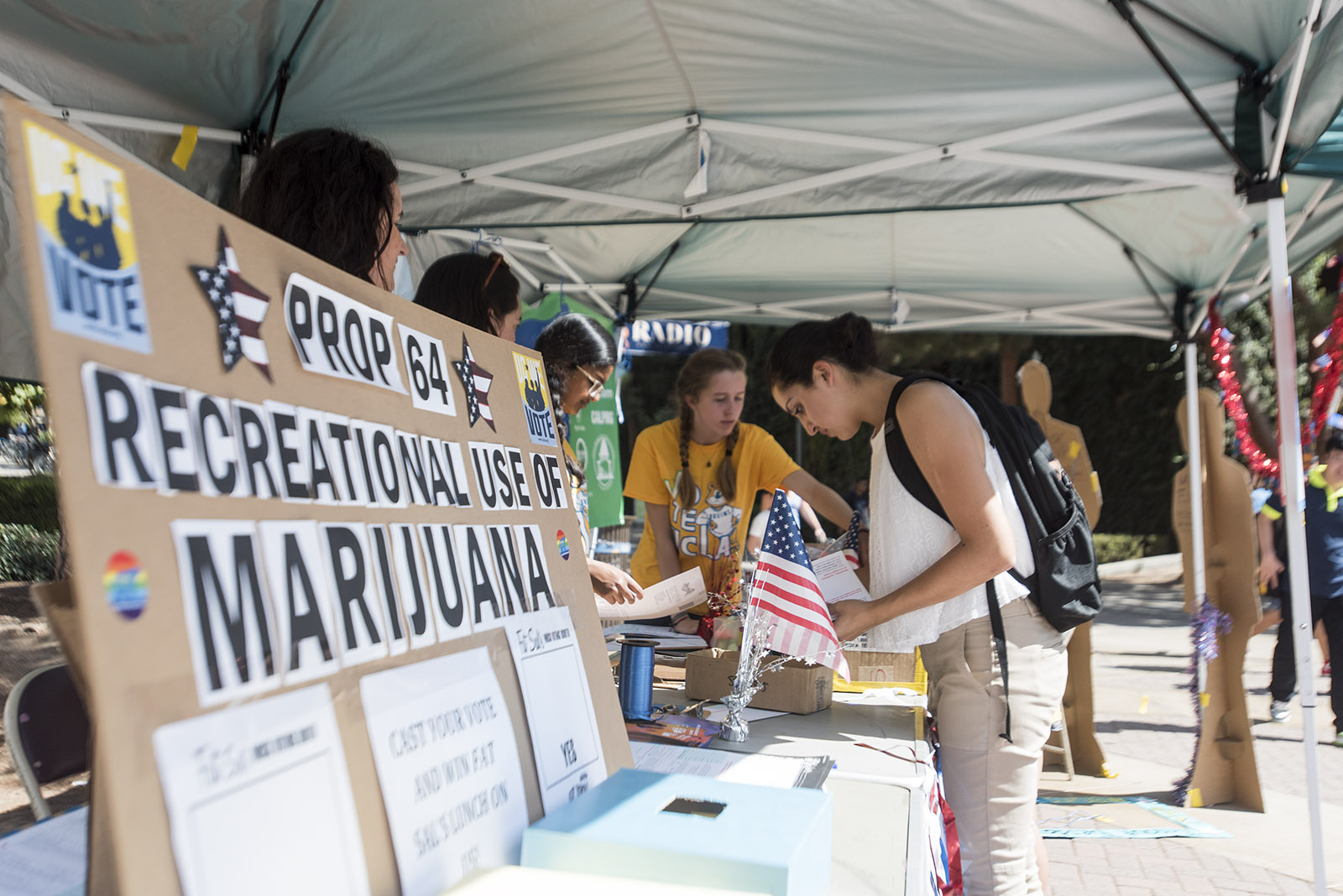 Different campus groups around UCLA and UCSA are working in the days leading up to the election to inform voters on important ballot measures. (Pinkie Su/Daily Bruin)
UCLA campus organizations and departments are working to inform voters about the different candidates and ballot measures for Tuesday's election.
Student groups within BruinsVote!, a coalition that aims to increase student participation in elections, have compiled information about candidates, ballot measures and polling places to help students cast their votes.
Rafi Sands, the undergraduate student government external vice president, said his office will distribute 4,000 copies of voter worksheets on Monday and Tuesday. The worksheets include short summaries of ballot measures on one side and maps of assigned polling places on the back.
Sands said BruinsVote! focused on educating students about state, county and city ballot measures because local races for the U.S. House of Representatives and California State Assembly are not competitive this year.
Sands added he thinks it is difficult to prioritize which propositions students should know.
"It's hard to do because there's so much on the ballot," Sands said. "When we have to make decisions, we think about the impact and text of a bill – whether it will have a meaningful impact on students if it passes."
[Read more: UCLA student groups beat USC in voter registration competition]
Sands also said his office wants to help students find where to vote and make sure they do so.
"For registration we wanted to make sure students (are registered) at the right address and when to submit their forms," Sands said. "A surprising number of students don't know they are assigned to a polling place (based on their address)."
Joe Jacobson, fourth-year economics and political science student and founder of Vote for Our Future, said his group compiled information with BruinsVote! about candidates and propositions.
He added he thinks students can access information if they look for it in places like the UCLA Government and Community Relations office.
Jonathan Van Dyke, spokesperson for UCLA Government and Community Relations, said the office worked with BruinsVote! to provide registration forms and social media posts.
He said the office has a nonpartisan page on its website with information on local and state-level issues, propositions and candidates. The office received much of its information from the Los Angeles County Registrar-Recorder/County Clerk and posted direct links to candidates' campaign websites to direct users without imparting an opinion about them.
[Related: Newly signed Student Voter Act to facilitate registration]
The University of California Student Association, which advocates on behalf of all UC students, collaborated with the National Council of La Raza to assemble its voter guide. UCSA President Ralph Washington said the organizations aimed to provide a simple list of ballot propositions and emphasize the ones that might interest students.
"Some propositions might be of greater concern and many of them are written in arcane language," Washington said. "We wanted to provide a way to better understand the issues."
Washington also said that because UCSA advocates on behalf of students, it took positions on propositions that might impact students, such as the repeal of the death penalty, plastic bag bans and funding for education.
"UCSA tries to elevate student perspective and make student concerns explicit, so sometimes it makes the most sense to take one stance or another on certain issues," Washington said.
Polls for Tuesday's election are open from 7 a.m. to 8 p.m. on the Hill and in the North Village.
Contributing reports from Isabella Welch, Daily Bruin contributor.
Click the banner to read more election endorsements and analysis.