Active Minds seeks to provide support in the midst of deaths on campus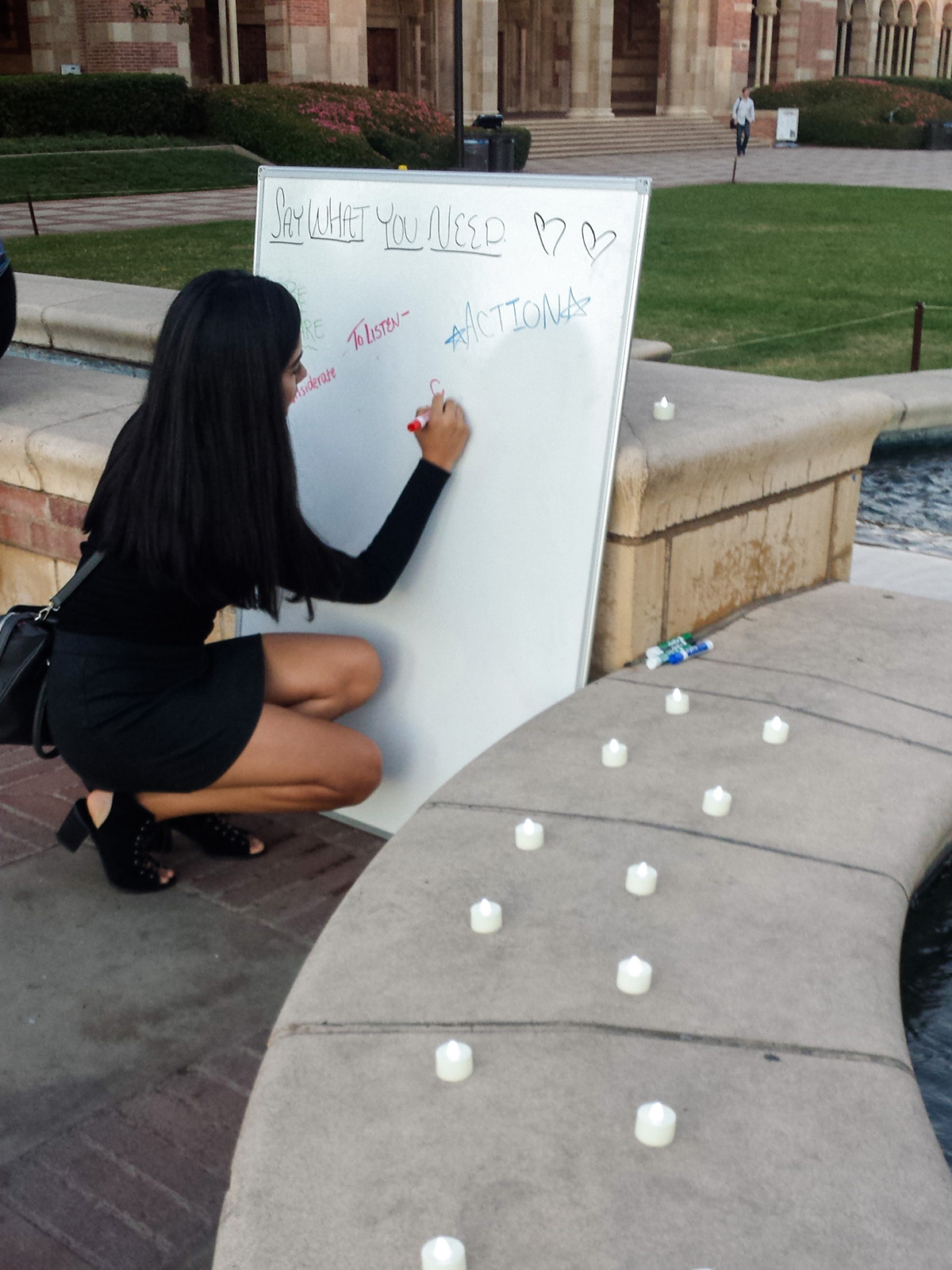 Active Minds held a Community Healing Space for students in Royce Quad on Friday evening to help them talk about and heal from recent tragedies on campus. (Courtesy of Brooke Houser)
About 15 students gathered around glowing candles in Royce Quad on Friday night to express their feelings about the recent deaths on campus.
The undergraduate student government committee Active Minds held an event called Community Healing Space in response to the death of a 63-year-old man who fell from the Biomedical Library. Two weeks prior, a 20-year-old student died after falling from Boelter Hall; his death was ruled a suicide by the Los Angeles County Coroner.
The committee aimed to give students a space to talk about their feelings regarding the deaths in a safe and supportive way, said Brooke Houser, fourth-year psychology student and Active Minds executive director.
Active Minds, a committee in the USAC Student Wellness Commission, aims to educate students about the stigma surrounding mental health.
At the event, some students spoke about their personal experiences regarding the deaths and mental health.
"The best way to really understand (feelings) is opening up to people and not struggling in silence, because there will always be someone there for you," said third-year psychology student Jacqueline Do, who attended the event.
Do said she was studying outside the Biomedical Library when the second death occurred. She had her headphones in, so she was not immediately aware of what happened. Then, she heard sirens and saw paramedics. She thought at first that another student had died.
Event organizers provided cards offering mental health resources for students and staff, including information about UCLA Counseling and Psychological Services, suicide hotlines and how to help friends who might be having suicidal thoughts.
Houser said she helped organize the event to let students and staff know that there are people who care about the way they feel, especially because she felt UCLA acted passively in response to the incidents.
At the event, students could write messages of support on a whiteboard titled "Say What You Need," or take sticky notes with encouraging phrases from a whiteboard titled "Take What You Need."
Associate Vice Chancellor Monroe Gorden and Administrative Vice Chancellor Michael Beck sent an email to students and faculty Friday evening with links to mental health resources. The email provided information about different counseling programs on campus, such as CAPS and the Consultation and Response Team, a team of staff members who respond to reports of troubled students.
But Houser said she felt UCLA should have taken a more active response.
"I'd like to see more 'We care about you' than 'Here's a list of (mental health resources)," Houser said.
Christina Lee, third-year psychobiology student and USAC Student Wellness commissioner, said she heard some students say they felt ignored and unsupported, and she thinks events like these are important to tell students their voices are being heard.
Sakina Ayaz, fourth-year anthropology student and member of SWC, said events like vigils can validate students' feelings of depression or anxiety. She added these events need more promotion so students know they are happening.
Most of the students who attended the event were affiliated with SWC, and many left within 15 minutes after talking to each other about how the deaths affected them. Some students said they think the event should have gotten more attention.
Do said she thinks more students are probably affected by the deaths in the same way she was and that knowing about the event could have helped them work through their feelings.
She said she was affected by the deaths because her grandfather attempted suicide multiple times. Do added her grandfather was fortunate to have her family supporting him, but not everyone has that support.
Do said she thinks events like these are inspiring because they are examples of students helping students and recognizing the importance of support.
"It is very empowering … that we have students on campus that care about each other," Do said.
After the event ended, students and organizers moved the candles to the Bruin Bear, Boelter Hall and the Biomedical Library to honor the student and man who died.