Q&A: Stanford Daily gives insights on water polo match against Bruins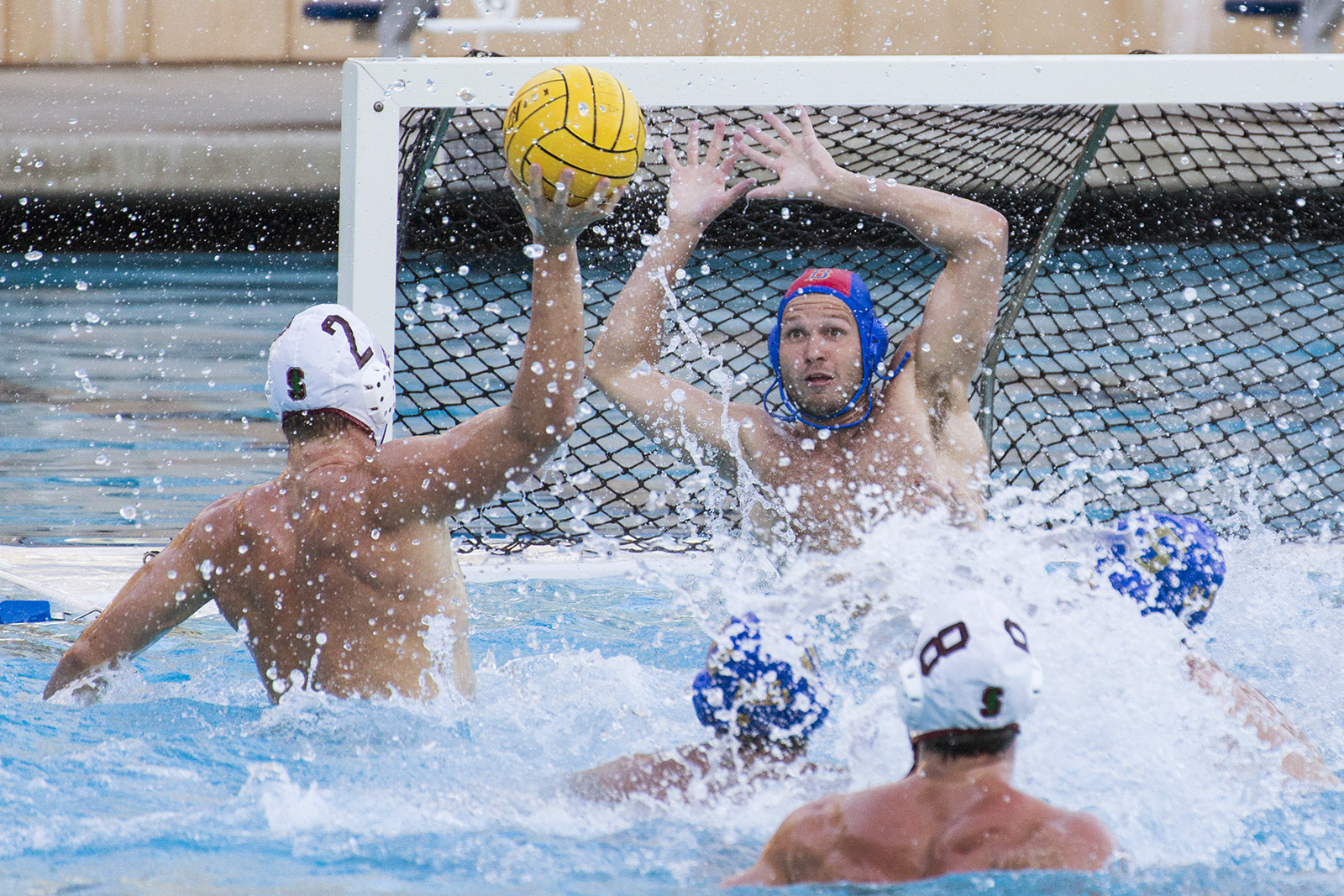 Since 2013, senior goalie Garrett Danner's first season in the cage for UCLA, the Bruins have had a 5-3 record against Stanford. (Daily Bruin file photo)
October 27, 2016 10:42 am
The No. 1 Bruins' second regular season conference matchup comes at home Saturday when UCLA hosts No. 6 Stanford.
Daily Bruin Sports reached out to The Stanford Daily's Laura Sussman, the desk editor for men's water polo, to preview the top-5 contest.
Daily Bruin Sports: Stanford is in an interesting position this year, as the team is redshirting seniors Jackson Kimbell, Reid Chase, Connor Stapleton, goalkeeper Drew Holland and freshman Ben Hallock, who was on the men's senior national team in Rio. Why the redshirts of some of the Cardinal's best players?
Laura Sussman: From what I've heard from the players and our coach, this year was supposed to be kind of a down year, so he wanted to retain players. The players that are redshirting have so much potential, he's just trying to retain them and see how much he can have the team build together for later on.
There's a decent amount of sophomores and they're very good. That's also a big part of it, they've improved themselves so much from last year … You have to keep the balancing act between the upperclassmen and the lowerclassmen, so I know that it's really important for them this year to have the new freshman and especially the sophomores really have a chance to play. That also helps for rebuilding for the next couple of years.
DB Sports: Speaking of sophomores, Blake Parrish seems to be the go-to guy for Stanford. He scored 24 last year to lead all of Stanford first years in goals, and this season, he's already up to 36. Does the way Stanford plays center around him?
LS: We had (Bret Bonanni) leave, and he was a go-to guy for four years. He was so important to the team and holds records for goals scored and all that stuff, so I don't think that Parrish has exactly stepped into his shoes. I think it's more of a team effort – we have (driver) Cody Smith, who's a junior this year and he's been helping so much – but Parrish has really been stepping up to the plate.
He played really well last year, but this year he's just like this unbeatable force. I know the team is relying on him a lot, but I know that they're also – they don't have Holland this year – so they are relying on the other end on (Oliver Lewis) in goal, and as I said before, Smith. Then we have (drive Mitchell Mendoza) who's the other sophomore, and I think that also brings back to how there's a really strong sophomore class being represented and they have really meshed together so well, so I think that has helped Parrish be the go-to guy because he has these people surrounding him and they feed off of each other so well.
DB Sports: Stanford lost to UC Santa Barbara on Saturday for the first time since Sept. 29, 2012. Thoughts?
LS: It was tough news to hear, because it was one of those things where you went into it so sure. We have this habit – which usually is a good habit – of we (scoring) early on, we did the same thing with Pepperdine a day later, the next day on a Sunday. We usually get two or three goals as soon as we can and that stirs the momentum for the rest of the game.
For some reason, against UCSB we got the early goals in and we couldn't keep up the rhythm. I think UCSB did a really good job of breaking that rhythm, and then they had Jovanovic and Cotterill, especially on offense we just couldn't seem to keep up with them, and they had Lenihan in goal. We're usually very good at getting accurate shots and passing and really clean assists, and we weren't able to do that especially when it counted against UCSB. It was a close game, a lot of goals being traded, but at the end of the day, we just couldn't keep up the momentum that we are usually so good at having.
DB Sports: After seeing what the Bruins do to go-to players, case and point Cal's Johnny Hooper was held to no goals this past week, how do you think Parrish and Stanford will do this weekend?
LS: I have no idea. It's such a mentality thing also, I think the UCSB loss could either play to our favor – they say "not again" – or it could be something that hurts them to the extent of being a little more unsure. You guys have had an even better season than us, so I guess on paper you guys should be doing better, but Lewis has just been killing it in goal, I have to say it's so much fun to watch him play.
Parrish of course, the team has been working a lot on how to get Parrish open because it definitely is going to be hard for the team if he gets shut down. I don't know, it's going to be a fun game. It's a bit nerve-wracking … we have almost a full week of recovery, which is great. But it's kind of one of those things where … because (the teams) are both so good, that I think it really comes down to who has more grit and who's willing to fight for it until the very end.
Hull joined the Bruin as a freshman in 2015 and contributed until 2017. He was an assistant Sports editor for the 2016-2017 academic year and spent time on the men's water polo, women's water polo, women's soccer, track and field and rowing beats.
Hull joined the Bruin as a freshman in 2015 and contributed until 2017. He was an assistant Sports editor for the 2016-2017 academic year and spent time on the men's water polo, women's water polo, women's soccer, track and field and rowing beats.