Jonathan Friedland: Measure M provides LA residents opportunity to drive forward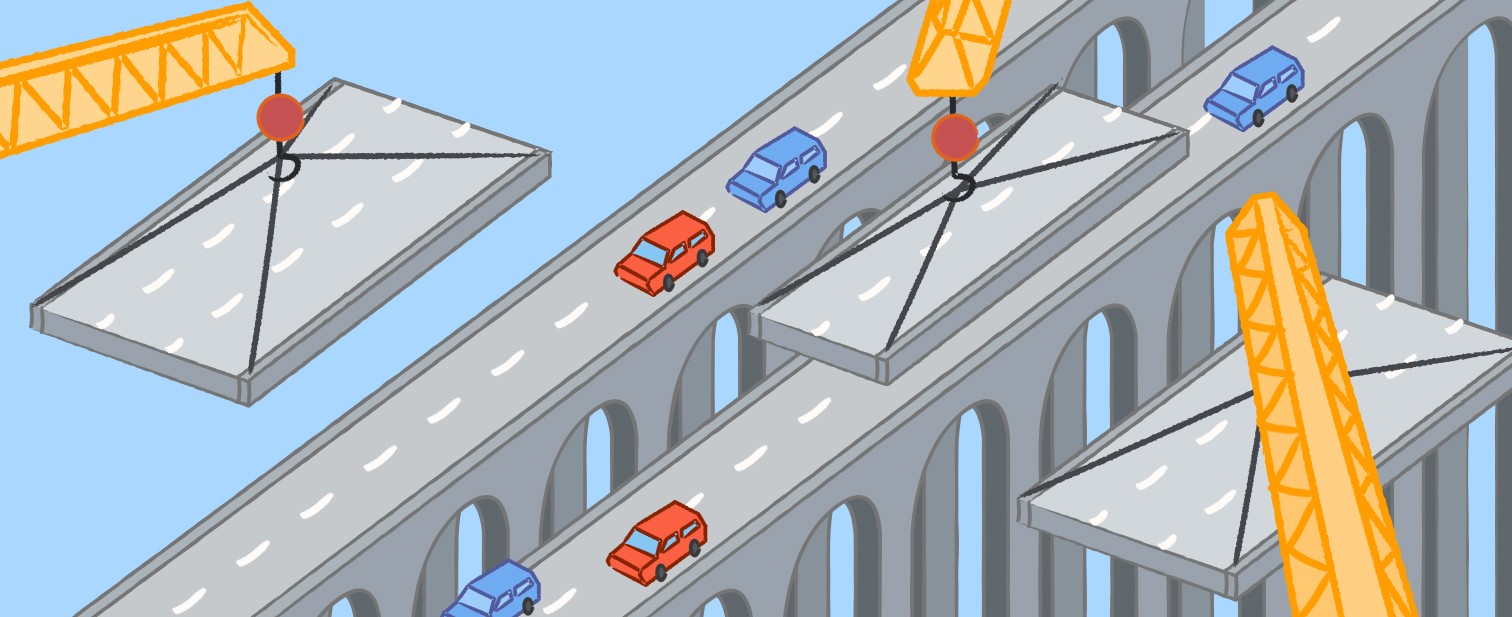 (Harish Balasubramani/Illustrations director)
Imagine Bruins riding a connected rail from Westwood to downtown Los Angeles, the San Fernando Valley and LAX by paying just four more cents than for a handle of the finest Prestige Vodka. LA county voters might be able to make that fantasy a reality at the polling places next week by approving Measure M.
In 1968, LA voters were asked something similar: approve a sales tax increase to construct rail lines connecting Long Beach, LAX, the San Fernando Valley and Westwood. Opponents successfully argued that Los Angeles has too much sprawl and is far too decentralized for residents to use public transit, defeating the measure. After 48 years, to the chagrin of Angelenos, traffic is at exorbitantly high levels on the 405 and 10 freeways, and seven- to eight-mile commutes take over an hour – even for those in the high-occupancy vehicle lane.
Measure R, a similar ballot measure passed in 2008, will permit Measure M to build on and accelerate transportation projects across the city, providing enough funds to vastly develop Los Angeles' public transportation over the next 40 years.
On Election Day, LA county residents have the option to erase regrets from nearly 50 years ago and expand LA's public transportation network along with its HOV lanes on a grandiose scale by voting yes on Measure M, which increases the county sales tax by a half-cent to fund transportation projects.
The city needs a major transportation overhaul. Los Angeles' streets and highways discourage any kind of commuting except driving alone. HOV lanes move as slowly as normal lanes. Bike lanes are virtually nonexistent. Sidewalks are in faulty condition and the bus system is not sufficient enough to effectively help commuters.
[The Quad: The pros and cons of Measure M]
On top of that, Los Angeles' freeways – the linchpin of its transportation system – are some of the slowest in the nation. Out of the top seven most congested freeway sections in America, Los Angeles is home to six of them. Although the bottlenecked freeway sections are only four to five miles in length, combining the six routes leads to an average of over $10 millionof fuel wasted annually by drivers sitting in traffic.
Measure M can help fix these problems. It would incentivize people to carpool by building additional HOV lanes on the 105 and the 10 freeways, along with additional two express lanes in each direction on the 405 freeway over the Sepulveda Pass. More HOV vehicles would lead to less traffic and fewer greenhouse gas emissions.
The measure also proposes building a 10-mile underground rail corridor under the Sepulveda Pass connecting the Valley to the entire Westside. A transit rail line connecting Van Nuys to Sylmar, another one connecting Artesia to Union Station and one connecting Westwood to LAX would all be developed under Measure M. However, most importantly for UCLA students, Measure M would accelerate completion of the Purple Line Extension, originally supposed to be completed in 2035, to 2024, which could also improve LA's Olympic bid for the 2024 games. The line allows faster and easier access for UCLA students to visit other parts of LA.
Thus, it's clear how Measure M greatly benefits public transportation and highway users alike, while alleviating highway congestion. On top of that, the ballot initiative is expected to generate more than $860 million per year and create about 450,00 jobs. The majority of those jobs would come in the form of public transit construction, benefitting taxpayers and the city council.
[Related: LA Metro's Measure M sales tax increase garners support in Westwood]
Opponents of Measure M argue that expanding freeways typically fails to reduce traffic and only leads to more people driving in the long term. However, as Zev Yaroslavsky, a former Los Angeles city councilman and a previous member of the LA County Board of Supervisors explains, Measure M's funds are addressed to remove "bottlenecked" sections of freeway and add more HOV lanes. Both of these initiatives would diminish carbon emissions by reducing stop-and-go traffic caused by the narrowing of freeways and encourage residents to carpool more often. Besides, the measure's opponents present no other, realistic ways of relieving traffic flow. It seems foolhardy to reject an effective one when the expense is so miniscule.
The simple truth remains: Transit systems are built over time, and traffic relief for LA County residents is essential in the meantime. The former councilman rightfully before the public transit network can handle them, alluding to LA's auto-centric way of life. Instead, Yaroslavsky believes the public transportation system should be at a high enough standard to incentivize residents to drive less frequently instead of forcing them out of their cars prematurely.
It's time for LA residents to reverse their beliefs from 50 years ago when they overlooked an opportunity to environmentally and economically advance the already prosperous city. On Nov. 8, voters have an opportunity to move the city forward by voting yes on Measure M.