UC students and professors participate in summer excavation in Greece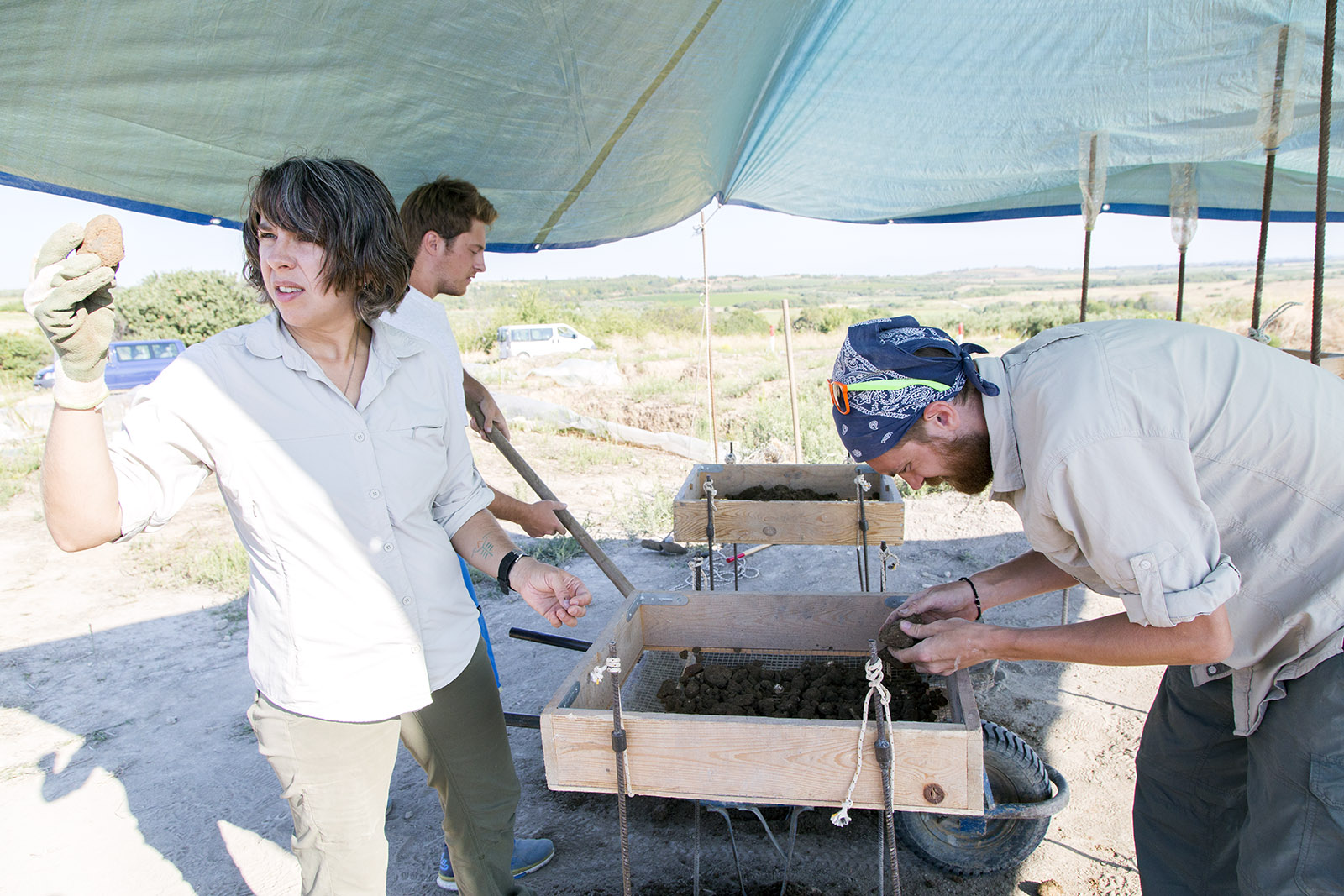 Jamie Aprile, UCLA doctoral alumnus and field school director for Methone, and fourth-year UCLA Theatre and Ancient Greek student Christopher Sanders work together on a sift, separating out dirt and picking out special finds to be bagged. Wheel barrels of dirt are taken from trenches over to a series of sifts where smaller, but equally important material is found and bagged for study. (Owen Emerson/Daily Bruin senior staff)
Marianne Simpson spent the summer after her first year of college digging hundreds of relics and bones out of the ruins of an ancient Greek city.
"I felt like I was immersed in the ancient world," Simpson said. "It's really cool to have that opportunity to be touching things from (thousands of) years ago."
Simpson, a second-year classics student, participated in UCLA's Ancient Methone Archaeological Project this summer, a UCLA excavation project and field school. The school allows graduate and undergraduate students to dig in the ancient Greek city of Methone, located on the northwestern coast of the Aegean Sea.
UCLA archaeology professors Sarah Morris and John Papadopoulos directed the field school, which was a collaboration between UCLA Cotsen Institute of Archaeology and The American School of Classical Studies at Athens. The program began in the summer of 2014.
[Related: UCLA archaeologist works to preserve Easter Island statues]
Morris and Papadopoulos began studying the artifacts from Methone in the summer of 2012 and applied for a work permit to join the dig site in 2014. They added a field school at the same time they joined the expedition so they could bring undergraduate students along, Papadopoulos said.
Their team hoped to end the excavation completely in the summer of 2016, but torrential rains halted their digging in the last week of the trip, and they weren't able to finish, Morris said.
Morris and Papadopoulos plan to return to Methone to finish the project next summer. But because the dig is almost done, they will likely return only briefly and without undergraduate students, Papadopoulos said.
Philip II, father of Alexander the Great, destroyed the city of Methone in 354 B.C. Because nothing was built on top of the destroyed city, the site is unique for archaeologists. The excavation team found classical-period remains and artifacts soon after they started digging, Papadopoulos said.
"Methone was an industrial powerhouse … a middle ground where people brought resources from all over the ancient world," Papadopoulos said. "It's truly a site that's thrown up all sorts of things."
The team unearthed pottery from all over the ancient world at Methone, as well as the earliest Greek ivory artifacts, gold jewelry, prehistoric graves and many other finds, Papadopoulos said.
They also refurbished a disused train station and made it into a cultural center in Agathoupolis, the nearest town to Methone. The center included information about their dig so local people could access their findings more easily, Papadopoulos said.
Each year from August to September, the professors took about 30 to 40 students from many different schools, including about a dozen undergraduates, to Methone, Morris said.
"We give (the students) a great time because there are so few of them, " Morris said. "The undergrad students rotate through every aspect of the excavation so that they all get an equal experience."
[Related: Archaeologist Hans Barnard excavates, educates using STEM background]
The students arrived at the dig site at 7 a.m. every morning, dug until the early afternoon and then cleaned and sorted artifacts until dinner, said Max Mommsen, a fourth-year linguistics student who attended the field school.
The students also learned to process artifacts such as pottery, bones and shells, and were trained in topography, soil flotation and surveying, Morris said.
"It was very hands-on, and not something you would ever get in a classroom," Simpson said. "It made me really figure out that I want to pursue something like (field work) in the future."
The students were also able to experience the city of Agathoupolis' culture.
Simpson said she learned Greek dancing from the friendly local residents when the students attended a summer festival in Agathoupolis.
Mommsen's favorite memory of the trip was going to a local modern dance hall with some of the Greek dig workers and watching the father of one of the workers begin traditional Pontic dancing to the tune of techno dance music.
"Every single year, the students have really bonded well," Papadopoulos said. "They organize trips together, cook together … I think it's very emotional for them when they leave."
Mommsen said the trip taught him patience because when excavating an artifact, he had to slowly dig around the object instead of just pulling it out of the ground.
"There were so many things about the trip that were life-changing experiences for me," Mommsen said. "It really taught me not to rush so much."
Papadopoulos said there are many digs and summer trips available to students looking to travel to expeditions through the Cotsen Institute.
"There are other opportunities that are not unlike what we did, for students who really want to get their hands dirty," Papadopoulos said.