The Quad: The pros and cons of Measure M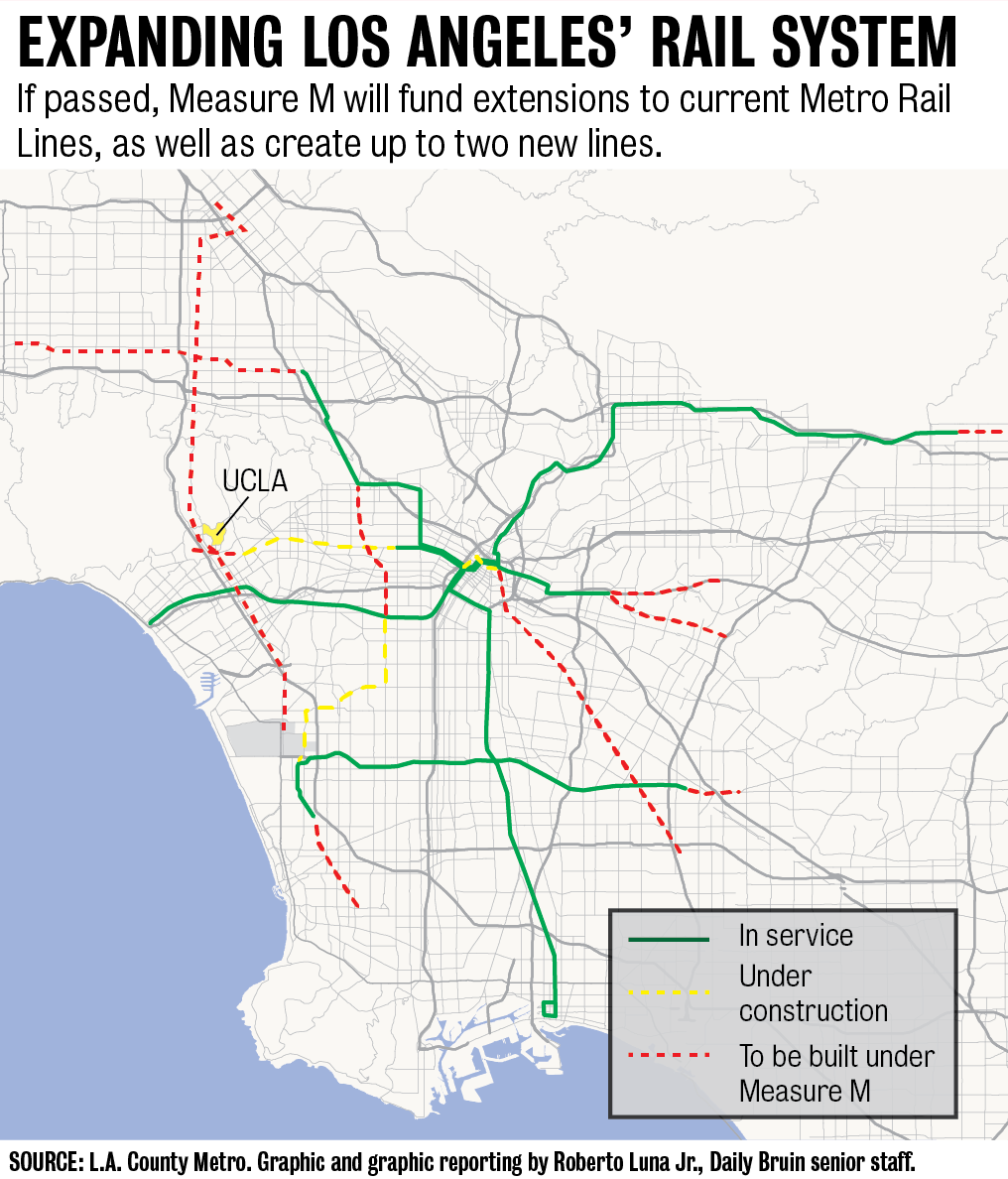 Measure M offers something for nearly everybody: a Purple Line to Westwood, better bus and rail services and freeway improvements. In order to pass, the measure needs to attain a two-thirds "yes" vote Nov. 8.
Measure M would increase Los Angeles County's sales tax from nine to 9.5 percent. Culver City and Santa Monica would see their sales tax increase to 10 percent because their current sales tax is 9.5 percent.
A "yes" vote for Measure M will allow LA Metro to continue expanding its light rail network while improving bus services and freeways. A "no" vote will make it difficult for Metro to secure funding for new services and to maintain its current system.
The measure would collect about $800 million annually to be spent on operations, improvements and maintenance over the course of 40 years.
For UCLA, a "yes" vote means the Purple Line would reach Westwood by 2024 instead of 2035. This could ease the commute of 40,000 people that use Line 720 everyday and the 15,000 people who use Line 20.
Completing the Purple Line by 2024 is clearly one of Metro's biggest goals. With LA's bid to host the 2024 Summer Olympic Games in full swing, the Purple Line will be key to ensuring the city can host a successful Games because UCLA would house the athletes and several events.
In terms of expanding Metro's rail system, Measure M would fund a new line and expand four. It would create a new line from Union Station to Artesia and expand the Green Line to the Norwalk Metrolink station in the east and Torrance in the west. Additionally, the Gold Line will be expanded to Claremont and El Monte and the Crenshaw/LAX Line will be expanded from Exposition Boulevard to the Hollywood/Highland Station.
Additionally, an ambiguous line item in the measure is the creation of an underground transit corridor from the San Fernando Valley to Westwood by 2035. Metro has yet to decide whether a bus or a train would run on this corridor to combat traffic on the 405 Freeway. By 2059, this corridor would be expanded from Westwood to Los Angeles International Airport.
Metro is depending on ballot measures like these to create new rail projects because it does not have the necessary funding to pay for them itself. Three past measures, the most recent being Measure R in 2008, have helped fund Metro's current rail lines.
While new transportation option are always good for everyone, voters should think critically about possible downsides.
Creating new rail lines is expensive, and some, such as the Gold Line, are having a tough time proving why they are needed.
The Gold Line, which travels from East LA to Azusa, has about 50,000 riders every weekday, whereas the Expo Line has about 31,000 riders every weekday, despite the Gold Line being 31 miles long and the Expo Line 15 miles long. The 20-mile Green Line, which travels from Norwalk to Redondo Beach, only carries 36,000 people daily.
However, these three lines carry fewer people than Line 20 and 720 combined. The only rail lines that exceed 55,000 daily passengers are the Red and Blue Lines.
A rail line makes sense on Wilshire Boulevard, as it is a heavily congested corridor, but there are few other regions in the area, including those with trains, that have the amount of commuters needed to sustain it.
Fortunately, Measure M focuses more on buses this time around, after the success of the Orange Line in the San Fernando Valley. Only costing $325 million, the Orange Line is a busway with its own right-of-way, similar to a train. It carries 22,000 people daily, making it one of the most cost-efficient transportation projects in the country. Metro plans to create three more lines similar to the Orange Line using Measure M.
Measure M is not perfect, but it focuses on the current rail system's strong points and building from there. This measure is about making connections to finally create a comprehensive network and shaving commute times for many people across the county.
Click the banner to read more election endorsements and analysis.
Roberto Luna Jr. is currently a senior staffer covering Westwood, crime and transportation. He was previously an assistant News editor from 2015-2016 and a News contributor from 2014-2015.
Roberto Luna Jr. is currently a senior staffer covering Westwood, crime and transportation. He was previously an assistant News editor from 2015-2016 and a News contributor from 2014-2015.