Geffen Academy holds info session for potential students, families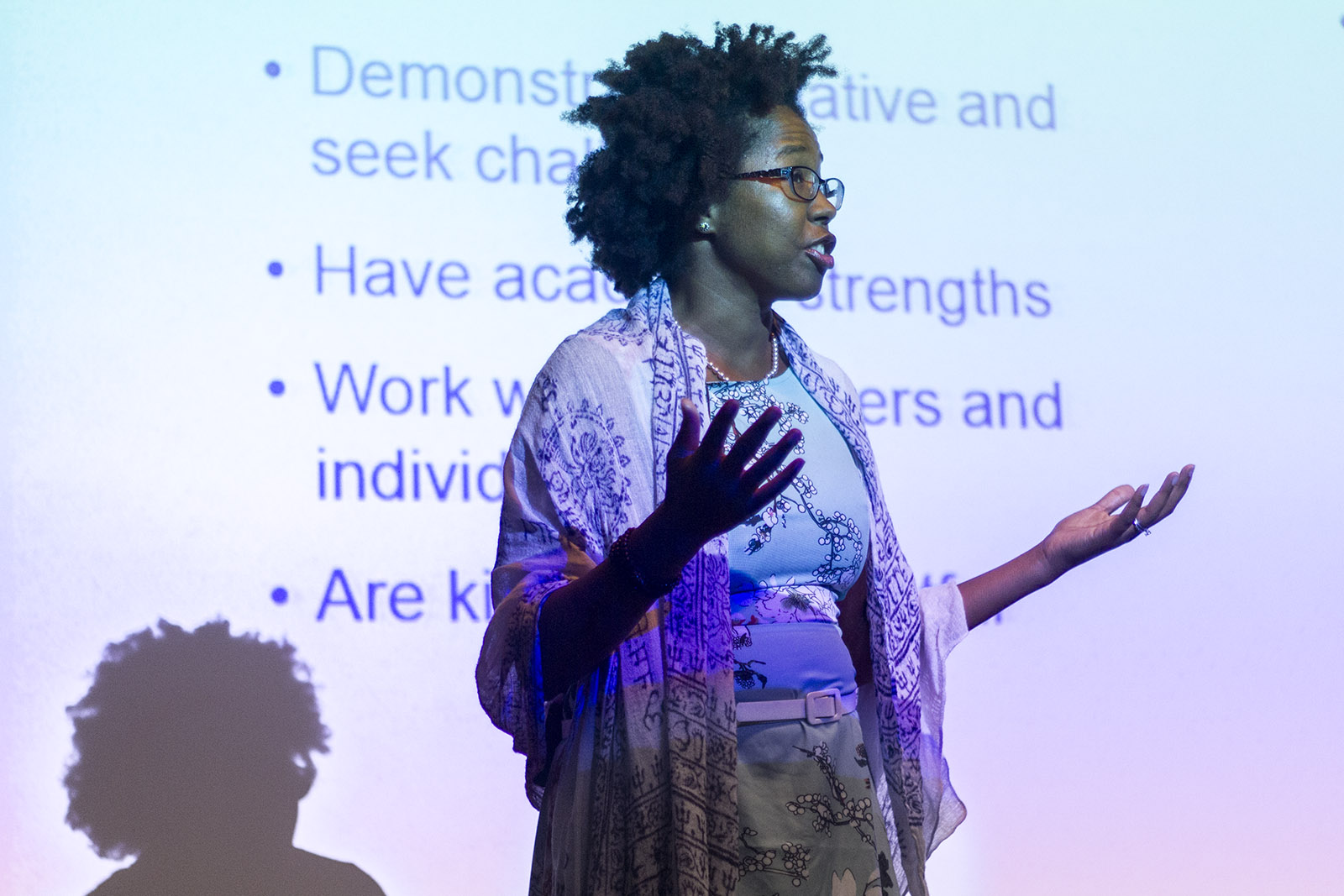 Geffen Academy at UCLA held an information session about the application process for parents and students this month. (Diana Luna/Daily Bruin)
October 20, 2016 11:04 am
Corrections: The original version of this story incorrectly stated the Geffen Acedemy is the first UCLA-affiliated secondary school.
This post was updated on Oct. 20 at 4:45 p.m.
The Geffen Academy at UCLA opened applications for students earlier this month.
Applications for incoming sixth, seventh and ninth grade students opened Oct. 8 on the school's website. At a parent information meeting Tuesday, officials revealed details about the application process and tuition fees.
Geffen Academy at UCLA will open fall 2017 on Kinross Avenue with funds donated by philanthropist David Geffen, officials announced last year. About half of Geffen Academy students will be the children of UCLA staff and faculty. The other half will be students from the Los Angeles area.
[Related: UCLA to open Westwood secondary school with donation from David Geffen]
Tuition will be $29,500 per year and financial aid will be available to some students, said Sibyll Catalan, Geffen Academy head of school. Tuition fees cover the cost of on-campus meals and extended care programs for students whose parents work before or after school hours.
About 45 percent of students will get aid, said UCLA spokesperson Alison Hewitt. The academy hopes to cover 90 percent of some students' tuition, but have not determined how many students will receive this amount of aid.
Catalan said that during the selection process, the school will consider how much of the tuition fees students' parents can pay. Officials are looking to admit students that will require aid and those that can afford to pay the full tuition fees.
Applicants will be evaluated on their academic work, letters of recommendation and unique social backgrounds that bring diversity to the pioneering class, said Keishia Gu, director of admissions and enrollment.
Additionally, parents will be interviewed to evaluate what a family can contribute to the school's culture, Catalan said. Students will also be assessed on the completion of a short project during the admissions process.
Gu said Geffen Academy is a test-variable school, which means it will not use any specific test to determine a student's proficiency in a subject.
Applicants can submit any standardized test that demonstrates their strengths, such as Catholic school entrance exams, the Independent School Entrance Exam and California state exams, Catalan said. She added the school does not want to prioritize privileged students that can afford extensive tutoring and testing fees.
The school is compiling data from education research to determine the most beneficial learning schedule and curriculum for their students, Catalan said
Neil Kramer, Geffen Academy assistant head of school, said he thinks it is hard to define what a regular day at Geffen Academy will be like. The school's department chairs are still negotiating the amount of time that will be allocated weekly for each subject, based on the study time needed to grasp the material.
He added the school wants to ensure that homework loads are thoughtful, rather than overwhelming.
Parents from the Los Angeles area who are interested in the Geffen Academy at UCLA for their children attended the information session Tuesday to learn more about the school.
Kim Burger, a psychologist from Los Angeles, attended the presentation with her husband Mitchell Burger. She said her daughter will be a sixth grader next fall when Geffen Academy opens its doors.
"The buzz is very popular so far," Mitchell Burger said. "We are expecting great things (of the Geffen Academy)."
Romanitchiko Samiley, a nurse practitioner who received his doctorate at UCLA this year, said he thinks his eighth-grade daughter would have all of UCLA's resources available to her if she attends Geffen Academy.
"I really like the (UCLA) campus and the fact that it's (Geffen Academy) inside is really cool," said Samiley's daughter, Calista. "There are a lot of different facilities. Not a lot of high schools can have that."
At the information session Wednesday, a parent asked whether or not Advanced Placement courses would be offered at Geffen Academy.
Jack Caughey, chair of the English department at Geffen Academy, said there is a good chance the school will not offer AP courses. Instead, the school will partner with UCLA to bring students exposure to actual college classes.
Gu, who has experience with college admissions at other institutions, said colleges evaluate students based on the context of what their high school has to offer. She said she believes students will still be competitive without taking AP courses.
"Our kids will graduate (to be) competitive for elite colleges," Catalan said.
The school expects to increase enrollment to 320 students to accommodate new sixth- and ninth-grade classes in 2018, Kramer said. By 2020, the school will reach its anticipated full capacity of 620 students in grades six through 12. Geffen Academy will have its first graduating class in 2021.
Geffen Academy will host another information session Saturday and throughout the next few months.
Preal is the editor in chief of The Bruin. He was previously the assistant news editor for the city and crime beat and a news reporter for the city and crime beat.
Preal is the editor in chief of The Bruin. He was previously the assistant news editor for the city and crime beat and a news reporter for the city and crime beat.