Gameday predictions: UCLA vs. Utah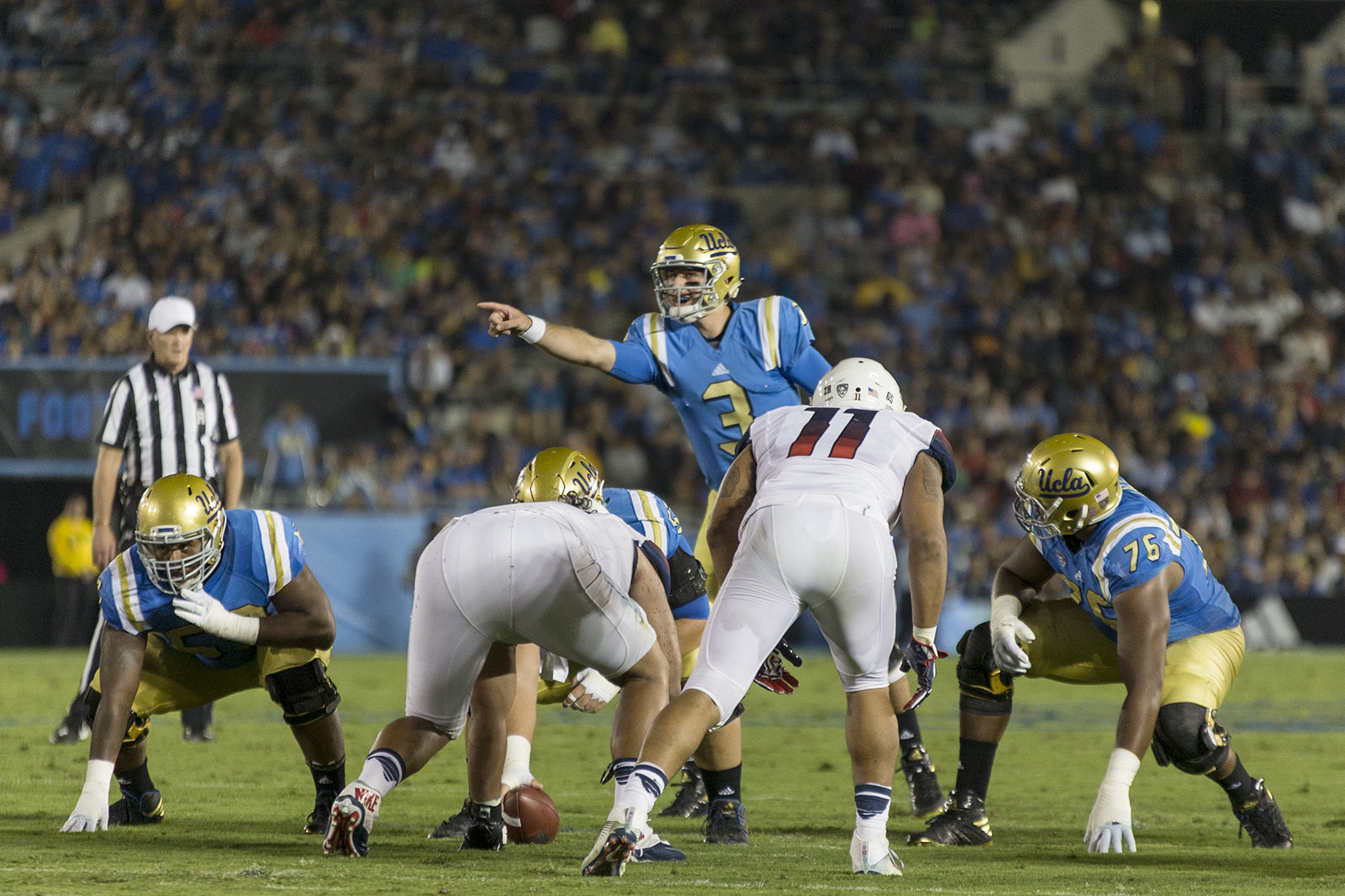 Sophomore quarterback Josh Rosen was taken out due to injury after a nine-yard sack by Arizona State. UCLA has not revealed if their quarterback will be ready for the game against Utah but are hopeful. (Aubrey Yeo/Daily Bruin senior staff)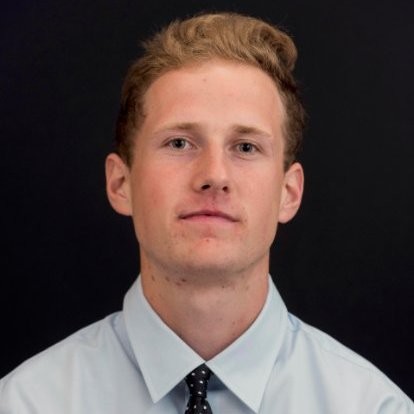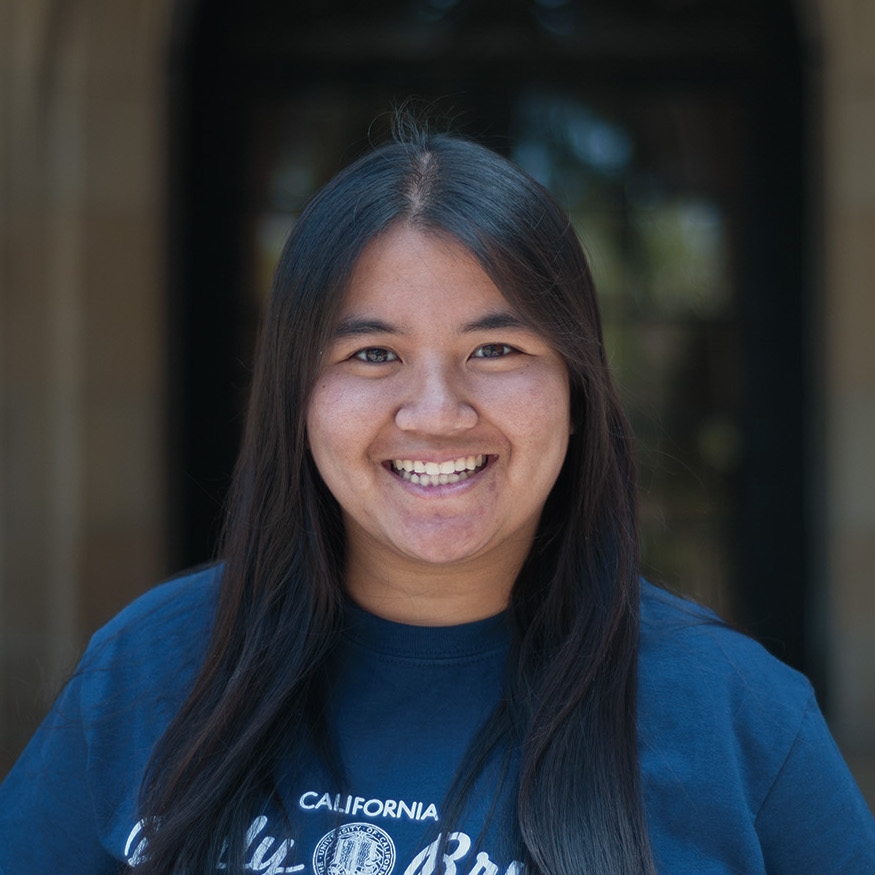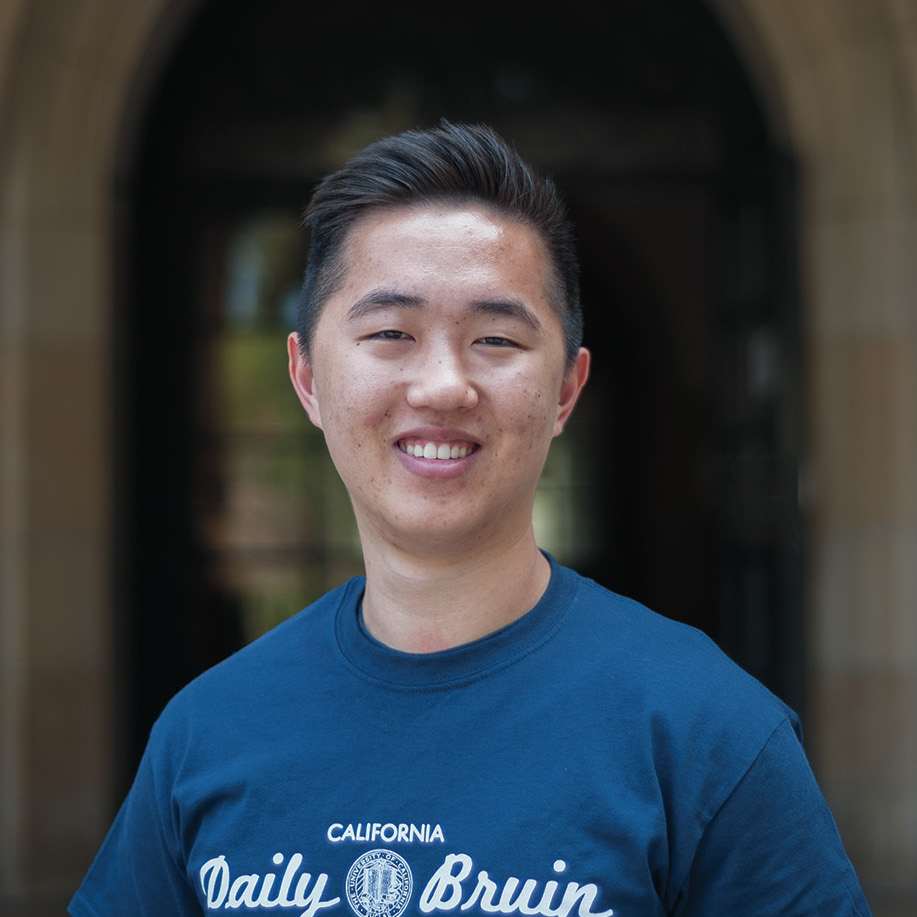 UCLA football (3-4, 1-3 Pac-12) returns home from a two-game road trip to face No. 19 Utah (6-1, 3-1) on Saturday. Last year, the Bruins defeated the Utes in Salt Lake City in the second-to-last game of the regular season.
The current point spread for this game – according to SportsBetting.ag and BETONLINE.ag – is seven points, in favor of UCLA.
In the space below, the Daily Bruin's beat writers for UCLA football – Matt Joye, Matt Cummings, TuAnh Dam and Derrek Li – and guest writer and former managing editor Jeong Park – provide their predictions of how the game will shake out between these Pac-12 rivals.
Matt Joye
UCLA 17, Utah 13
I am picking UCLA because I think this game will be a defensive struggle. Both teams have mediocre to weak offenses, and UCLA has the better of the two defenses. Plus the Bruins really need a win, while Utah has posted three straight lackluster performances against lower-tier Pac-12 teams.
The bottom line is Utah seems to be playing down to competition this year. The Utes lost to a California Golden Bears team that was predicted to finish near the bottom of the Pac-12, and then they nearly lost to Arizona (2-5, 0-4) and Oregon State (2-4, 1-2) over the past two weeks. The Bruins are also near the bottom of the Pac-12 right now, but they have far more talent – particularly on the defensive end – than those three teams.
Utah's offense will be its kryptonite in this game. The Utes have junior starting quarterback Troy Williams, who was playing at Santa Monica College this time last year. UCLA's top-20 defense will likely be the toughest one Troy Williams has ever faced, and that will prove to be the difference. Expect an interception or two from Troy Williams and a fumble or two from running back Joe Williams, who has struggled with ball security in his career.
Matt Cummings
UCLA 20, Utah 13
It's a strange matchup because although Utah is 6-1 and UCLA is 3-4, there's a strong argument to be made that the Bruins have been the better team this year. In fact, according to Football Outsiders' second-order wins stat – which measures the win expectancy produced by a team's advanced statistical output – UCLA has produced a slightly higher expected win total than Utah thus far.
The Utes, who have been dealt injury blow after injury blow this season, are facing a significant one this week with defensive back Marcus Williams, Pac-12 interceptions leader and Pro Football Focus' top-graded safety in the nation, sidelined. That will make the UCLA offense's task much easier, but Utah still presents a strong, talented defense.
Defensive tackle Lowell Lotulelei is the top nose tackle in the upcoming draft class, per Bleacher Report draft writer Matt Miller. Ends Hunter Dimick and Pita Taumoepenu are possible NFL prospects as well. With those guys anchoring the unit up front, Utah has been fairly stout against the run, so there's little reason to believe UCLA will get its ground game going. The Bruins should be able to capitalize on Marcus Williams' absence, though, to produce through the air – even if backup Mike Fafaul is forced into action once again.
I find it hard to believe that Utah will have success on offense. The offensive line has some solid pieces – left guard Isaac Asiata could be a late-round draft pick and left tackle Garrett Bolles has played well lately – but the season-ending injury to experienced center J.J. Dielman has hurt the Utes. Troy Williams has obviously done enough to win six games, but he hasn't faced a pass defense as good as UCLA's. Last week against Oregon State, Troy Williams went just 4-of-13 for 42 yards. If the Utes are going to win this game, he'll have to do much better than that against a much tougher opponent.
Both defenses have been better this season than the offenses they'll be facing, so this projects to be a fairly low-scoring affair. That will amplify the importance of red-zone conversions, and Utah has been very poor in that area this season, ranking 112th out of the 128 Football Bowl Subdivision teams in both touchdown percentage and overall scoring percentage.
The one stat that could invoke some confidence in Utah's chances: The Utes are first in the nation in time of possession, averaging 35 minutes and 47 seconds of ball control per game. They don't have an explosive offense, but perhaps they can wear down the Bruins.
That said, I think the UCLA defense puts up a dominant performance and wins this game at home.
TuAnh Dam
UCLA 17, Utah 14
Once again this prediction hinges on the return, or not, of sophomore quarterback Josh Rosen.
Rosen did not play against Washington State and did not look to be on the practice field Tuesday morning, but he did practice Wednesday. Coach Jim Mora said the quarterback was extremely close to starting last Saturday and was hopeful to see him on the field against Utah.
The defense is continuing to improve game by game. It held Cougar quarterback Luke Falk to no passing touchdowns in Pullman.
If the quarterback, Rosen or Fafaul, can get the offense off to a strong start and limit turnovers, UCLA has a shot to stay in the game. Utah hasn't been particularly impressive even though they're the top school in the division and are due for another upset.
Derrek Li
UCLA 24, Utah 17
My guess is that Rosen makes his return for Saturday's homecoming game. If not, Fafaul showed last week – especially in the second half – that he's capable of putting enough points on the board to give UCLA a shot at winning. The Bruin defense should be able to rattle Troy Williams to continue what has been one of the few bright spots of the UCLA season.
Coach Jim Mora vowed change to a lethargic running game, but we've been hearing something similar for the past few weeks. In the middle of a season, chances are the results we've been seeing will be the results we'll get for the remainder of the year. So it will come down to the arms of whoever lines up behind center. Whether it's a less-than-100-percent Rosen or the backup Fafaul, it should be enough to bring the Bruins back to .500 on the season.
Guest prediction: Jeong Park
Utah 24, UCLA 20
I can try to provide a serious analysis of this game. But doing so seems pointless, especially when the other writers can offer much more informed perspectives. Any team in the Pac-12 (besides Washington) can beat and be beaten by any other team. I think Utah will beat UCLA because its defense is improving. UCLA's offense will be too one-dimensional to beat what should be a decent defense.
So I'll just list few things I like about the Utes.
They had their fifth-string running back injured couple weeks ago, so coach Kyle Whittingham persuaded a "retired" Joe Williams to make a comeback. Joe Williams ran for 179 yards against Oregon State.
They rushed the field three times in a span of five minutes in a game against BYU, which I think is a most underrated rivalry in college football.
They published a cookbook in 2010, which includes recipes such as "BCS Busting Baked Beans" and "Utah Man Sliders." One Amazon review said, "The book came with a smeared cover," but who cares?