UCLA alumnus creates free website for students seeking study spaces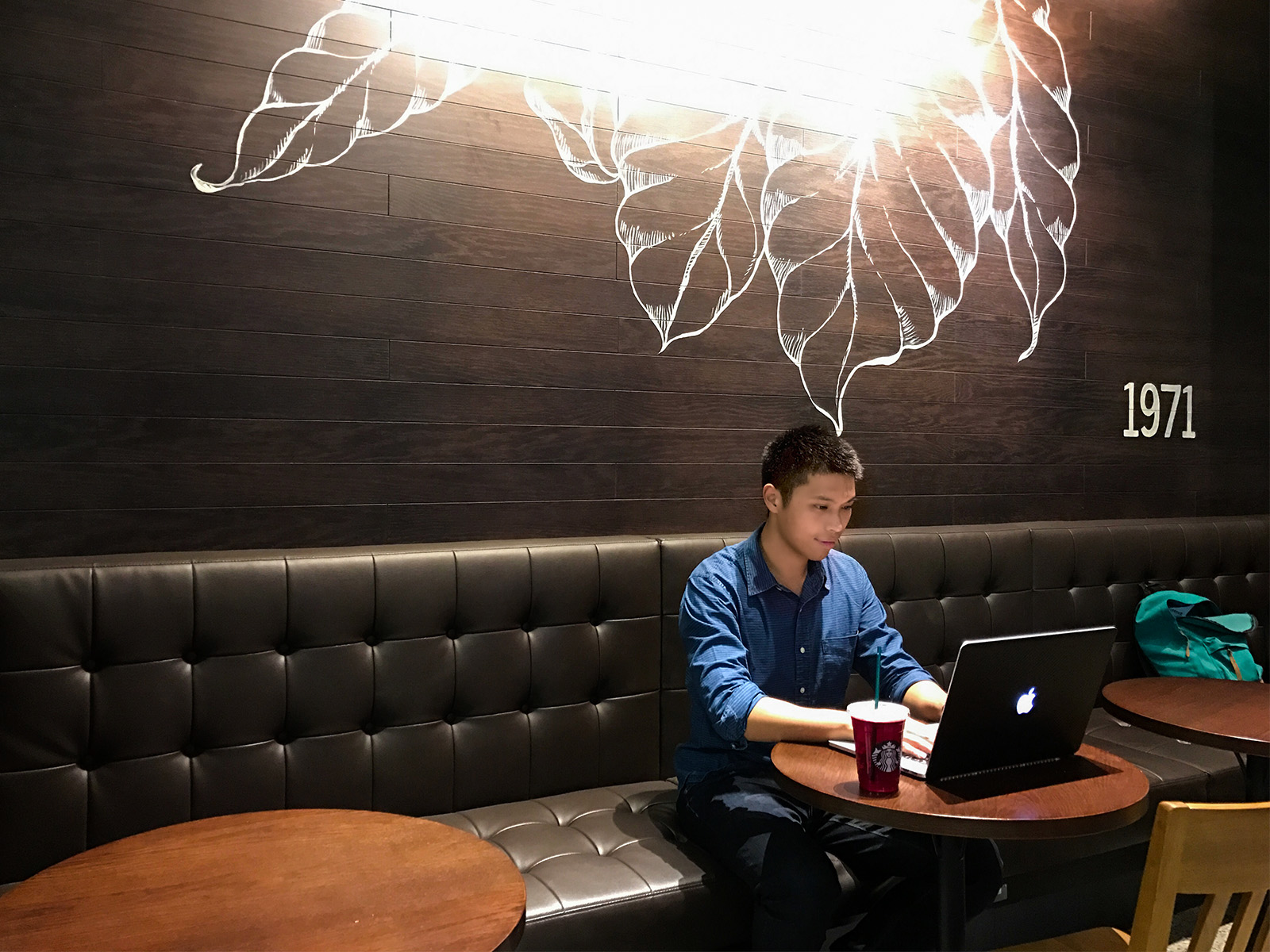 UCLA alum I-Chun Liu launched PlacetoStudy, a website that helps students find nearby study locations, this summer. (Courtesy of I-Chun Liu)
I-Chun Liu's final goal as a UCLA student was to study for the last finals he would ever take. The only problem was that all his go-to study spots were packed – loud and noisy without an outlet or seat in sight.
"(My wife and I) tried Powell Library, and it was pretty much packed," Liu said. "Also because of its location, there wasn't really a place to eat at night."
Four months later, Liu launched PlacetoStudy, a free website that helps students find nearby study locations. The website serves more than 1,600 users in New York City and several Los Angeles neighborhoods.
The website lists nearby study locations that match the user's desired specifications, such as air conditioning and access to wifi. Liu uses Google and Yelp cafe reviews to find study spaces for the website.
[RELATED: Students create website encouraging the exploration of LA by bus]
Liu said his experience with struggling to find productive spaces while studying at UCLA inspired him to create his website three weeks before his graduation in June.
When Liu searched for suitable locations on Yelp, he was directed to Westwood cafes like The Coffee Bean and Tea Leaf, Starbucks and Koala T Café. But those locations were too crowded for him to focus.
He created the initial prototype of PlacetoStudy in a week.
"It was pretty intense," Liu said. "The design looked very different from how it is now, because we developed it so quickly, but we continued to add new functions and improve the website over the next few weeks."
Liu's team consists of himself and his wife, Kristy Li, whom he met while studying at the University of Wisconsin–Madison.
"We both brainstormed ideas, including general concept, design and functions," Liu said. "I worked on the coding and she worked on the designs."
Liu asked a former classmate to give him feedback on PlacetoStudy over the summer. Cheng-Hsi Lin, a graduate student in material sciences, said the site was the first he had seen that catered to UCLA students' needs.
"Maybe Google or Yelp will show you study places, but they're not as straightforward as this," Lin said. "If I used Yelp and I searched for a coffee shop nearby, it would show me stores ranked by their food, not their studying environment."
Liu recently added a feature that allows users to report the seating capacity of a study space in real time. But Lin said that because there aren't enough users, the seating capacity isn't updated often.
Liu said he also hopes to add a reward system that gives users points based on how many study spaces they visit or how many hours they study, for example, to encourage social interaction.
"We want users to come back to our site," Liu said. "We want to make it more fun and social."
Liu said he is holding off on making a PlacetoStudy app until the social interaction features of the website are developed. He added he thinks a website version of PlacetoStudy is more attractive to users as they do not have to download anything or create an account to access the site.
Liu said he is not planning to make users pay a fee for the service in the future. However, he hopes to partner with cafes and libraries that would allow students to reserve study spaces for a fee.
"We don't have user subscriptions in mind, but (we) are thinking about talking to private spaces and having them display their space on our website so that people can rent them, kind of like Airbnb," Liu said.
[RELATED: Class designs website mapping unsafe campus "hotspots"]
Liu is currently serving as a translator for Taiwan's military forces, so he and his wife have had to find a way to continue building the site remotely.
Liu said he plans to incorporate more New York study spaces and expand to more cities in California. But in the future, Liu said he dreams PlacetoStudy will be available to users around the world.
"One day, for anyone, UCLA student or not, PlacetoStudy will be their tool," Liu said. "That would be the ultimate goal."