Patrick Fellner's trend-defying journey from NorCal to UCLA water polo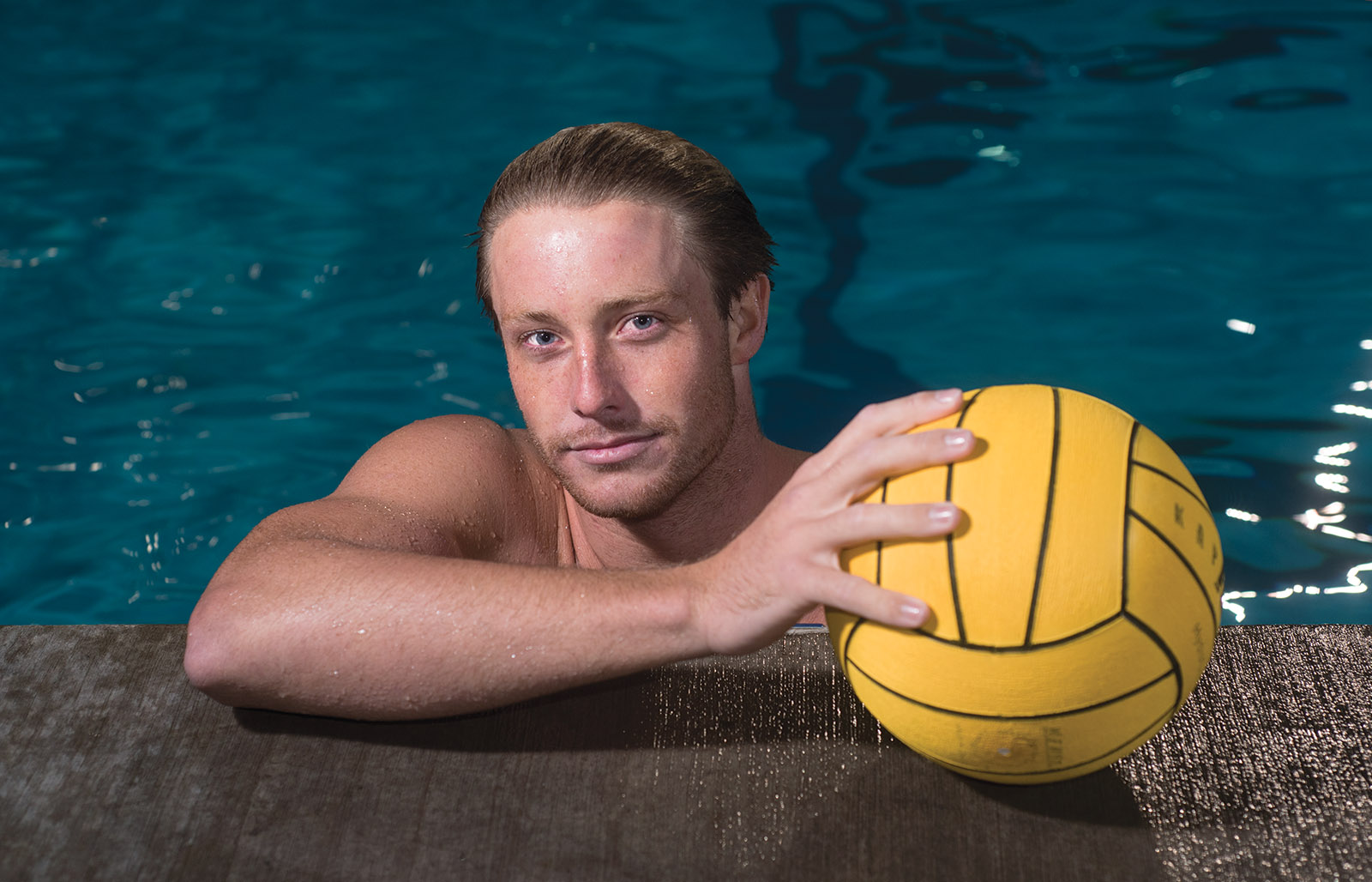 Not many players from Northern California make their way south to one of the two Big Four schools in Los Angeles, but senior attacker Patrick Fellner did four years ago, and he's now UCLA's top scorer. (Jintak Han/Assistant Photo Editor)
There's somewhat of an iron grip on the North.
Of all the blue-chip recruits on current Big Four rosters that come out of the greater San Francisco Bay Area, two-thirds of them go to Cal or Stanford.
There is one, however, that slipped through the gauntlet, and he's the scoring leader for the No. 1 team in the country – senior attacker Patrick Fellner.
His mother is one of nine siblings who all attended UC Berkeley, and three of his uncles played water polo for the Bears.
When Fellner first started playing in seventh grade, he joined Lamorinda Water Polo, the local club team, which Cal coach Kirk Everist has co-coached since 2000.
Before he became a Bruin, Fellner was on two Junior Olympic championship teams, once as a 16-U and again as an 18-U, and was one of only two people at the time from Northern California on the 13-man U.S. Junior National Team.
And outside of the club season, he helped Miramonte High School to three North Coast Section titles, scoring four of his team's nine goals in the championship game his senior year.
So how did one of the most accomplished Northern California recruits end up 400 miles south with coach Adam Wright?
Besides five athletes that come from other states or other countries, 17 of UCLA's players come from the greater Los Angeles area.
"Orange County is kind of a hotbed for age group water polo, high school water polo, there's just a lot more teams," Wright said. "They have some great programs up north. … Just sheer number-wise, there's a lot more kids playing down here in SoCal."
Because of the amount of talent, most of the players that go to Cal, Stanford, UCLA or USC for water polo come from that region, but according to freshman attacker Jake Simpson, the high school scene in Northern California has been taking off while Fellner has been in Los Angeles.
"They're getting bigger and bigger," Simpson said. "More and more people from NorCal are going to Division I schools, so hopefully they can keep it up and NorCal starts representing everywhere."
Statistically, the players from Southern California go to the northern schools more than those from Northern California go to the LA schools. But the connections players have to their nearby institutions are similar in both regions, Fellner and Wright said.
"There's the Menlo area where a lot of kids are going to Stanford from (schools like) Sacred Heart; Miramonte sends a bunch of kids to Cal," Wright said. "There's similar things here with us as far as in SoCal too, as far as certain schools choosing universities down here whether it be USC, us or Pepperdine or other schools."
At the end of the day, Wright said, UCLA recruits based on talent, no matter where the player is from.
[Related: In the Cage: Episode III]
"We're looking to bring certain people into our program, it doesn't matter where they come from," he said. "We've had a long tradition down here at UCLA with players coming down from NorCal, and they've been huge pieces of our program. … Is there a closer connection for those players to Cal and Stanford? Sure, but we still want to engage in that fight to try and bring them down here."
And that fight brought the rocket-armed Fellner to UCLA.
"We knew that (Fellner) had a huge upside," Wright said. "It wasn't like he was totally off the radar – he was a big-time recruit. We were able to establish a really good relationship with him and break the trend of all of his uncles and everybody who played for Cal."
But at that time, all Wright had sent Fellner was a letter asking him to keep the coach updated.
"I got a letter from Adam saying, 'Hey we've noticed your success and whatever you're doing, just keep us updated,'" Fellner said. "I was like, 'I don't know if I even have a shot at going to UCLA to play water polo, it's a total shot in the dark. But of course, I'll for sure keep you updated.'"
He committed on the phone two years later, almost leaving for the FINA Youth World Championships without giving his collegiate suitors an answer.
The arm from Northern California has scored at least 20 goals every season for UCLA. In the championship game in 2014, his rocket at the buzzer from half tank blasted through the arms of USC goalie McQuin Baron, and UCLA eventually won by one goal.
"He always had an arm, but it wasn't always connected with upstairs," Wright said. "The way he views the game now is completely different than him as a freshman. … It's not just shoot, shoot, shoot – he's able to read the situation."
Fellner attributes all of that development to Wright himself – playing under him, he said, has been the best part of his water polo experience.
[Related: Alex Roelse returns from Rio, brings Olympic experience to Westwood]
When asked about why it is that people always recognize his arm as his go-to quality, Fellner said he didn't know. He played baseball until high school, and as a pitcher would try to throw the ball faster than everyone else.
Wright pegged Fellner's shot velocity at about 55 miles per hour on a guess. The fastest ever recorded was 60, set by a member of the Croatian senior national team.
But if you can't hit corners and throw accurately, then who cares how fast you can throw, Fellner added.
"I don't think I'm anything special," he said.
Hull joined the Bruin as a freshman in 2015 and contributed until 2017. He was an assistant Sports editor for the 2016-2017 academic year and spent time on the men's water polo, women's water polo, women's soccer, track and field and rowing beats.
Hull joined the Bruin as a freshman in 2015 and contributed until 2017. He was an assistant Sports editor for the 2016-2017 academic year and spent time on the men's water polo, women's water polo, women's soccer, track and field and rowing beats.