UCLA law school competition encourages student entrepreneurship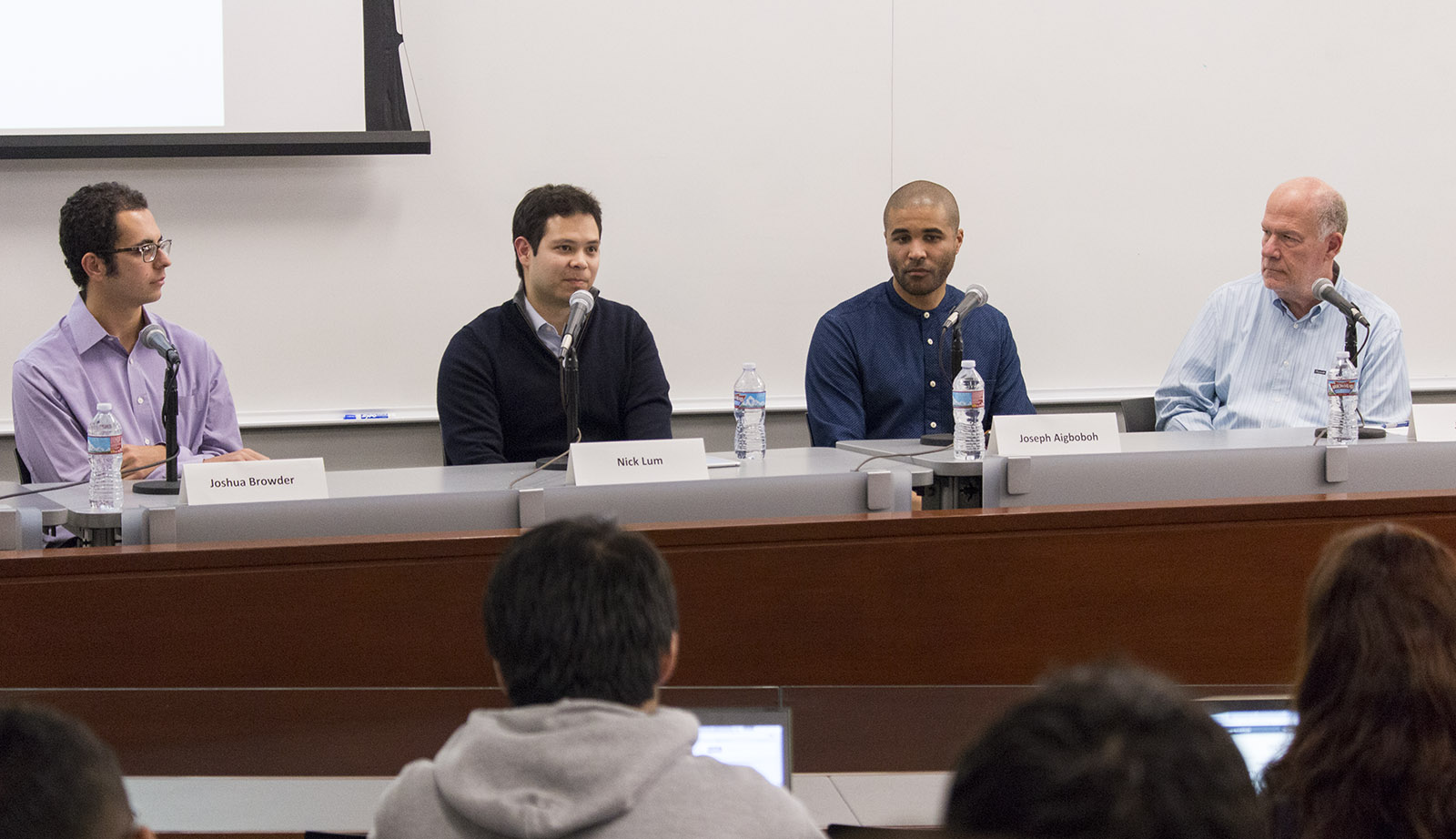 Chief executive officers from various businesses spoke to students interested in entering the Lowell Milken Institute-Sandler Prize for New Entrepreneurs on Monday. (Efren Piñon/Daily Bruin)
UCLA students have an opportunity to develop their own startups and compete for $100,000 worth of prizes in a UCLA law school entrepreneurship competition.
UCLA School of Law will open registration for its second Lowell Milken Institute-Sandler Prize for New Entrepreneurs competition at the end of October. The competition will require teams of two to six UCLA students, including one law student, to work together on developing a business plan for a startup.
The competition invited students to attend a meeting, which featured speakers such as chief executive officers of local businesses, at the UCLA School of Law on Monday. About 15 to 20 students attended the event. Speakers were invited to talk about their own trials and errors in creating their businesses and shared advice on hiring employees and lawyers for their startups.
[Related: Entrepreneurship resources grow for UCLA undergraduate students]
Joseph Aigboboh, a speaker at the meetup and co-founder of gaming studio PlayQ, said he thinks problem-solving is one of the most important attributes an entrepreneur can have.
"I'm still solving problems every day as a CEO," Aigboboh said. "We're trying to create a culture of being clever – a solution that is fairly simple, but robust."
Trigg Hutchinson, a second-year business graduate student who attended the meetup, said he wants to build a system to more efficiently distribute disaster relief. He said most of the members on his team are business majors and he wanted to add a law student's perspective to his venture.
"In the five minutes of conversation I had with other teams and people from law school, it gave me a lot of insight on the law side of startups," Hutchinson said.
Bernice Wang, a first-year law student under the LL.M. program, said she wants her startup to create more integration between international students and American students on campus. She hopes to create a social media app where students from different backgrounds can connect.
The LL.M. program is a one-year program for foreign and American law graduates who want to obtain a law degree from UCLA.
"My idea is based off of Airbnb, which will be especially helpful for international students like myself to find a home in this city and connect with more people," Wang said.
The competition aims to encourage and expose law students to the entrepreneurship culture on campus, said Joel Feuer, executive director of the Lowell Milken Institute for Business Law and Policy. Feuer said having a law student on each team was a stipulation made by Lowell Milken and Richard Sandler, the competition's donors.
He added the competition also aims to build on the enthusiasm present at UCLA, as exemplified by the entrepreneurship minor for undergraduate students and various entrepreneurial entities already within the business school.
"Part of the idea of the competition was to get people to talk with one another," Feuer said. "They all bring different expertise and skills to dealing with a problem." Feuer said he thinks competitions can be very enjoyable and cultivate useful skills in fields like public health, policy and law.
"As a student I never would have done anything as this because I didn't have (the opportunity) when I was going to school," Feuer said. "It's going outside of your comfort zone but that's the fun of being a student."
Feuer said teams will also have entrepreneurs, investors or lawyers who work for entrepreneurs as mentors during the competition. The competition has previously received business plans in health care, politics and marketing.
"We are looking for ideas we think will make a difference," Feuer said. "(Ideas) that try to solve a real problem, (and) ideas that are not just hypothetical."
He added he hopes participants found potential team members at the meetup and wants to set up a second meetup for participants to assemble their teams before the final deadline on Jan. 27. He said there will also be a bulletin on the competition website to crowdsource for team members or law students.
Nakahara is the assistant news editor for the science and health beat. She was previously a contributor for the science and health beat.
Nakahara is the assistant news editor for the science and health beat. She was previously a contributor for the science and health beat.