Bruins for Hillary visits Nevada to campaign for upcoming election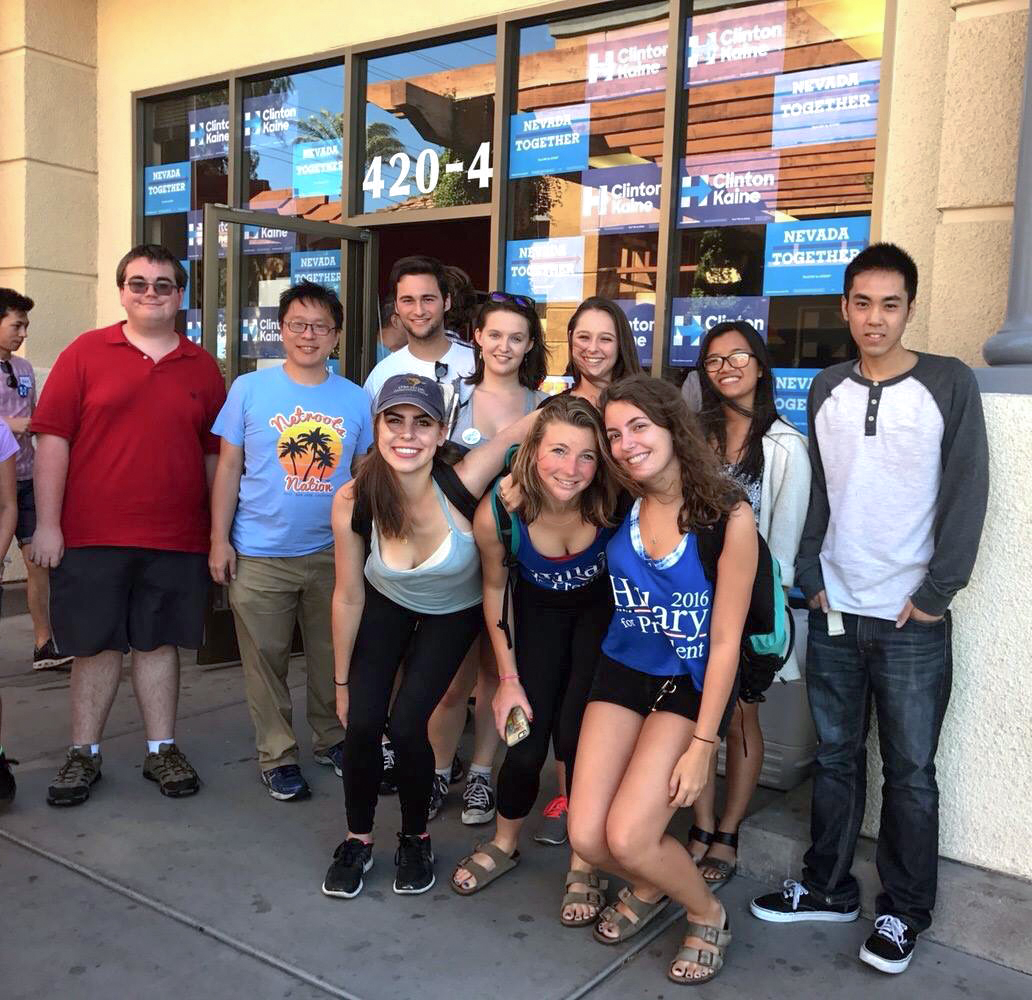 Student volunteers with Bruins for Hillary traveled to Nevada Saturday to canvass and knock on doors in support of the Democratic presidential and Senate candidates. (Courtesy of Jessica Chase)
Students supporting Hillary Clinton traveled across state lines to campaign for the Democratic presidential candidate over the weekend.
Bruins for Hillary organized a day trip to Las Vegas on Saturday, where 10 volunteers knocked on doors to convince voters to support Clinton and the Democratic Senate candidate for Nevada, Catherine Cortez Masto.
[Related: Bruins for Hillary discusses game plan for election season]
Bruins for Hillary held their first meeting in September and coordinates with Bruin Democrats on various campaign events, like phone banks. However, it will primarily focus on the presidential election, said Jessica Chase, Bruins for Hillary president.
Chase, a third-year political science student, said the group left California at about 6 a.m. and arrived at the campaign's staging location at about 11 a.m. After a brief training session for first-time canvassers, volunteers dispersed into the suburban desert.
"Person-to-person contact is so important," Chase said. "We worked on name recognition for the congressional and Senate candidates, as well as informing voters about early voting opportunities near them."
Chase added she thinks voters in swing states, like Nevada, expect political campaigns to knock on their doors and make the case for their candidates.
"Some people wait for that contact to make their decision," Chase said.
Chase said UCLA volunteers stayed enthusiastic throughout the trip, even though they worked long hours.
"We got empowered and spent Saturday making a difference," Chase said. "It can be difficult at times, but it was a positive trip at the end of it."
Some people they spoke with had already made up their minds in both the Senate and presidential races, but some students had the opportunity to convince voters of the merits of voting for Masto.
Danny Zander, Bruins for Hillary vice president for outreach and second-year economics student, said one elderly person who answered the door initially expressed hesitation about voting for Democratic candidates.
"I asked her to confirm that she was voting for Hillary and she answered with a very slow 'yes,'" Zander said.
The woman said she had only heard bad things about Masto, which Zander said he thinks is a result of negative advertising from the Republican candidate. He said he succeeded in convincing the woman to vote for Masto after explaining her accomplishments and plans for the future.
Erica Griggs, a first-year English student and first-time volunteer, said she was surprised to find politically apathetic voters.
"It really bothers and frustrates me that they don't want to exercise their right," Griggs said. "As someone who is passionate about politics, it's interesting to meet someone who doesn't care."
Griggs added she thinks her first trip to Nevada was a good experience to reach out to undecided voters.
Chase said coordination between Bruins for Hillary and the Clinton campaign are key to canvassing success.
"The whole merit of the operation is knowing which voters to target, and target successfully," Chase said. "We plug into their operation and make the biggest difference within their framework."
She added she hopes to conduct two-day trips to Nevada in the next few weeks before election day because they would be less demanding on volunteers.
Contributing reports from Janae Yip, Daily Bruin contributor.