UCLA prepares for Homecoming in Westwood with Paint the Town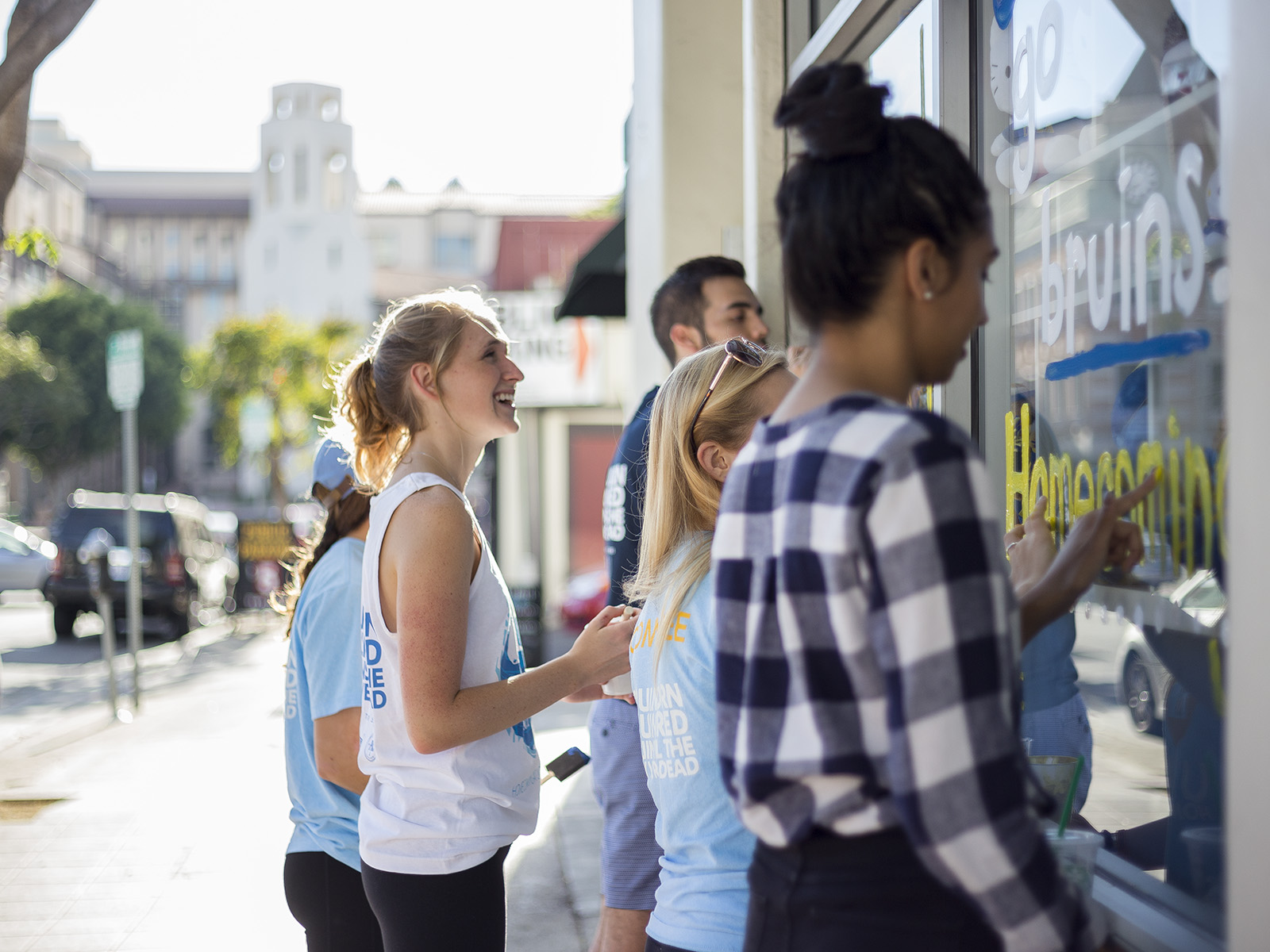 The UCLA Homecoming Commitee has organized Paint the Town, an annual homecoming event, for the past four years. (Jennifer Hu/Daily Bruin)
Students got messy Sunday night decorating the windows of 18 Westwood businesses with blue and gold paint.
The UCLA Homecoming Committee has organized Paint the Town as a kickoff for homecoming week since 2013. Multiple student groups and individual students painted windows for the event.
Participating businesses offered all UCLA students discounts for that day, said Ashly Mohankumar, the Homecoming Committee's director of internal relations. Each business offered a different discount.
Mohankumar said Paint the Town is a bonding event that brings multiple groups on campus together. She added she thinks the event is a way for students to show their artistic side.
Madeleine Powell, a Homecoming Committee member, said she thinks Paint the Town gives students a way to connect to the Westwood community. She added she thinks the event can offer relief for students who are stressed because of midterm exams.
"Homecoming reminds us why we love UCLA so much during the chaos of midterms," Powell said.
[Throwback: USAC revives UCLA homecoming tradition after seven years]
Businesses said they participated to show their support for the UCLA community.
Beth Jensen, a manager at Trader Joe's, said she thinks the paintings on the store's windows make students more excited to shop there. She added the company tries to stay involved in the UCLA community.
Meghan McDermott, a third-year mechanical engineering student, said this is the first year her club, UCLA Students for Haiti Solidarity, participated. She said she believes the event promotes bonding, club publicity and fun.
Harry Chung, a fourth-year biology student, said he participated in the event for the first time this year because he wanted to express his artistic side.
Lily Dameron, a third-year statistics student, said the event reminds her of home because her high school put on a similar event.
"Paint the Town made Westwood feel like my small hometown," Dameron said.