Alum, Pokémon Go creative designer talks future of augmented reality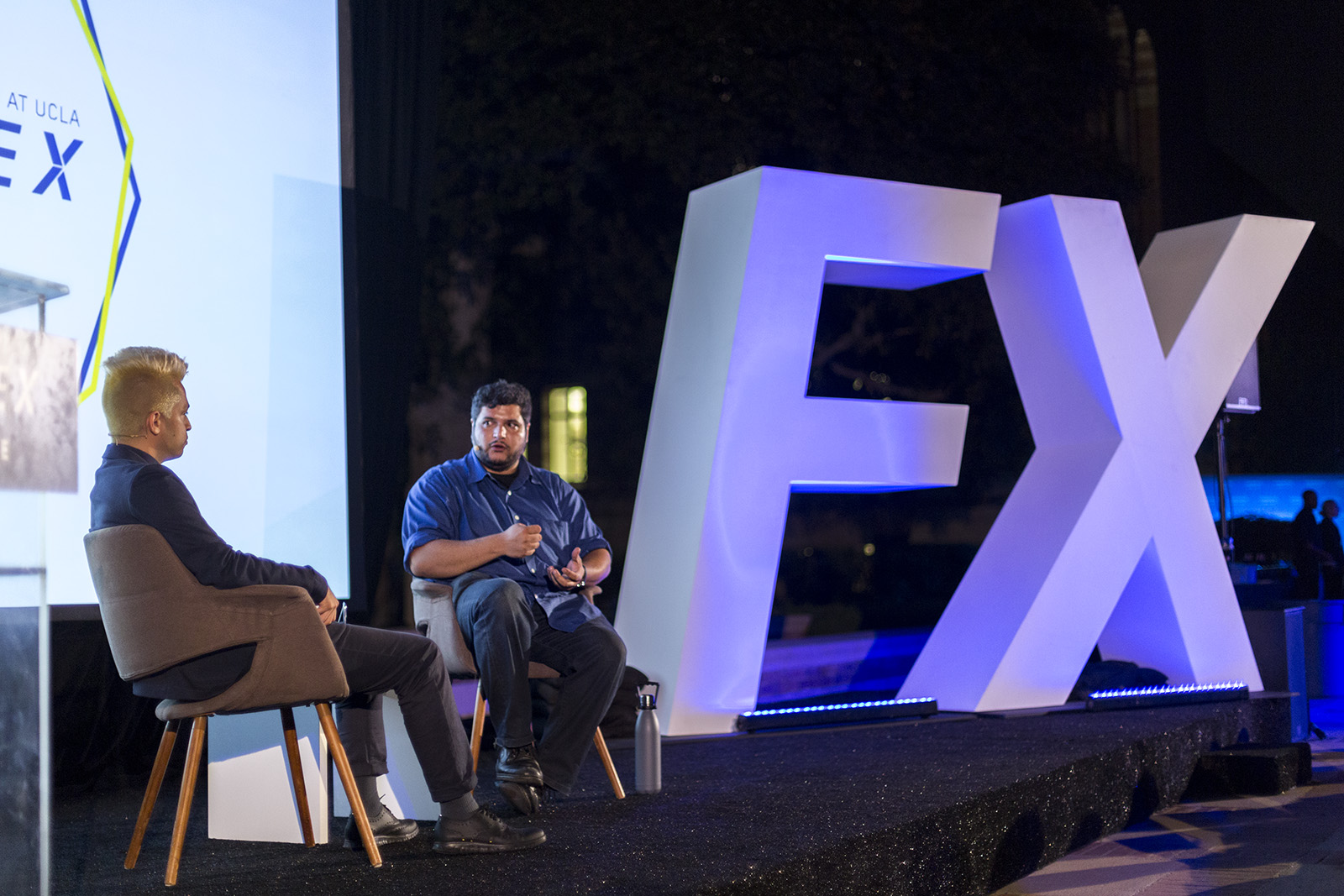 Raza Ahmad, an alumnus of the UCLA School of Theater, Film and Television and member of the Niantic Labs creative team, came to UCLA to talk about his work in game design and his vision for augmented reality. (Owen Emerson/Daily Bruin senior staff)
Raza Ahmad said he didn't expect augmented reality games to be the success they have been. But Pokémon Go and other games he helped develop proved him wrong.
Ahmad, a UCLA School of Theater, Film and Television alumnus and member of the Niantic Labs creative team, presented his role in developing augmented reality technology at a FuturizeX event Thursday evening.
Niantic Labs is the software company that created Pokémon Go, a game that gained popularity quickly after it was released. In July, Pokémon Go was ranked higher than Facebook, Snapchat and Instagram in the Google Play store.
FuturizeX director Andres Cuervo interviewed Ahmad at the top of Janss Steps, in front of an audience of about 300 faculty, students and visitors. FuturizeX is a campuswide initiative that aims to promote technological innovation.
During the interview, Ahmad shared how he became interested in augmented reality and game design. When he was in film school at UCLA, he would take gaming classes too. He enjoyed the classes so much that he decided to become a teaching assistant for those classes, he said.
"There was lots of downtime as a TA," he said. " During those times I would mess around with (Adobe) After Effects for an entire day, learn technologies and make my brain expand into another direction.

He joined Google as the company was developing Niantic Labs. Niantic Labs later parted from from Google and became its own company, he said.
Before Pokémon Go, Niantic Labs developed Ingress, a game in which players can compete in teams to capture imaginary portals at real places like landmarks and monuments.
He said he did not expect Ingress to be as successful as it became, because the game requires players to walk to different locations to find the portals while people were used to playing games indoors.
"To play the game, you (have) to get up from your chair and walk all the way over there," he said. "That's a lot to ask of people and there was no reason to assume people would embrace this."
Students who attended the events said they were surprised to hear the stories behind the development of Pokémon Go and Ingress.
Yasmin Le, a third-year exchange student, said she thought Ahmad would focus on how Pokémon and Ingress were developed technically. She said she did not expect the talk to incorporate how a sense of community and meeting new people is important for many game players.
Yasmin Rizal, a first-year atmospheric, oceanic and environmental science student, said she is an avid Ingress player and has attended many community events for players in Malaysia.
She said the event made her realize that there was more meaning to playing Ingress.
"Now that I know they are as passionate about the game as we players are," she said. "I want to support this game more, attend more events, get more of the story line, and dig deeper into the game."
Brian Tran, a graduate student in computer science, said he likes learning about new technologies and how they can shape people's lives. He added he thinks augmented reality brings alternative ways for people to interact with the world.
"I went to a presentation in Microsoft and they talked about how augmented reality can be used to train physicians," he said." Lots of people are introduced to it through entertainment means, but it has a wide functionality that will affect our future."
Ahmad said Niantic Labs hopes to organize more events that bring Pokémon Go players together.
"There are already so many community events that are self-organized and with scales that rival ours." Ahmad said.
He added Niantic Labs members hope their imagination surpasses current technology, so they can leverage future technology when it comes.
"The technologies are crude and experimental but they will become smaller and cheaper, and what we are working on now is to experiment how to use the technology as they come," he said.
FuturizeX plans to invite other leaders in technology that have made an impact on society to speak in their forum series events.