USAC leaders work to increase gun control advocacy among students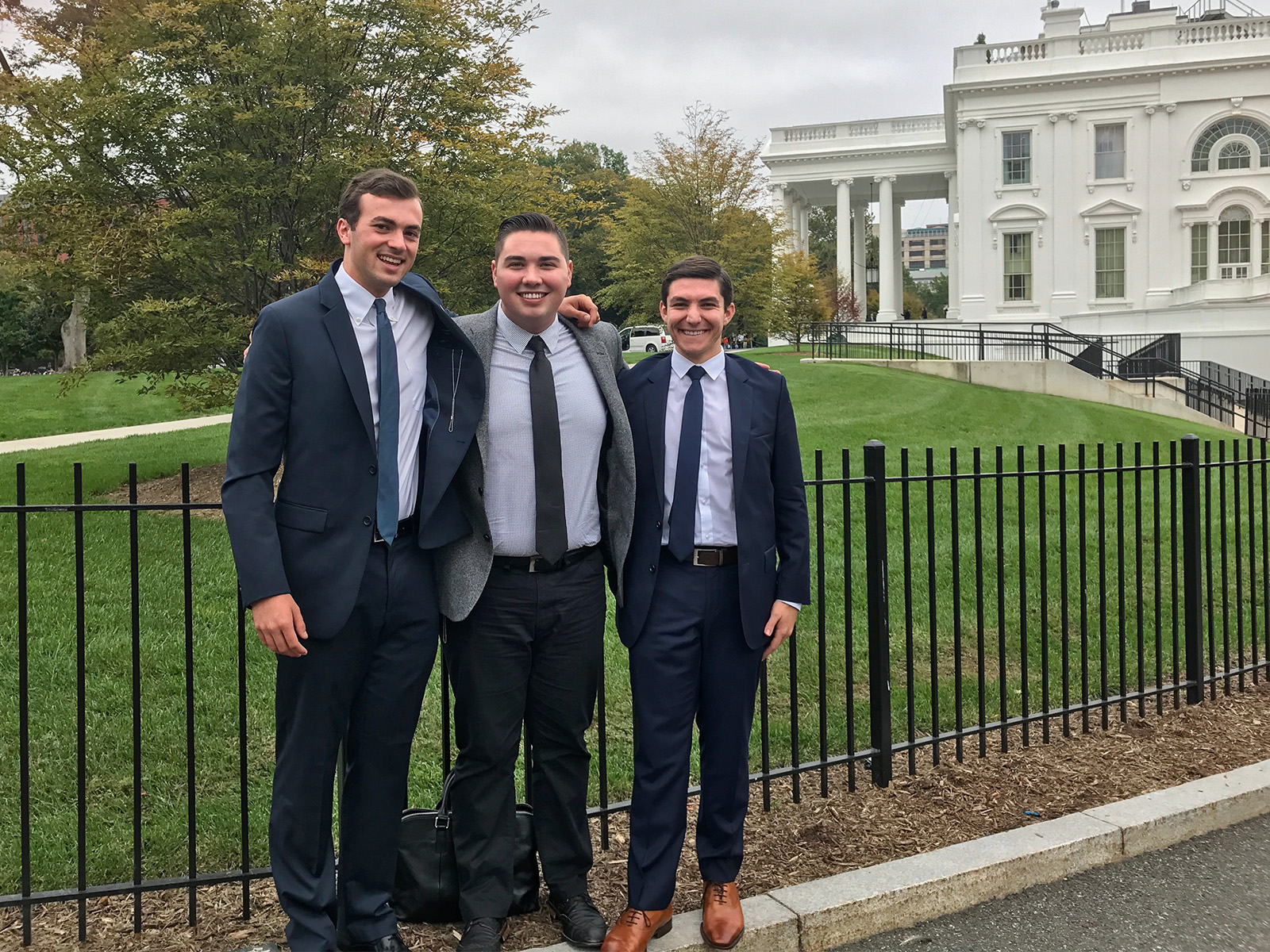 Student leaders Rafi Sands, Tanner Kelly and Danny Siegel visited the White House Friday to discuss gun control advocacy on college campuses with senior advisors and other student leaders. (Courtesy of Rafi Sands)
This post was updated Oct. 13 at11:15 a.m.
Three UCLA students spoke with White House officials Friday to discuss student advocacy on gun control issues.
Undergraduate government student leaders Danny Siegel, Rafi Sands and Tanner Kelly met in the Roosevelt Room with three White House senior advisors and 11 other student leaders from across the country.
Undergraduate Students Association Council President Siegel said the White House senior advisors used the meeting to recognize the student leaders' work relating to gun control, and discuss ways officials can support students in future efforts.
Sands, USAC external vice president, said attendees also discussed how they could empower students to increase dialogue about gun control on their campuses.
Sands said he, Siegel and Kelly were invited to the White House because they helped organize a press conference at UCLA addressing gun violence. They held the conference in response to the June 1 murder-suicide.
Sands added he thinks the press conference, which state lawmakers attended, encouraged officials to pass a bill that will fund a gun violence research center at a UC campus.
"The White House has been shifting the approach towards gun control away from direct pressure on Congress to act, and instead towards a more long-term approach of empowering a generation of young people to stand up and take action," Sands said.
Sands said he thinks very few students are actively working on gun control advocacy in colleges, even though young people consistently rank gun control as an important issue in America.
"Of the 5,000-plus student organizations across the UC, I know of only one focused around gun control advocacy, in Berkeley," Sands said. "It sort of blows my mind."
He added he thinks the lack of student involvement hinders the effort against gun violence.
"People think the issue is too far away, too hard to touch, too dominated by big money interests," he said. "We think of gun control and we don't even try to talk about it, we say it's a lost cause."
Siegel said the first step to increasing student activity is to create a common, national network for students to discuss the topic. He said he has been speaking with the other student leaders who went to the White House meeting about how they can create the coalition.
"From there, we'll begin sharing our ideas and creating a dialogue from our respective campuses, to talk about what works and what doesn't," he said.
The Office of the External Vice President also plans to create more opportunities at UCLA for students to talk about gun control, Sands said.
"Changes are not going to come quickly but once people are there in the room, it'll be a lot easier to develop a campaign that will pressure lawmakers to take action," Sands added.
Siegel said he thinks the issue of gun violence used to be a taboo topic, but it has become more visible in national politics.
"In the 2000 election, no one would touch it because it was considered so controversial," he said.
Kelly, the alumni advisor to the USAC EVP office, said he thinks California has progressive gun control legislation, but is still affected by other state laws since guns can be transferred across state lines illegally.
Kelly added he thinks laws regarding gun control on college campuses could be improved.
"On campuses that allow concealed carry, someone could argue that there's no data on correlation between suicide and increased incidence of gun violence on campus just because it's not required to be reported," he said. "So it's a matter of making better policy decisions around gun control legislation."
Sands said he hopes the conversation on gun control becomes more nuanced.
"The issue is not as black and white as students see it," he said. "It's not a question of whether or not we should implement it, but how we can do it in a way that Americans will accept, a way that is effective but won't infringe upon peoples' rights."
The White House senior advisors will continue helping student leaders with their plans regarding gun control, Kelly said.
"The biggest takeaway is that, as students, we really do have the power to make a difference and shape the conversation around important social issues," Kelly said.