Students stand in solidarity with UCLA's undocumented population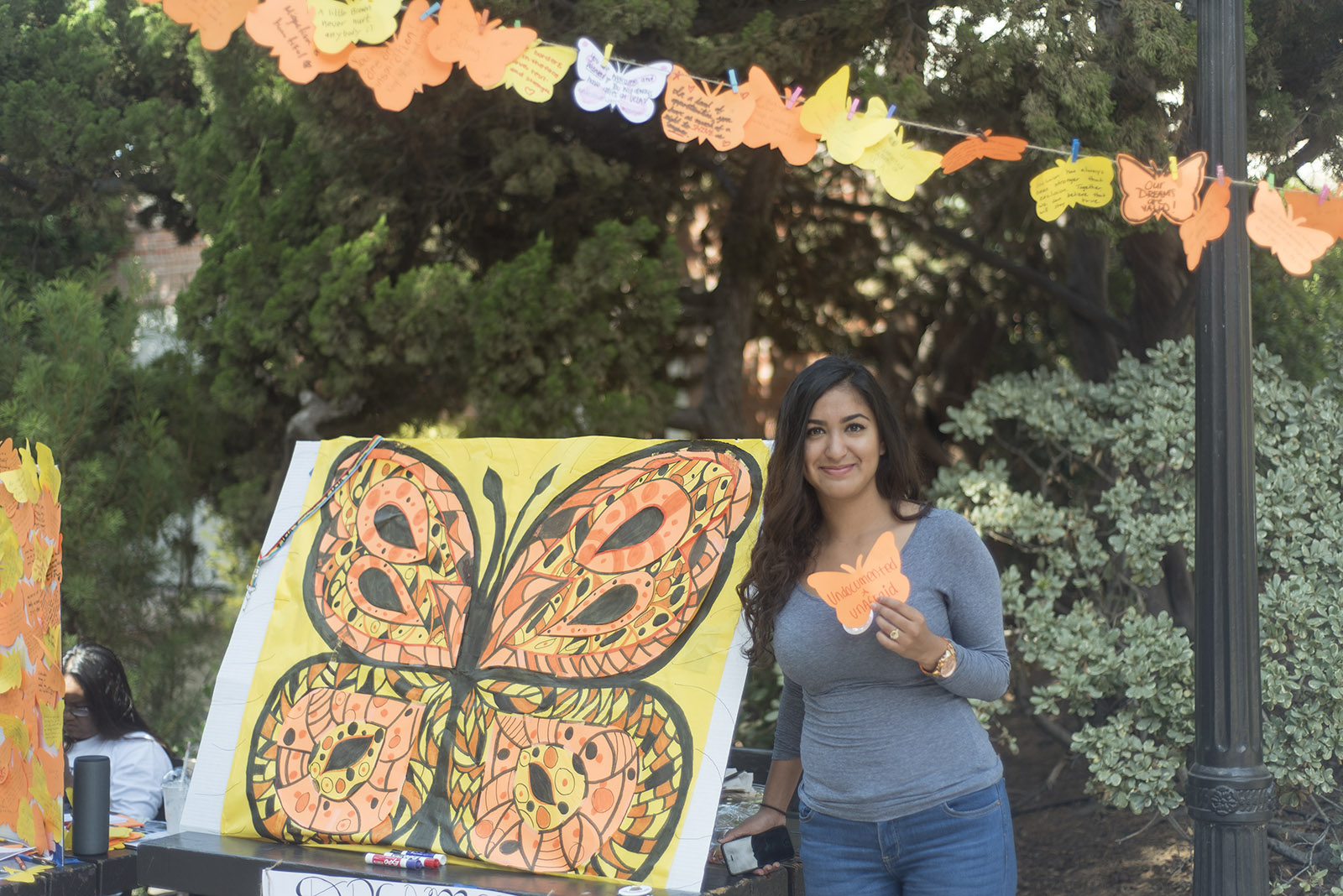 Isabel Figueroa, a third-year psychology student, posed in front of the giant butterfly poster board set up to support the undocumented student community. (Coco Wang/Daily Bruin)
Students wrote messages in support of the undocumented student community on butterfly-shaped notes at an event Thursday.
The butterfly was chosen as the symbol of the Undocumented CommUNITY event, led by undocumented students, because it is considered a symbol of migration, said Daysy Palma-Cruz, an event organizer and third-year political science student.
A coalition of 27 student leaders from different organizations created the event as a response to a Bruin Republicans panel on the same day about illegal immigration, said Chloe Pan, an event organizer and co-director of Bruin Consent Coalition.
The Bruin Republicans panel, titled "Sabine Durden: An Illegal Immigrant Killed My Child," featured Sabine Durden, the mother of a young man who was killed by an undocumented immigrant.
[Related: Coverage of the Bruin Republicans event]
"We wanted a positive, productive and constructive way of responding to what we felt was an attack on the undocumented community," added Pan, a third-year international studies and Asian American studies student.
Throughout the day, students were able to take pictures next to a butterfly poster on Bruin Walk and listen to undocumented student speakers at the Kerckhoff Art Gallery.
"We saw that there was an increase in anti-immigrant climate both on campus and nationally," said Cristian De Nova Ledesma, a fourth-year microbiology, immunology and molecular genetics student and one of the event organizers. "We wanted to make sure undocumented students felt accepted and welcomed on campus because they are part of this community."
Over 40 campus departments and organizations endorsed the event, Pan said. Event organizers listed the groups, including the UCLA Financial Aid Office, Bruin Democrats and several undergraduate student government offices, on a banner on the event's Facebook page.
[Related: New retention program seeks to support undocumented students]
Evan Smoller, a fifth-year linguistics student and member of Improving Dreams, Equality, Access and Success, said he thinks Donald Trump's nomination for president has increased anti-immigrant sentiment nationwide. But he said he thinks the messages written on the butterflies show that UCLA students are more supportive of undocumented immigrants.
"I think people who are against immigrants are more vocal and stand out more, but I believe the national anti-immigrant sentiment doesn't represent the larger UCLA community," he said.
Ivy Liu, a fourth-year psychology student, said she filled out a butterfly note because she considers undocumented issues a personal topic to her.
"Even though I was born here, my two older sisters are undocumented," she said. "I understand the hardship and challenges they face."
De Nova Ledesma said the butterfly notes will be posted permanently in an expansion of the Bruin Resources Center that will open next quarter in the Student Activities Center.
"It's important to think about the undocumented community and how to support them beyond election season," Pan said. "Students on our campus face these issues every day, not just when they're being politicized."
Contributing reports from Rupan Bharanidaran, Daily Bruin reporter.