Student group seeks to support minority STEM students, boost diversity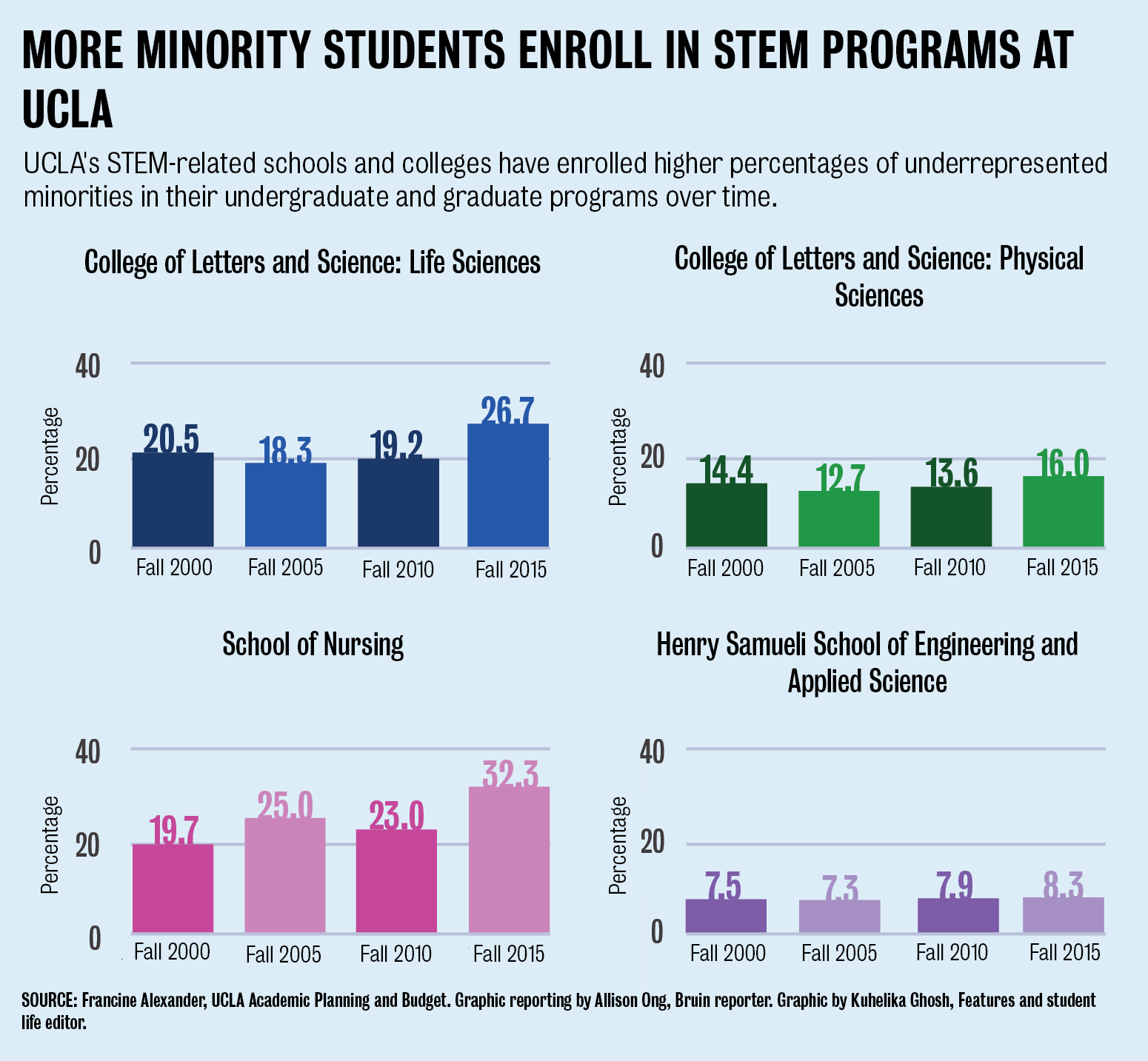 Growing up in a low-income neighborhood, Karen Gonzalez felt she had limited access to a well-rounded education.
"I personally never met another scientist until I came to UCLA," Gonzalez said. "I'm always on the lookout for resources that might be beneficial for me or other students from disadvantaged communities."

Last year she joined the Society for Advancement of Chicanos/Hispanics and Native Americans in Science, or SACNAS, at UCLA. SACNAS is one of a handful of school-sponsored organizations that provide resources and social support for minority students in UCLA's science, technology, engineering and mathematics programs.
The national SACNAS organization is honoring the UCLA chapter this week with two awards at its annual STEM conference in Long Beach, including Chapter of the Year. SACNAS, which consists of 50 undergraduate and graduate students, welcomes students from any major or ethnicity who want to increase diversity in STEM fields, said Chapter President and fifth-year chemical engineering student Roberto Naranjo.
The chapter provides opportunities for members to network with alumni, develop professional skills and forge relationships among those pursuing similar career pathways, Naranjo added.
"Being a minority student in STEM, it can be challenging because you don't have many people that look like you in these classes, (including) professors," Naranjo said. "Without these programs and organizations I feel like I would be lost."
[Related: Student creates secret agent game to encourage young girls in STEM]
The national SACNAS organization is recognizing the UCLA chapter for its membership growth and the leadership opportunities it provides, said Kate Rose, press liaison of the larger organization. UCLA's chapter was the first to hold a Student Leadership Training Institute, which invited SACNAS leaders from as far away as Texas to learn about team development.
SACNAS' national mission is to change the face of science and achieve true diversity in STEM, Rose said.
"This begins at the university level where students can find what they're passionate about, get research opportunities and build their key leadership skills," Rose added.
Gina Poe, an integrative biology and physiology professor at UCLA, works closely with minority and disabled students through a research training program called Maximizing Access to Research Careers, or MARC.
Poe, who is the co-faculty director of MARC, said she thinks minority students have access to sufficient STEM resources on campus. The main problem, however, is that students – especially transfers – don't necessarily know how to take advantage of these opportunities, she said.
"A lot of our scholars are first-generation college students," Poe said. "Because the trainees represent groups that have been selected against in the past, there's less history in their community of knowing what graduate school is, much less being able to tread a path toward it."
SACNAS also tries to give back to the larger community of underrepresented youth in Los Angeles, Naranjo said. The club hosts a Math and Science Academy for more than 300 high school students annually on campus, and gives tours and presentations to K-12 students throughout the year.
SACNAS focuses on schools with predominantly Hispanic and African-American populations, Naranjo said. He added one 8th-grade teacher from Sun Valley Middle School brings her students to campus every year.
"I want to give back, and I want to make sure that the pipeline is still strong," Naranjo said. "These students might never have a chance to see a four-year university throughout their high school career. I want to make sure people like me have the opportunity to go to four-year schools and be successful as well."