Report Card: UCLA vs. Arizona State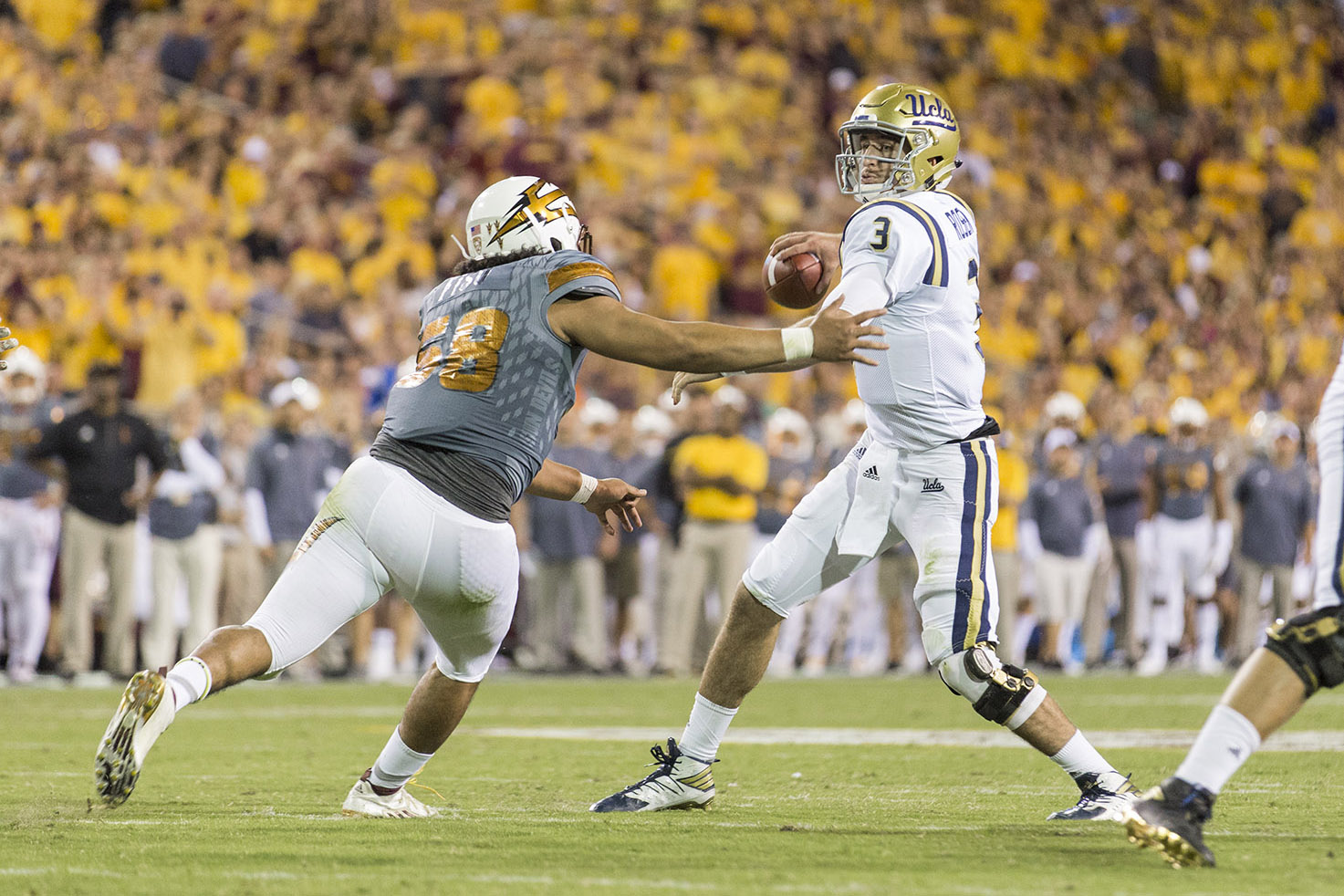 UCLA sophomore quarterback Josh Rosen had a career night with his first 400-yard game. However, Rosen was punished all night due to a lack of production from his backs and a leaky offensive line. (Jintak Han/Assistant photo editor)
Quarterbacks: C
This is a difficult grade to settle on.
First of all, two quarterbacks played and they have entirely disparate talent levels. Sophomore Josh Rosen is a star, and he played like it at times, but backup redshirt senior Mike Fafaul is a former walk-on who looked overmatched when he entered in relief of Rosen.
Fafaul went 3-of-11 for 44 yards with two interceptions, posting the worst passer efficiency rating by a Pac-12 quarterback with 10 or more passes in nearly eight years.
Perhaps he will learn from the experience and improve going forward, but Fafaul simply did not look ready to lead the offense in a game that mattered. He doesn't have a ton of zip on his throws, which means he'll have to be very good at reading defenses and finding decent holes to throw to.
Otherwise, he ends up with plays like this.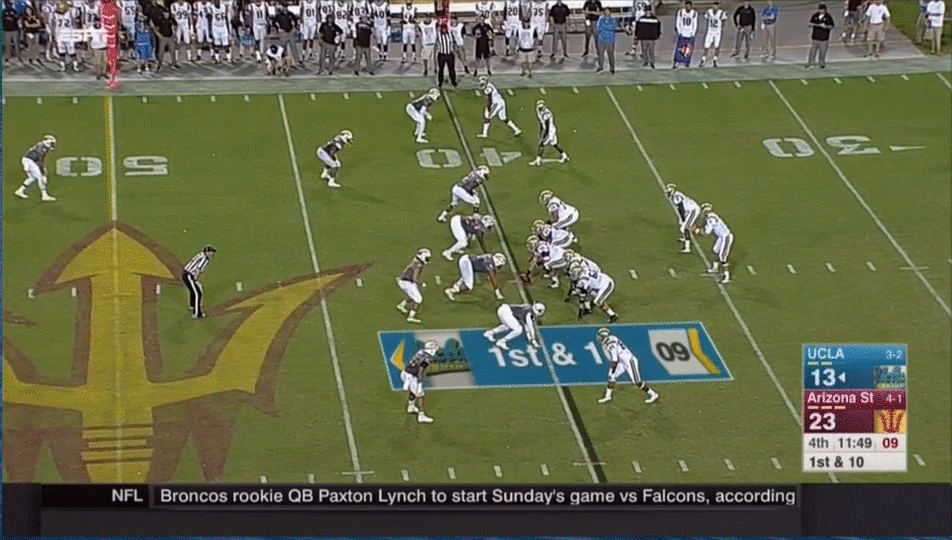 As for Rosen, he fought through constant pressure and a number of heavy hits to post his 400 yards. His supporting cast didn't do him a whole lot of favors, as the running game was nearly nonexistent and his receivers dropped three passes, including two touchdowns.
The star sophomore finally showed some deep ball chemistry with his receivers, generating 123 yards on passes of 20 yards or more, according to Pro Football Focus.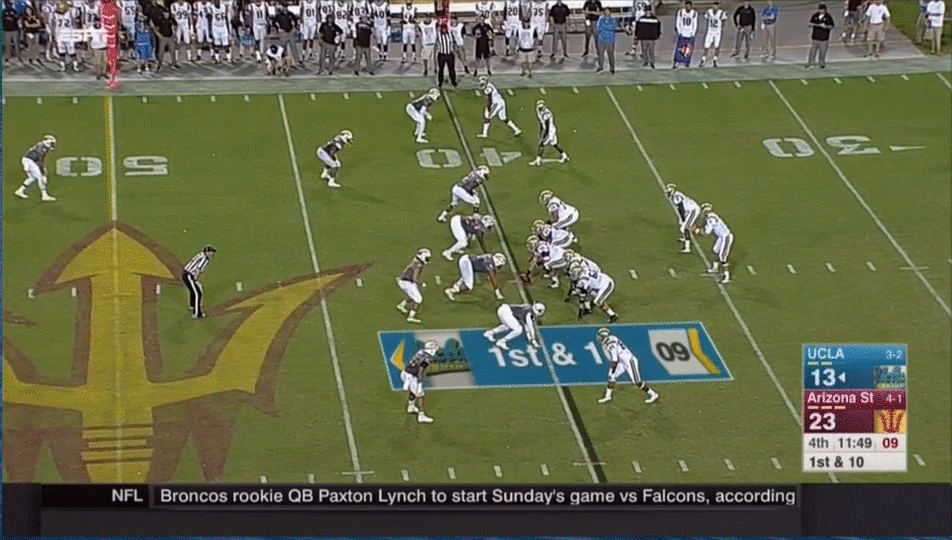 He went 3 for 7 on attempts of at least 20 yards, and two of those incompletions were drops.
Rosen found a good amount of success in the second half beating the Arizona State blitz by hitting shallow crossers for decent-sized gains.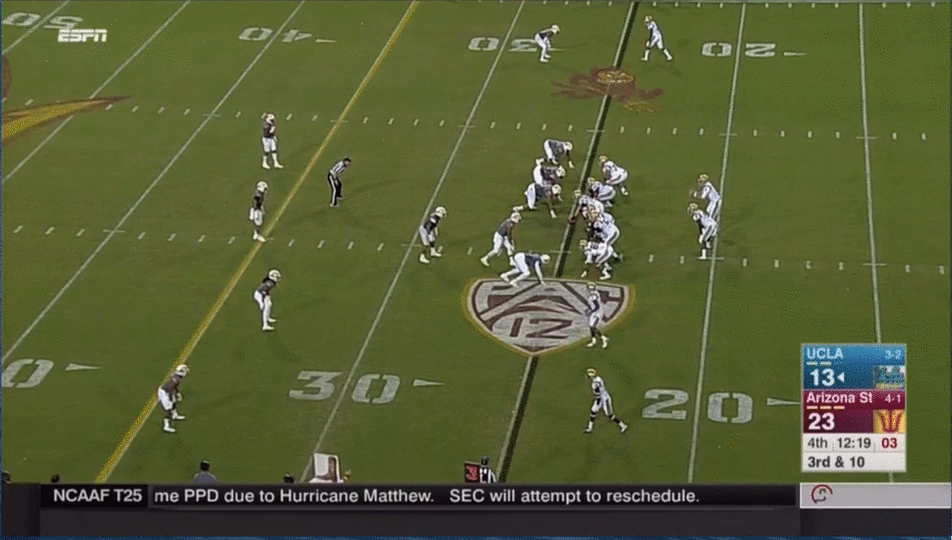 Considering his well-documented injuries, it would be hard to ask more of Rosen than what he did. He does get docked, though, for turning the ball over twice, once on a fluky play in which the ball slipped out of his hand and once on an ill-advised throw that was tipped and intercepted.
Running backs: C
When you rush for negative yardage, it's hard to expect anything more than a C.
It's hard to say whether the backs or the offensive line are to blame, but either way, the running game was once again abysmal Saturday.
In the second half, the Bruins pretty much abandoned the ground attack entirely, rushing just seven times and losing a total of 17 yards.
Junior Nate Starks got the bulk of the work, toting the ball 14 times for 31 yards. As usual, he had a couple decent runs when he bounced the ball outside, but he also seemed a little too prone to abandoning the planned running lane in search of yardage on the edge.
The grade is helped by sophomore Soso Jamabo's big catch-and-run in the third quarter.
Wide receivers: C-
Against a pass defense ranked dead last in the Football Bowl Subdivision in yards allowed per game, the Bruin receivers had some success, but were not as consistently open as you might have hoped.
Add in three drops, including two in the end zone by redshirt senior Kenneth Walker, and you have the recipe for a subpar grade.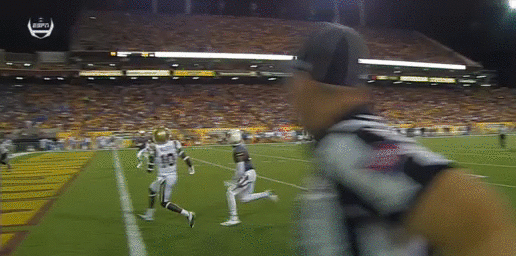 The tight ends continued to show signs of life in the passing attack, as redshirt senior Nate Iese and redshirt sophomore Austin Roberts combined for seven catches and 166 yards.
Offensive line: D
Consistently poor in run blocking, this unit also struggled in pass protection Saturday, allowing the Sun Devils to hit and harass Rosen all night long.
Rosen actually had a decent number of clean pockets when Arizona State rushed just three or four.
But when the blitz-happy Sun Devils sent extra pressure, the Bruins had trouble keeping their quarterback clean.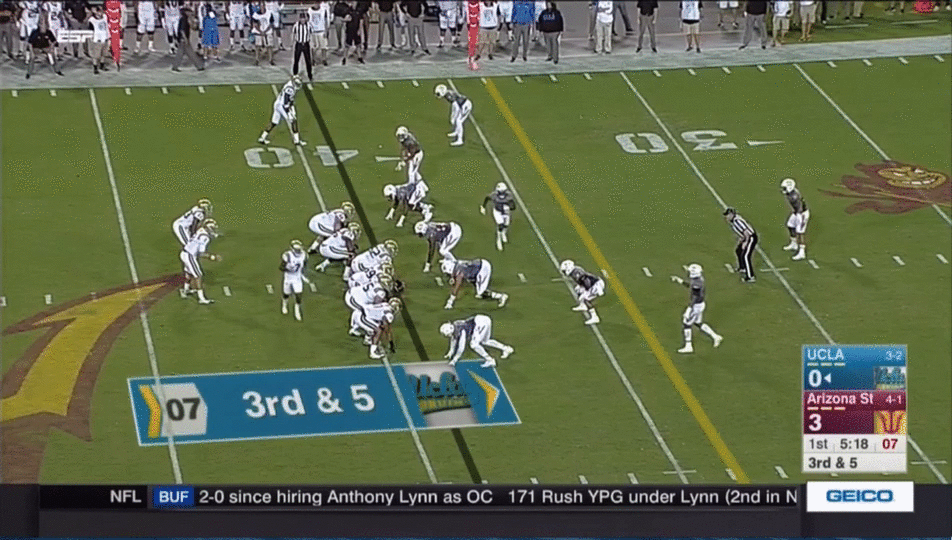 Rosen was pressured on 50 percent of his dropbacks throughout the game.
Though redshirt senior left tackle Conor McDermott and redshirt junior center Scott Quessenberry had decent games, the other three linemen struggled mightily to protect the passer.
Starting in place of the injured redshirt sophomore Kolton Miller, redshirt freshman right tackle Andre James gave up two quarterback hits and five hurries, according to Pro Football Focus. Redshirt junior left guard Kenny Lacy allowed a sack, two hits and five hurries, and junior right guard Najee Toran gave up five hits.
And in the run game, the offensive line really struggled to create holes, forcing the backs to deal with defenders in the backfield throughout the game.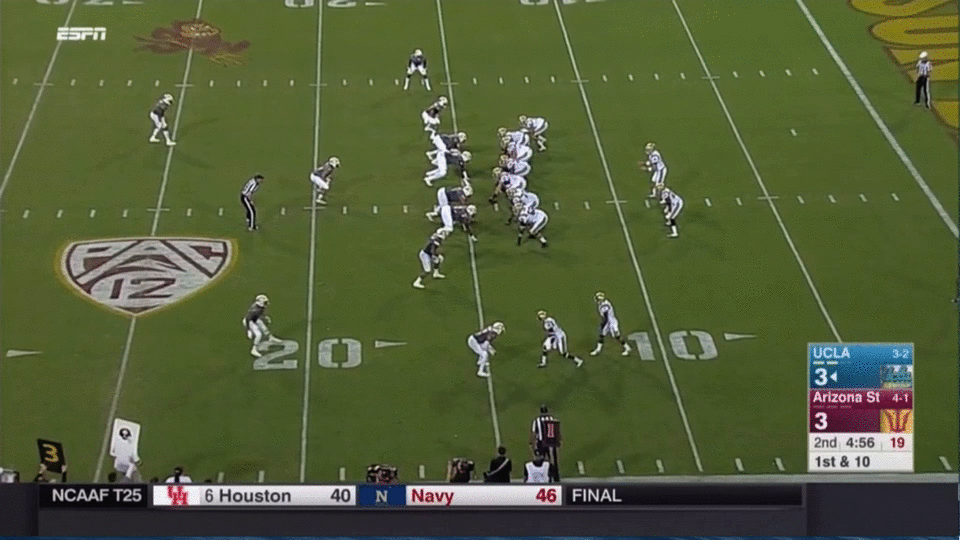 Defensive line: B+
When senior end Takkarist McKinley was in the game, this unit was dominant. McKinley tallied a hit, a hurry, two tackles for loss and two other stops while playing just 38 total snaps.
His development as a run-stopper was on display throughout the first half as he helped limit Arizona State to just 24 yards on 13 carries.
Watch him use his long arms to keep the left tackle from controlling his chest, then make the tackle in the running lane.
He's capable of ruining run plays all by himself, as he did on this first-quarter rush.
But as McKinley dealt with an injury throughout the second half, the line had more trouble getting to the quarterback, allowing Brady White to settle in and go through his reads more easily.
Redshirt junior tackle Eddie Vanderdoes has been a force all year long in the run game, but with opponents allotting him extra attention, he's less productive as a pass rusher. On 37 pass-rush snaps Saturday, Vanderdoes recorded just one hit and one hurry.
While McKinley shuttled back and forth from the bench in the second half, redshirt freshman end Keisean Lucier-South got some extended action, and couldn't make much happen. He's got the speed to chase down ball-carriers from the weak side the way McKinley does, but he's nowhere near McKinley's level as a pass rusher or run stuffer.
Junior lineman Matt Dickerson played what was probably his best game of the year against Arizona State, looking stout against the run as he produced four tackles.
Linebackers: B+
The Bruins held the Sun Devils' rushing attack to just 2.3 yards per carry, in large part thanks to the work of senior weakside linebacker Jayon Brown.
Brown, who has been overshadowed somewhat in recent weeks by junior middle linebacker Kenny Young, impressed all night in the run game, recording nine tackles. Of those nine, Pro Football Focus categorized eight as "run stops," which refer to plays which the defense can consider a success from a yardage standpoint.
This is the type of play Brown made throughout the game: watch him tangle briefly with a blocker, then shove him away and disengage to make a tackle for a short gain.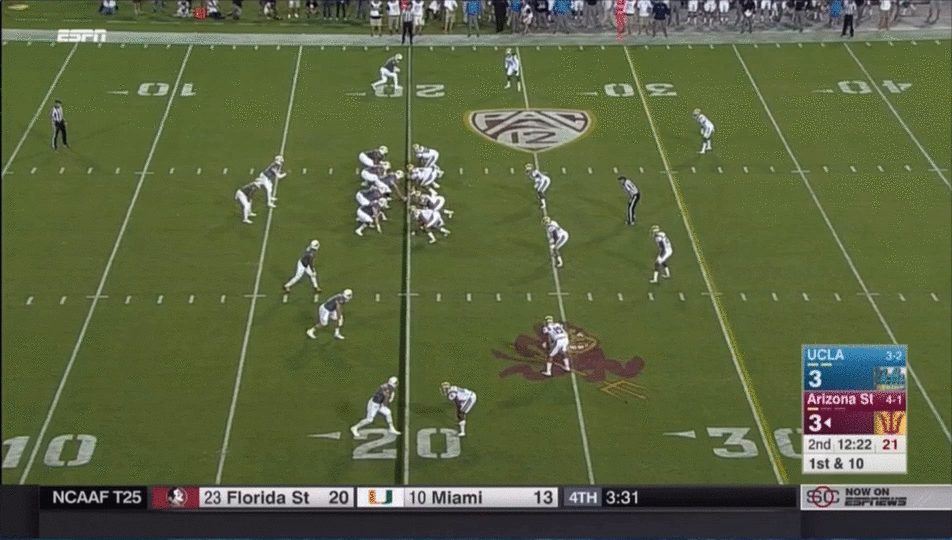 Young played well once again, too, but didn't see as much of the field as usual because the Bruins often turned to Isaako Savaiinea to handle the more coverage-heavy responsibilities involved in facing the Sun Devils.
Defensive backs: B+
Both junior safety Jaleel Wadood and redshirt senior cornerback Fabian Moreau earned spots on Pro Football Focus' Pac-12 Team of the Week, and deservedly so.
Wadood injured himself on this play late in the game, but it's also a great example of his excellent instincts and closing speed. He lines up over the receiver in the right slot, dropping a couple yards before breaking quickly on the ball and deflecting it.
Moreau continues to cement himself as a lockdown corner. The Sun Devils only targeted him three times all night, and Moreau caught as many of those balls as his opponents did.
On the other side of the field, sophomore Nate Meadors mysteriously didn't play, with redshirt senior Randall Goforth filling in at left corner.
Arizona State tried to pick on Goforth, throwing at him 11 times. Only four of the balls were caught, but a couple of them ended up being crucial plays for the Sun Devils, including this third-quarter touchdown by N'Keal Harry on a post route.
It's not entirely clear what the coverage is here, so it's possible Goforth was playing a deep zone, but it seems more likely that the Bruins are playing single high with Goforth responsible for man coverage on Harry.
Harry beat Goforth again for a first down in the fourth quarter, running a similar route but this time getting Goforth turned around and giving his quarterback plenty of room to deliver the ball.
Overall, Goforth played a solid game, but on those plays, his lack of experience at corner was noticeable. Again, it's unclear why Meadors didn't play, but it's worth noting that he's been strong in coverage in recent weeks.
Cummings joined the Bruin as a freshman in 2014 and contributed until he graduated in 2018. He was an assistant Sports editor for the 2015-2016 academic year and spent time on the football, men's basketball, baseball, cross country, women's volleyball and men's tennis beats.
Cummings joined the Bruin as a freshman in 2014 and contributed until he graduated in 2018. He was an assistant Sports editor for the 2015-2016 academic year and spent time on the football, men's basketball, baseball, cross country, women's volleyball and men's tennis beats.