UC postdoc scholars to vote on new salary, paid-leave terms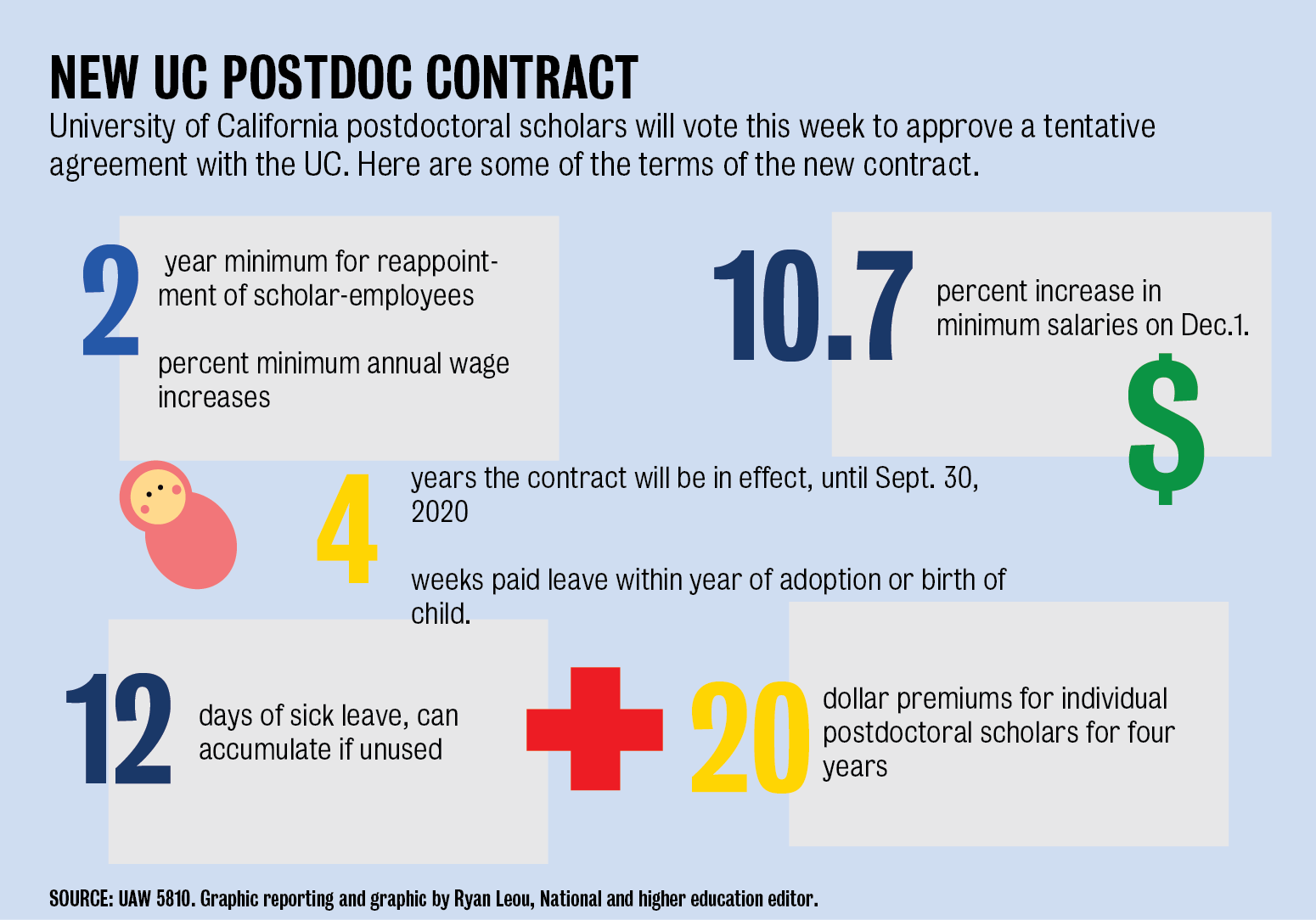 University of California postdoctoral scholars may secure paid parental leave and a wage increase, among other benefits this week. They will vote to approve a new contract with the UC by Friday.
United Auto Workers Local 5810, the union representing about 6,000 UC postdoctoral scholars, announced the tentative terms of an agreement with the UC last Thursday. Postdoctoral scholars have until this Friday to vote online and ratify or reject the contract.
Anke Schennink, president of UAW 5810, said she is excited about the compensation increases and parental leave provisions in the agreement.
"This is the result of many months of hard work by hundreds, if not thousands, of postdocs," Schennink said.
The UAW bargaining committee met with UC officials in several sessions through the summer. UCLA union members marched to Murphy Hall in August to ask Executive Vice Chancellor Scott Waugh to engage in bargaining sessions or authorize the bargaining team to negotiate on terms such as parental leave and compensation.
[From August: Postdoc union demands faster contract negotiations from UC]
Starting on Dec. 1, postdoctoral salaries will transition to a new pay scale based on the amount of time employees spend working at UC. According to the contract, minimum salaries for different experience levels will increase about 11 percent.

Postdoctoral scholars would also receive four weeks of paid parental leave for use within one year of the birth or adoption of a child, in addition to the time off and sick leave they already have. New parents would be able to use their time either all at once or spread it out through the year. Melissa Agnello, a postdoctoral scholar in the UCLA School of Dentistry and head steward for UAW, said she thinks the previous lack of paid parental leave discouraged researchers from starting families.
The union initially asked for eight weeks of paid parental leave, Agnello said, but added she thinks four weeks is better than nothing at all.
Agnello also said she thinks the new contract term specifying longer minimum appointments for postdoctoral scholars will help job security, which in turn will increase productivity.
She added she thinks longer minimum appointments will help international postdoctoral scholars, who originally had to renew their visas regularly with shorter minimum terms.
The contract also includes terms that aim to improve the UC's response to sexual assault and harassment claims. Some provisions are strict timelines for UC investigators to deliver initial assessments and comprehensive reports, as well as protections to ensure research and career progress are not derailed for scholars who report claims. The contract would also expand the definitions for groups of people at risk for discrimination to include gender identity and gender expression.
Claire Doan, UC spokesperson, said in an email statement that the agreement fairly compensates postdocs for their contributions, provides support for employees with families and is financially sound for the university.
If the contract is ratified, it will be in effect until Sept. 30, 2020.
Contributing reports by Chelsea Nivison, Daily Bruin contributor.