Solar umbrellas to open up outdoor charging opportunities on campus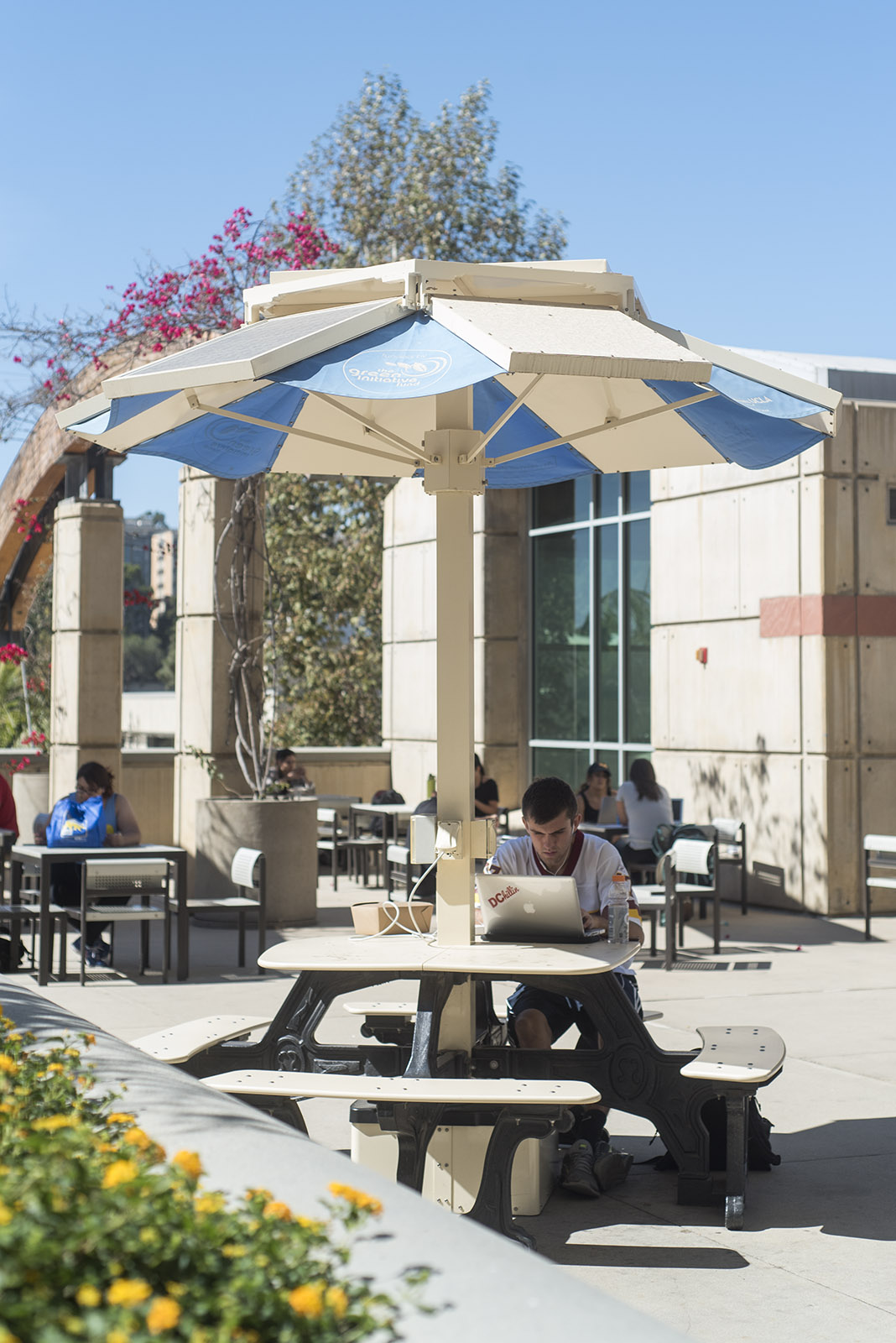 The USAC facilities commission plans to install new solar umbrellas, similar to the ones that were installed in Ackerman Union last year. (Miriam Bribiesca/Photo editor)
Correction: The original version of this article incorrectly stated Sandra Rhee secured funding for solar umbrellas in Ackerman Union in 2015. In fact, UCLA installed the solar umbrellas in 2013.
An undergraduate student commission is drafting a proposal to install new solar umbrellas on campus.
Students would be able to charge their phones, laptops and other devices if the umbrellas are installed, said undergraduate student government Facilities Commissioner Sandra Rhee. The commission wants to install the umbrellas on Kerckhoff patio and the second floor balcony of the John Wooden Center.
The commission will apply for funding from The Green Initiative Fund by Oct. 25, said Sophie Butler, the commission's director of sustainability and co-leader of the project. If their application is approved, the commission will begin the process of purchasing and installing the umbrellas.
The Green Initiative Fund referendum, first passed in 2008, reserves about $200,000 a year in funding for students to pursue sustainability projects. In May, undergraduates voted to renew the referendum, adding a $4.80 quarterly student fee.
An annually appointed committee chooses the projects that receive funding from TGIF, according to the referendum's website.
"We're hoping the umbrellas will be covered by TGIF," Rhee said. "It aligns with the (fund committee's) values but it has to be approved by the committee first."
In 2013, UCLA installed a different set of TGIF-funded solar umbrellas in Ackerman Union. Rhee said she thinks the umbrellas, installed in 2013, are not heavily used now due to an outdated model and poor placement.
The new umbrellas would be placed in more public locations and have a sleeker, more updated model, she added.
The commission plans to purchase the umbrellas from ZON Technology, Rhee said. The Anderson School of Business installed USB umbrellas from the company last year.
The commission plans to use two different types of umbrellas: one with only a USB plug that costs around $2,200 each and one with a more advanced system of three charging prongs that costs between $8,000 to 10,000 each, Butler said. She said two umbrellas with USB charging capabilities would be added to Kerckhoff patio and one umbrella with three-pronged outlets would be installed at the Wooden Center.
The three-pronged umbrella allows larger devices to be charged but uses more electricity.
"With more use, hopefully in future quarters we would be able to expand the number of solar umbrellas on each patio, especially compared to regular umbrellas," Butler added.
Butler said she thinks students in Kerckhoff patio would only need USB charging stations instead of three-pronged ones since they would already have access to the outlets inside Kerckhoff Hall, the coffee house and Ackerman Union.
The John Wooden Center's second floor balcony is currently not very well-known to students and three-pronged umbrellas would help promote it as a study space, she added. She said students would be encouraged to stay longer and do more work on high powered devices like laptops if they had a three-pronged charging station available to them.
"This is a great way to show students how they can fit sustainability in their everyday lives," Rhee said. "It's also a really great platform for our sustainability committee to have more campaigns on sustainable living and conservation in the future."
Rhee said students and administration have shown support for the idea.
Some students said they think the umbrellas would be convenient for students on campus.
Nitika Tripathi, a fourth-year cognitive science student, said she thinks the solar umbrellas would benefit students because they wouldn't have to look for tables and outlets inside the coffee house. She added the patio tables would become more crowded.
Rosario Rivera, a fifth-year sociology student, said she thinks the outlets would allow students to stay outside longer. But she added she thinks there would be fewer chances to get a spot during popular times since there are a limited number of umbrellas.
Butler said the commission is in the process of arranging meetings with Associated Students UCLA, the Wooden Center and ZON to confirm and discuss the installation. They will also talk about the best placement for the umbrellas that would maximize the amount of sunlight and student usage.
If the proposal is approved, the commission will aim to have the umbrellas available for students by the end of fall quarter, Butler added.
Contributing reports from Janae Yip, Daily Bruin contributor.