Luskin Conference Center marks grand opening with mock symposium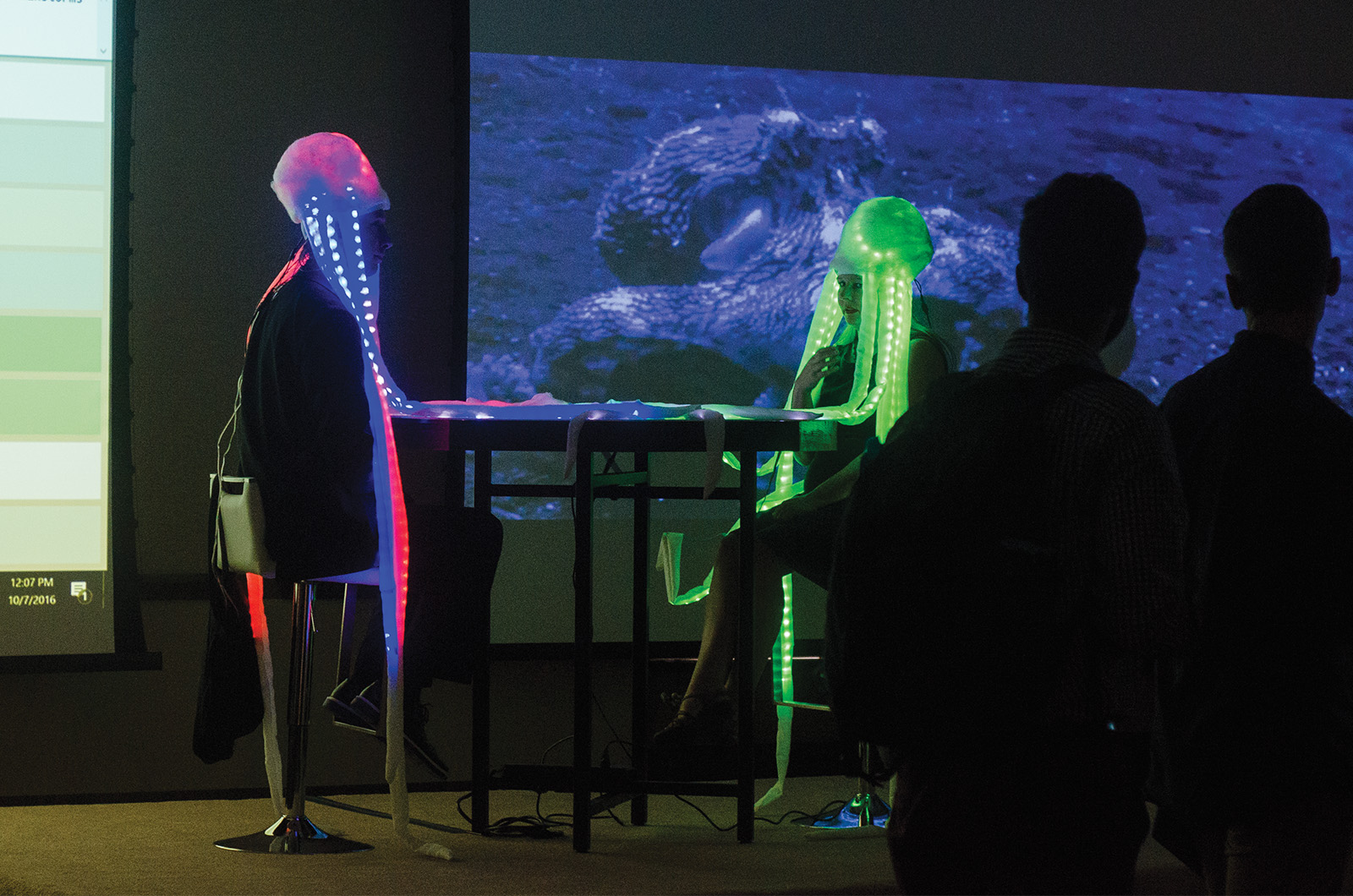 UCLA professors displayed their research at the grand opening of the Luskin Conference Center on Friday, including octopus caps that translate brain waves into lights and sounds. (Pinkie Su/Daily Bruin)
UCLA hosted a grand opening of the UCLA Meyer and Renee Luskin Conference Center on Friday, which Chancellor Gene Block called a test drive for future academic gatherings.
Alumni and faculty attendees listened to UCLA professors and experts in a mock symposium as they discussed topics in political science, astronomy and media.
The event featured UCLA's political science professors Lynn Vavreck and Matt Barreto, who discussed the 2016 presidential election with visiting communication studies professor Bill Schneider.
Schneider said he thought the campaign reversed traditional nomination patterns, because the two major party nominees took different routes to the nomination than their predecessors.
"The old saying goes 'Democrats fall in love, Republicans fall in line,'" Schneider said. "This time, Republicans fell for Donald Trump, and Democrats nominated who was next in line."
[Throwback: Construction started on new $152 million Luskin Center]
Schneider then asked the other two professors why Clinton and Trump are the most unpopular major party nominees in history.
Vavreck said she thinks increased partisanship and sorting of ideology by party has driven voters to take sides against either Trump or Clinton. Barreto said he thinks while partisanship has increased, Trump invited controversy on himself with his rhetoric against minorities and women.
Another panel with Vivian Sobchack, professor emerita in the UCLA School of Theater, Film and Television and a science fiction film authority, and astronomy professor Andrea Ghez discussed humanity's progress in understanding the universe and how media depicts space.
Ghez said she thinks the present is a golden age of astronomy, because new discoveries happen every day.
"Technology is driving new ways of exploring and understanding the universe," Ghez said. "But the more we discover, the more we don't understand."
Sobchack said science fiction literature and films reflect the times in which they were written.
"They are historical documents as much as they are speculations about the future," Sobchack said.
[Related: UCLA workers call for employment priority at new Luskin Center]
Attendees also had the opportunity to see firsthand exhibits displaying research and innovations happening at UCLA.
An augmented reality sandbox used an Xbox Kinect to color-code the high and low points of the sand. A computer program could then model how water would flow and collect in the terrain.
In a separate room, octopus-shaped caps with neural sensors translated brain waves into musical notes and colored lights. The people wearing the caps could see and hear how similar their thinking patterns were.
Different robots from the UCLA Robotics and Mechanisms Laboratory balanced on springy legs, followed and kicked a ball around and even recovered on their own from falling.
In the upcoming weeks, the David Geffen School of Medicine, Anderson School of Management and Henry Samueli School of Engineering and Applied Science, among other campus units, will hold meetings and academic symposiums at the Luskin Conference Center.
Those booking venue space must demonstrate that their event has academic or educational value and is aligned with UCLA's mission of education, research and service, according to the conference center.