UCLA skilled workers union calls for higher wages in protest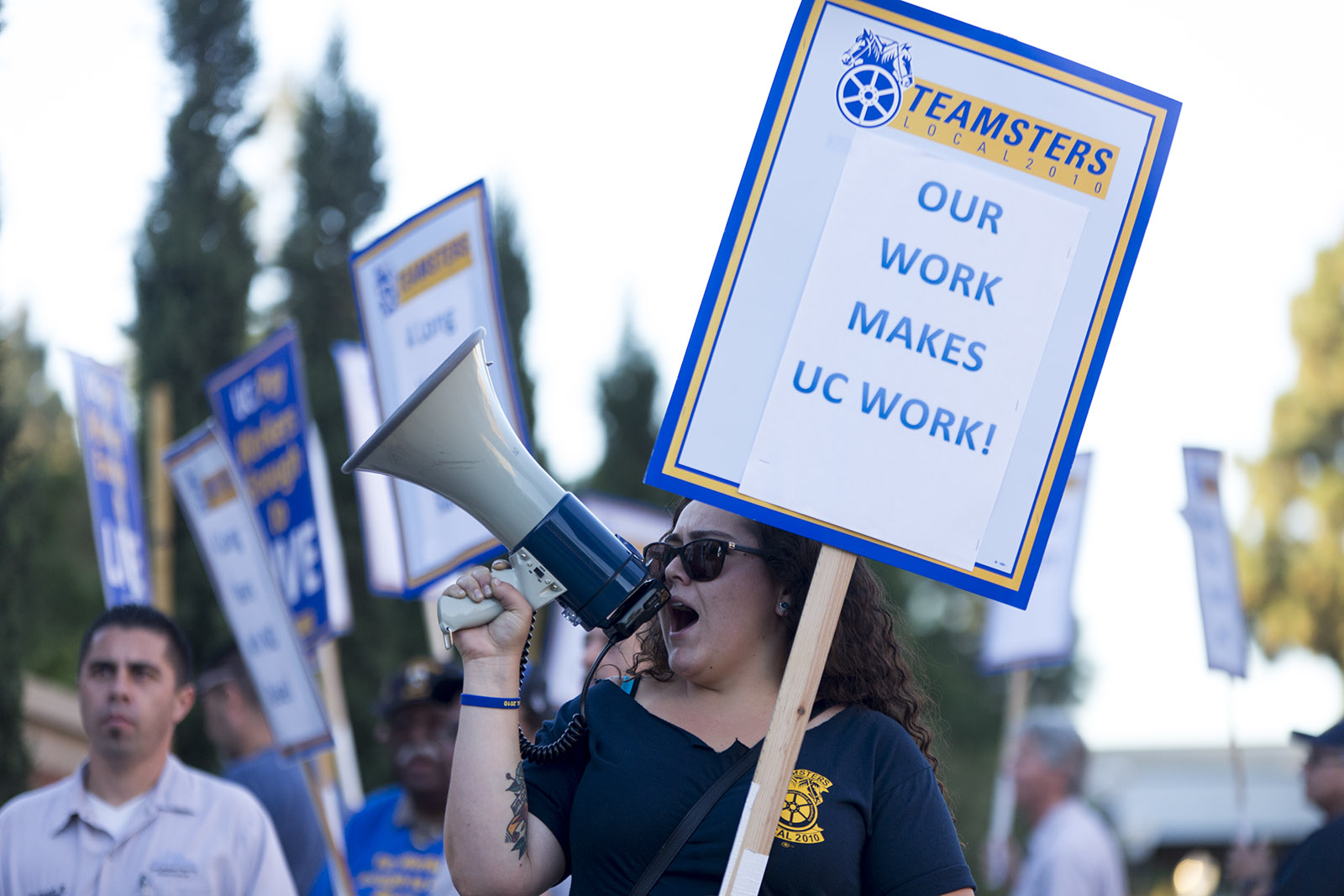 Kimberly Aguirre, organizer with Teamsters Local 2010, protests for higher wages. (Aubrey Yeo/Daily Bruin senior staff)
About 40 union members protested Thursday outside the UCLA Meyer and Renee Luskin Conference Center to advocate for higher wages.
Teamsters Local 2010, the union representing UCLA administrative, clerical and skilled trade workers, argued their wages are below market value and lower than those received by workers at other California institutions.
Rick Ramsun, a protester and plumber in the Teamsters union, said UCLA had raised the recharge rate, or the price departments pay skilled trade workers, four years ago. He added UCLA said the increased recharge rate was intended to finance a pay raise for skilled trade workers. Ramsun said the skilled trade workers are paid 34 percent below what workers are paid at UC Berkeley and in Los Angeles County.
Despite UCLA's promise to raise wages for skilled trade workers by 18 percent over five years, Ramsun said he has not received a pay raise in the past four years.
Alan Riselvato, a worker in UCLA Housing and Maintenance, said he thinks the proposed wage increase is insufficient to balance the increased cost of living in California.
Jesse Mathus, a lead organizer for Teamsters Local 2010, said workers think that UCLA has failed to keep its promise to provide fair wages.
"Workers are struggling to make ends meet while Chancellor Gene Block is making $500,000 per year," Mathus said. "We just want an equal share of the pie."
Mathus added he thinks UC's proposal to increase wages by 1 percent for clerical and administrative workers with a conditional one-step increase per year was unacceptable, because managers could have biases against certain workers.
Mathus added he had scheduled the protest at the Luskin Conference Center, which will hold its grand opening Friday, to draw donors' attention to the unfair practices behind UCLA's wage distribution.
[Related: UCLA skilled workers take to the Hill to protest unfair wages]
Rebecca Kendall, UCLA spokesperson, said in an email statement that UCLA has been bargaining with Teamsters Local 2010 since August in five sessions to negotiate a new contract for skilled trades workers.
She said UCLA proposed an 18.5 percent wage increase by 2020. The proposal exceeds UCLA's previous offer of a 14 percent wage increase. Kendall added Teamsters rejected UCLA's proposal, continuing to push for a 38 percent increase in three years.
She added the difficulties in reaching a contract with skilled workers were initially due to Teamsters Local 2010's predecessor, whom she said left the negotiating table before reaching an agreement.
She also said the UC Office of the President has exchanged numerous proposals with the clerical bargaining unit and hopes to reach a fair contract.
Contributing reports from Ryan Leou, National and higher education editor.