Geffen Hall construction projected to finish in early October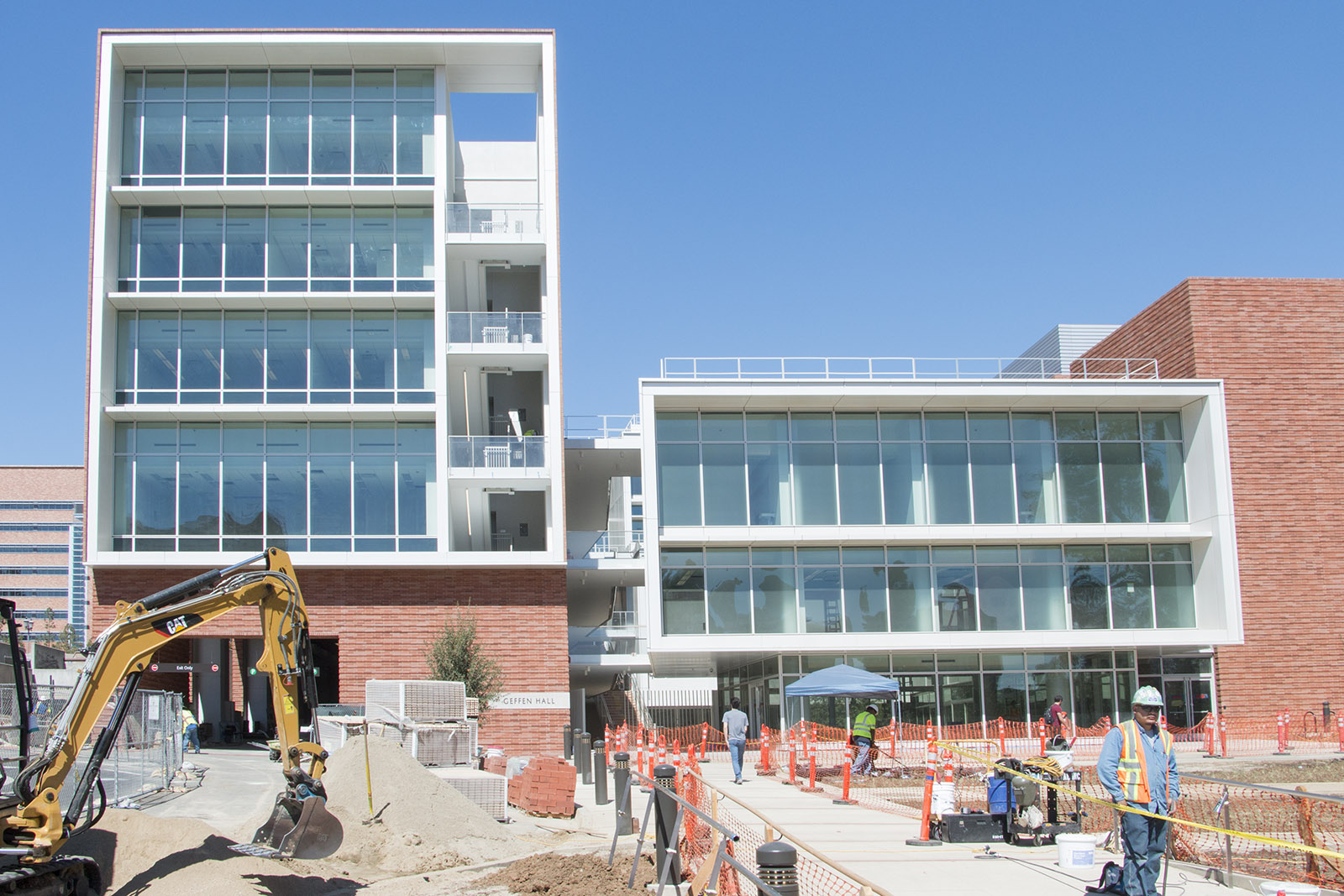 The construction of Geffen Hall, a new building for student learning and services, will be complete in the first week of October. (Laura Uzes/Daily Bruin)
Correction: The original version of this article incorrectly stated Geffen Hall will open early October.
The David Geffen School of Medicine will complete construction of a new building that will house classrooms and office space in early October.
Geffen Hall will open at the corner of Le Conte Avenue and Tiverton Drive in January, said Clarence Braddock, vice dean for education at the David Geffen School of Medicine at UCLA. The project had a budget of $120,000,000, according to the project website.
Braddock said the construction has been on schedule since its launch in late 2013, and is now finishing up with landscaping and creating a walking path in the hall's courtyard.
[Related: Officials consider proposal to name intersection after David Geffen]
The building will feature a glass exterior to attract UCLA community members, a small cafe, courtyard and auditorium.
The school plans to relocate about 60 faculty from their offices in the Center for Health Sciences complex and other areas of the campus to Geffen Hall when it is complete, Braddock said.
Geffen Hall will also hold the dean's office and offices for financial aid, student affairs and student counseling, Braddock said.
He added he thinks the technology in Geffen Hall will help students improve their medical skills.
For instance, the hall will have a replica of a clinic room, where students can practice interviewing a patient, played by an actor, as other students observe.
[Related: David Geffen School of Medicine receives $100 million from namesake for scholarship fund]
Classrooms in Geffen Hall will open for instruction in winter quarter, Braddock said.