UCLA initiates program to support first-generation college students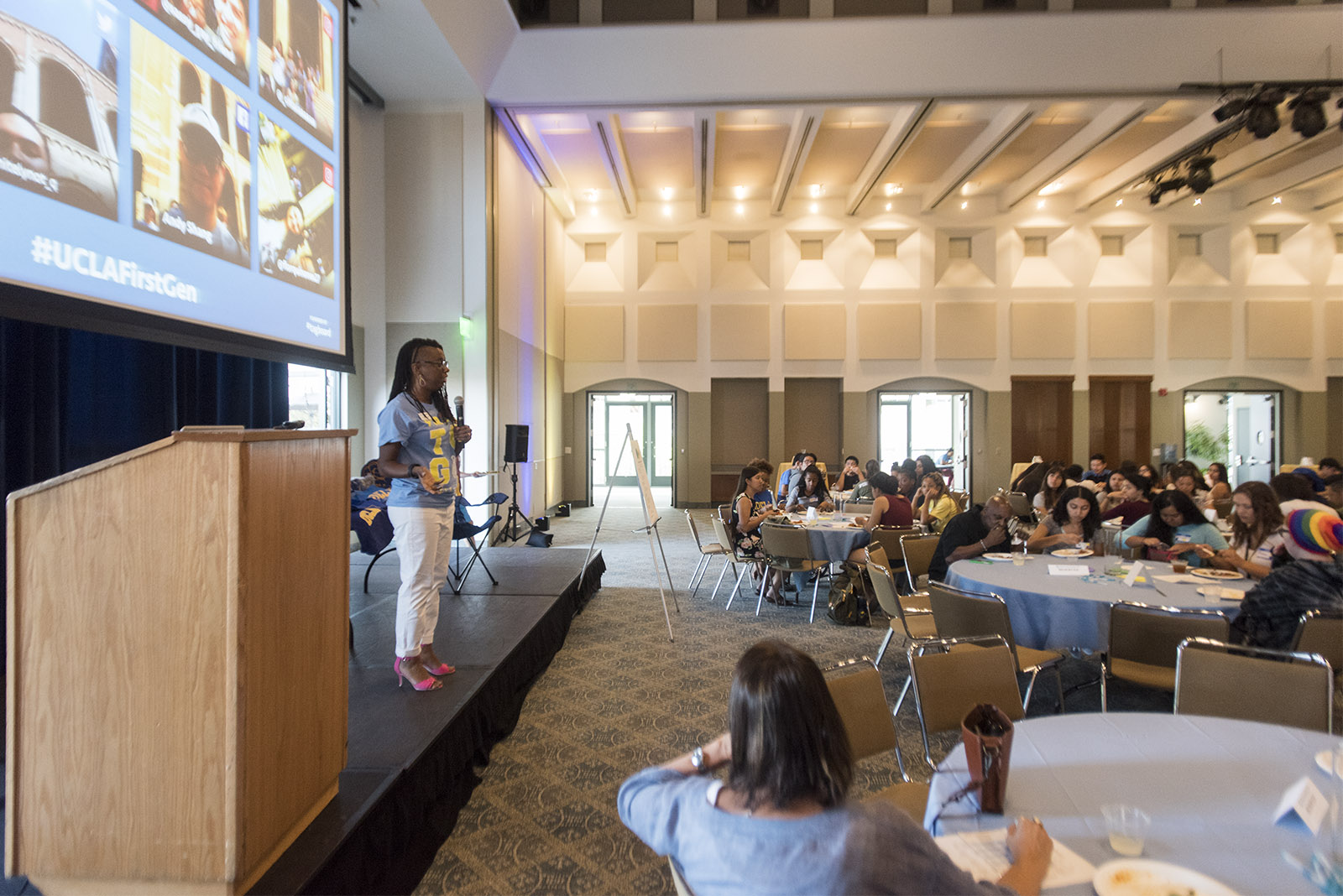 First generation college students attended First To Go, the first UCLA program of its kind, at Covel Commons Tuesday night. It was created in June and will focus on providing resources, networking opportunities and programming. (Owen Emerson/Daily Bruin senior staff)
UCLA's first-ever program for first-generation college students held its Welcome Soiree on Tuesday night in Covel Commons.
First To Go, which was created in June, will focus on providing resources, networking opportunities and programming specifically for the first-generation students at UCLA, said Symone Morales, First To Go's program coordinator.
"If you are literally the first in your family to go (to college), there can be difficulty connecting to resources you need and building a community around those students who have a shared experience with you," Morales said.
About 32 percent of the UCLA undergraduate population, including 50 percent of all transfer students, identify as first-generation students, or students whose parents or guardians have not completed a four-year bachelor's degree, Morales said.
[Related: Student receives award for guiding incoming students using Facebook]
At the soiree, about 100 first-year and transfer students learned about UCLA services such as the Undergraduate Student Writing Center and the Community Programs Office, met first-generation faculty members and listened to guest speakers.
Lexi Sanchez, a third-year anthropology transfer student who attended the event, said college can be more difficult for first-generation students whose parents are less knowledgeable about things such as student loans and tuition.
"A lot of people here have parents who are more educated about how college works," Sanchez said. "My dad had to Google a lot of answers."
Brian Barrera, a third-year communication studies transfer student who attended the event, said he faced additional pressure from his parents to attend college as a first-generation student.
"It's very frustrating trying to figure things out," Barrera said.
Future First To Go events will include a first-generation student tailgate and community-building events, involving spoken-word performances, Morales said.
[Related: Weekend familiarizes parents with UCLA campus, student life]
Morales said she also hopes to create a mentor program by the end of fall quarter that would unite first-generation students with faculty members who were also the first in their family to attend college.
"The biggest thing for this first year is to create some kind of long-term stability and actually see results," Morales said. "We're focused on really hearing the students and figuring out what are the first generation needs for students."