Report Card: UCLA vs. Stanford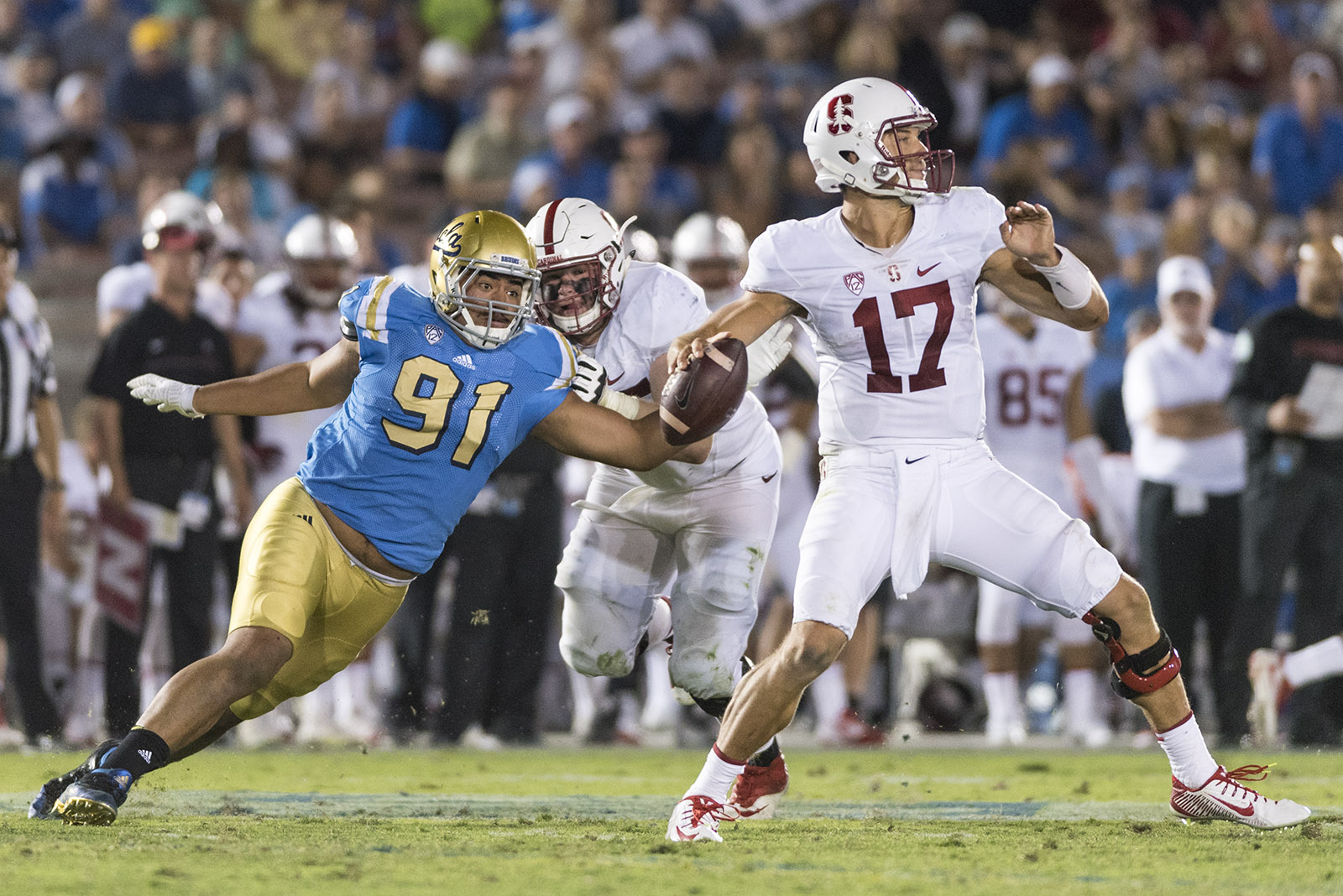 Junior defensive lineman Jacob Tuioti-Mariner was a stalwart for UCLA's defensive front. Tuioti-Mariner ended the night with five solo tackles and one for a loss. (Miriam Bribiesca/Photo Editor)
Sept. 27, 2016 11:28 p.m.
Here's the unit-by-unit report card for the Bruins' 22-13 loss to Stanford:
Quarterbacks: B

Josh Rosen said after the game that he thought he played well, but not perfectly, and a look at the film suggests he was right.
Rosen made a couple poor reads throughout the game – the most notable coming in the first quarter, when he didn't spot a wide-open redshirt senior tight end Nate Iese running free for a potential touchdown even though the quarterback was seemingly looking right in Iese's direction.
The sophomore quarterback also missed out on a touchdown in the second quarter when he threw a pass too high for redshirt senior receiver Kenneth Walker in the front right corner of the end zone, allowing the Stanford cornerback to push Walker out of bounds while the wideout was jumping for the ball.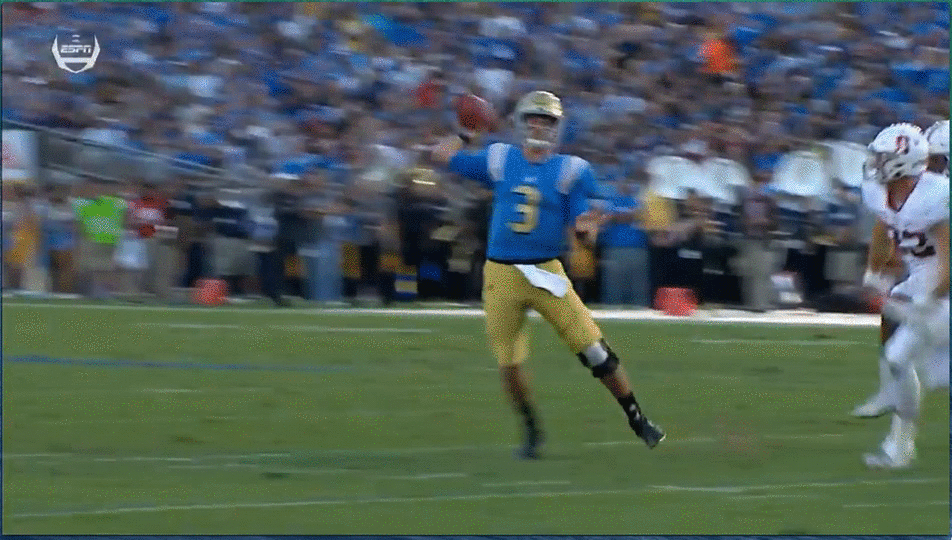 But Rosen played smart throughout the game and, as he does each week, also produced several highly impressive throws.
He continued to shred defenses with play-action and once again showed off a remarkable ability to twist his body and fire a bullet when the Bruins roll him out to his left on play-action.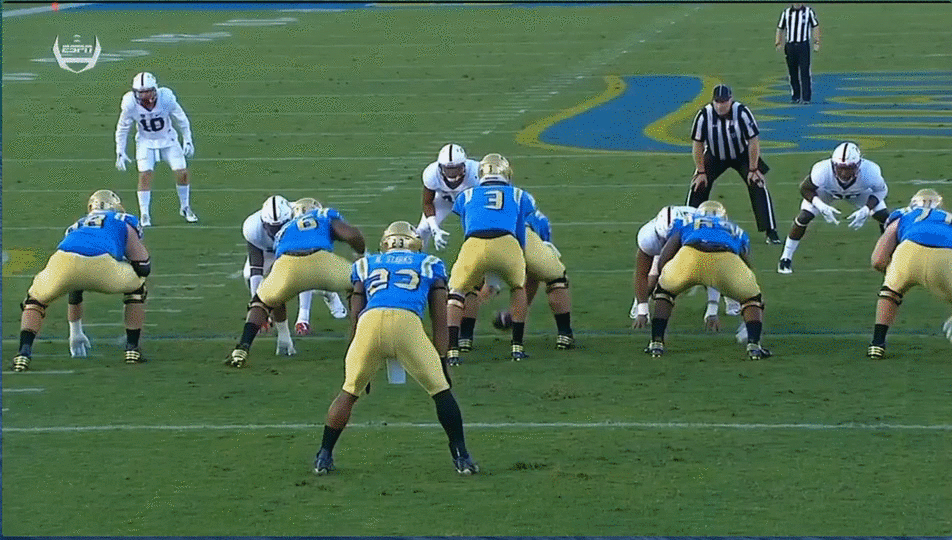 One of the other successful concepts for Rosen throughout the season has been the use of run-pass options where he can either hand off or fling the ball out wide to a receiver running a hitch route against a retreating cornerback. In the third quarter, the Bruins seemed to utilize the concept on three straight plays, taking advantage of Rosen's decision-making and arm talent.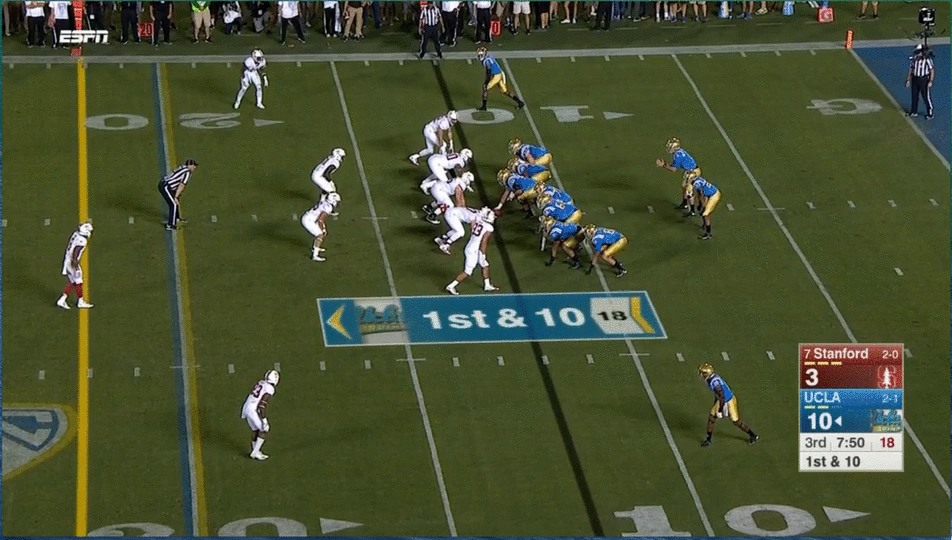 Most importantly for the Bruins, Rosen avoided turning the ball over until the final desperation play, on which he fumbled.
And though he threw his lone touchdown in the first quarter, his comfort level seemed to improve as the game progressed. In the second half, he completed 11 of his 16 attempts for 171 yards, and two of those five incompletions were drops.
Those two drops came on a third-quarter drive that represented the closest the Bruins came to establishing an offensive rhythm.
Running backs: C
Coach Jim Mora said on Monday that he thought his team left about 100 rushing yards on the field and seemed to place the blame largely on the running backs, which led me to re-examine some of the struggles that I had initially seen as the result of poor blocking.
In looking at the film again, it's clearer what Mora – and offensive coordinator Kennedy Polamalu, for that matter – means.
Very few teams are going to create large running gaps against Stanford's defense, and UCLA didn't really create any. But the Bruins did open up small gaps, the type that can sustain a solid rushing attack if the ball carriers are smart about following their blockers and hitting the holes.
Especially early in the game, the UCLA backs weren't doing that.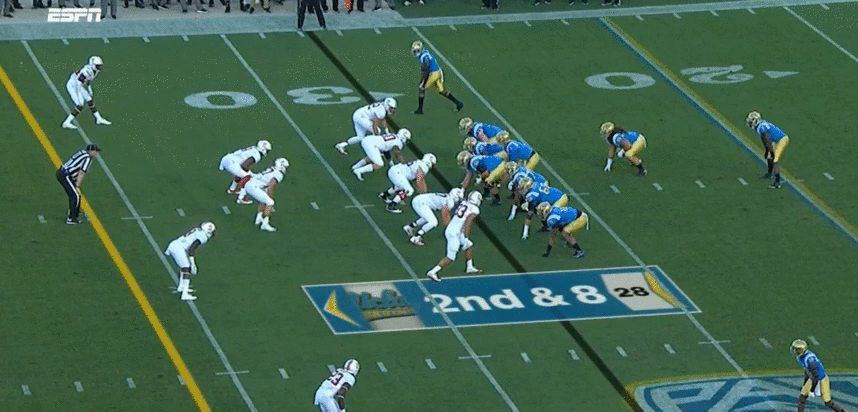 On the play above, both guards pull through the C gap (outside the left tackle), and, presumably, sophomore Soso Jamabo was supposed to follow them through that gap. Instead, Jamabo hesitated and stutter stepped in the backfield while considering running the other way and, as a result, was cut down in the backfield before he could even get to the hole.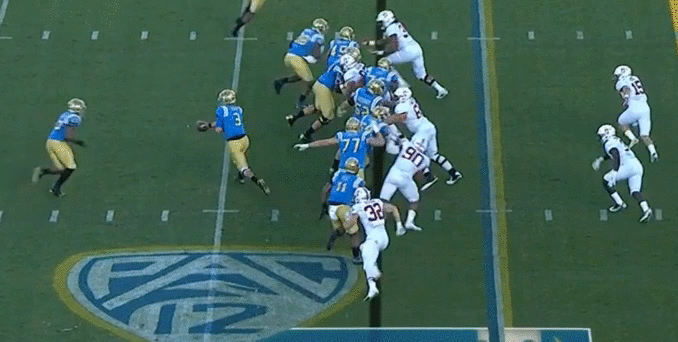 A few plays later, junior Nate Starks seemed to do something similar. Redshirt senior left tackle Conor McDermott didn't hold his block all that well, so it's unclear whether Starks should be hitting the B or C gap on this play. But either way, Starks probably could have gotten more than the three yards he did had he committed more decisively to either gap.
Jamabo played less throughout the game, and fellow sophomore Bolu Olorunfunmi played more. Olorunfunmi offers a more powerful alternative to Jamabo and Starks, and he, far more than the other two, simply decided to hit the hole and run through whatever Stanford defenders might stick their arm in his path.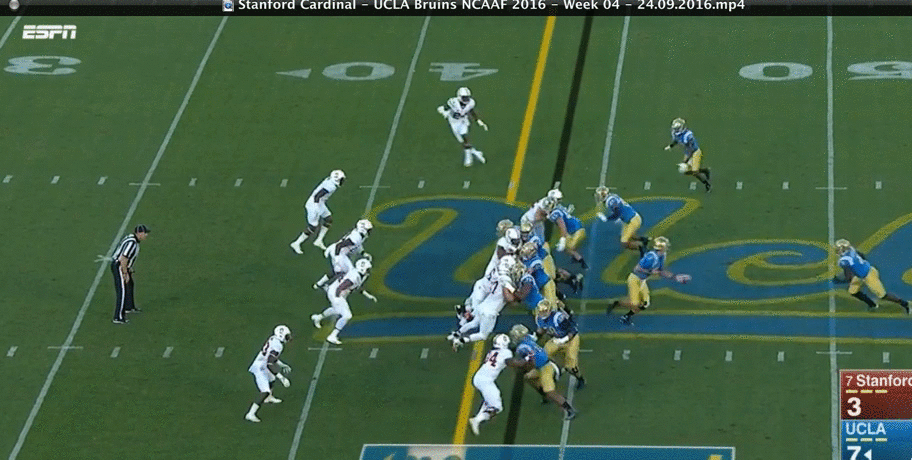 Olorunfunmi was not perfect, but whereas Jamabo would try to stutter and dance his way laterally around the somewhat clogged running lanes in front of him, Olorunfunmi's recourse was to simply power through and try to fall forward. On 11 carries, the sophomore produced 41 yards after contact, according to Pro Football Focus.
Olorunfunmi also looked better in blitz pickup than he has all year.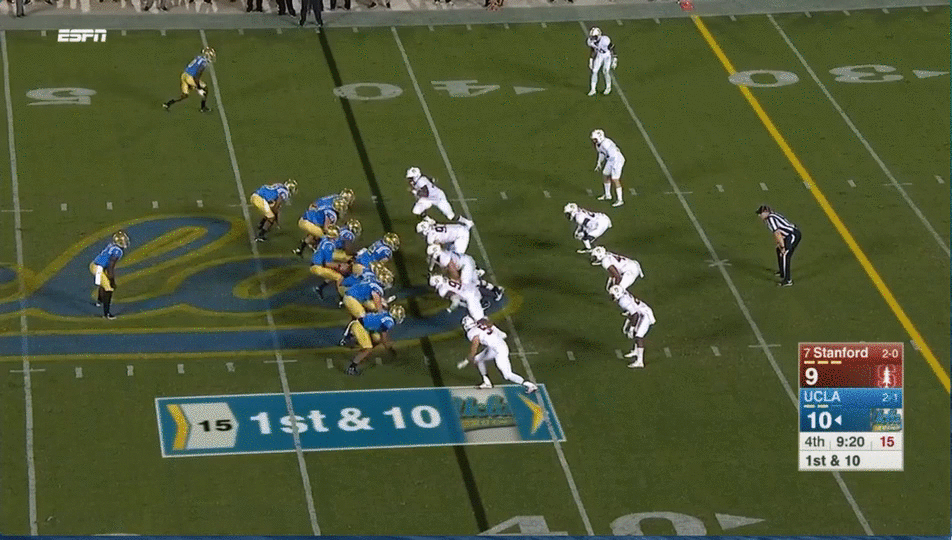 Wide receivers and tight ends: C+
The all-important stat each week for this unit is the number of drops. Against Stanford, it was two, and they were devastating plays on a third-quarter drive that could have provided the Bruins' second touchdown.
Though the Bruins went for it on fourth down, Ishmael Adams' drop in Stanford territory squandered an opportunity to convert on third-and-four. The drop came because the redshirt senior started thinking about getting upfield and simply took his eyes off the ball before securing it.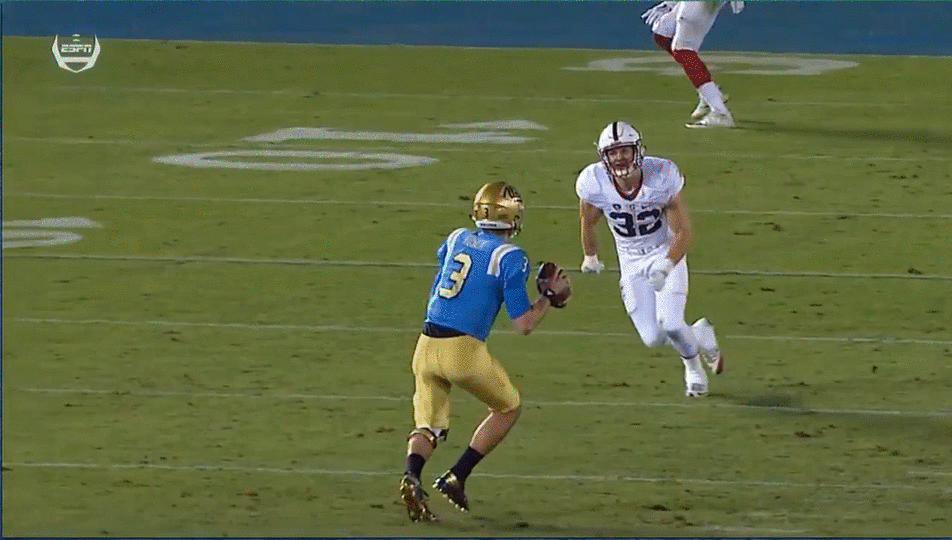 Besides the drops, the receivers were once again rather unexceptional, with none emerging as a go-to target or showing an ability to make game-changing plays.
Redshirt sophomore Jordan Lasley did make a contested catch on a hitch route in the second quarter, representing the best play made on the ball by a UCLA receiver during the game.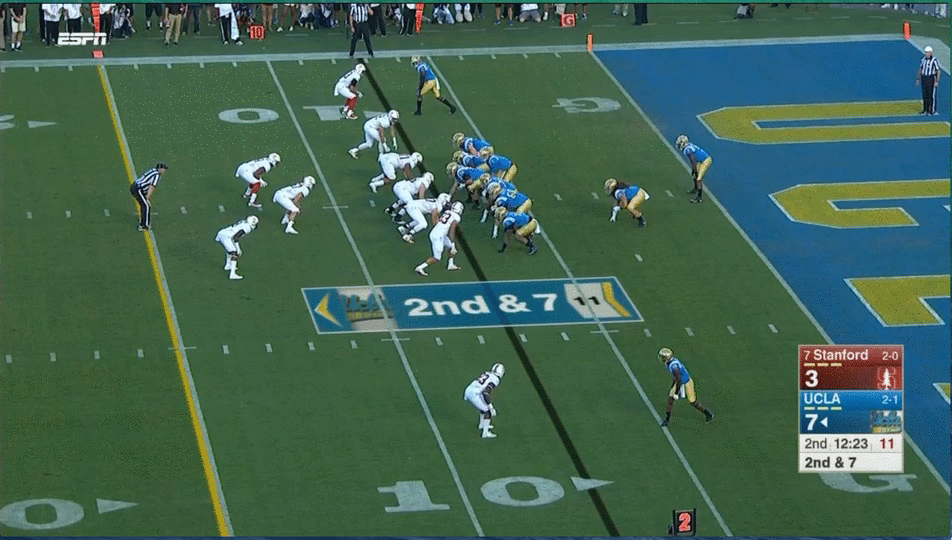 As the Bruins look to cut down their rotation at wide receiver, Lasley is a guy who will likely continue to get looks.
Tight end Iese had the best receiving game of his career, hauling in all five of his targets for 89 yards and touchdown, but both Mora and Rosen said after the game that Iese's big day was more a result of his routes ending up uncovered against a Stanford zone than a sign of increased chemistry between quarterback and receiver.
Offensive line: C+
This grade could probably be higher if you factored in more heavily the strength of the Stanford defensive line, particularly monstrous defensive end Solomon Thomas.
Redshirt sophomore right tackle Kolton Miller is a young lineman, and he simply wasn't ready to handle Thomas one-on-one.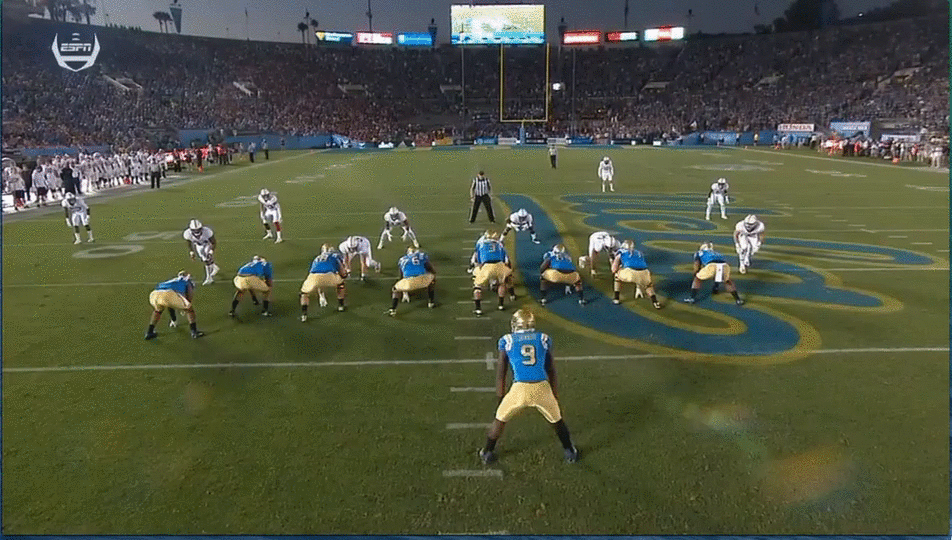 The Bruins reacted to Thomas' dominance by double-teaming him whenever they could with Miller and junior right guard Najee Toran. That generally produced good results, with Miller even showing the athleticism to contribute on a combo block and then get to the next level to take on a linebacker.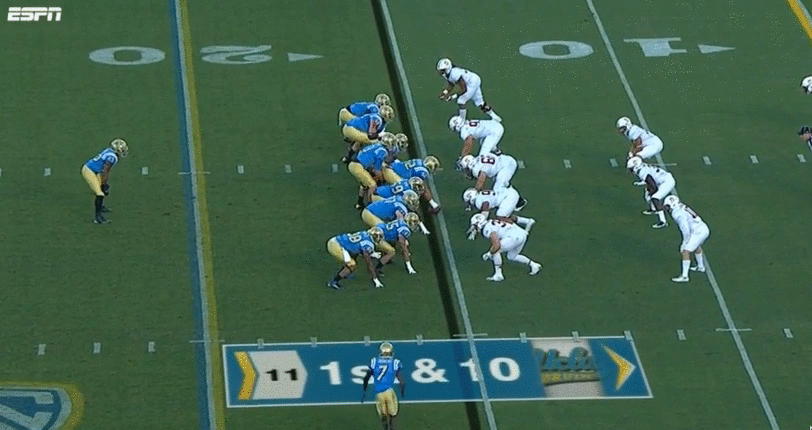 Against the Cardinal front seven, the Bruins should be expected to have their hands full, and at times it showed. All five members graded negatively according to Pro Football Focus and certainly a good portion of the blame for the anemic UCLA rushing attack should be placed on the offensive line.
Thomas wasn't alone in busting into the backfield. Recently returned tackle Harrison Phillips also did some work behind the line. Here, he slips right by redshirt junior center Scott Quessenberry and through the A gap to meet Starks in the backfield.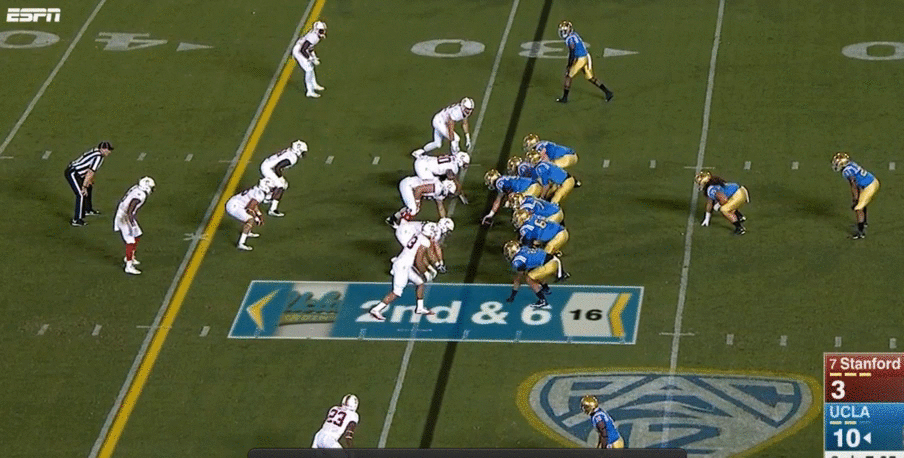 On the very next play after that, Quessenberry snapped the ball into the ground, nearly resulting in a game-changing turnover. So, yeah, it was far from a perfect day for the offensive line.
But in pass protection, the Bruins continued to look stronger than they do in the run game, generally keeping the pocket clean and allowing Rosen time to operate in play-action on multiple occasions throughout the game.
And in run blocking, UCLA showed flashes of an ability to out-muscle Stanford and open creases for its backs.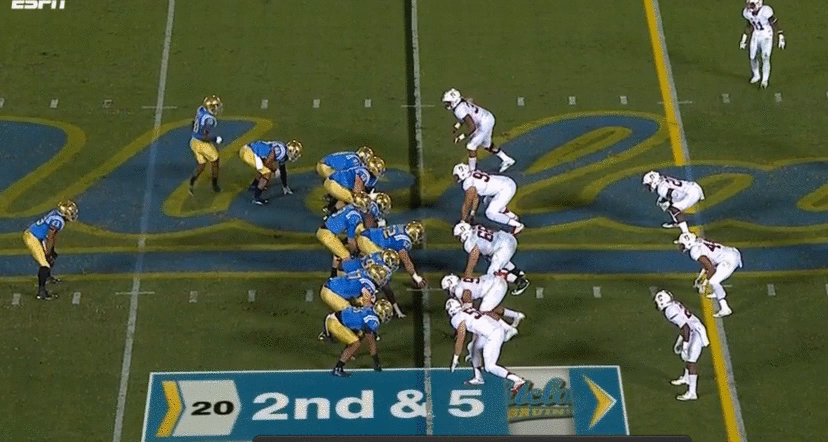 Defensive line: A-
This unit shone against an offensive line that provides Stanford with much of its physical reputation.
Christian McCaffrey is so good that he still managed to generate 139 yards on 26 carries. But for much of the night, the Stanford tailback faced jammed running lanes like this, thanks to guys like redshirt junior Eddie Vanderdoes and junior Jacob Tuioti-Mariner along the UCLA front.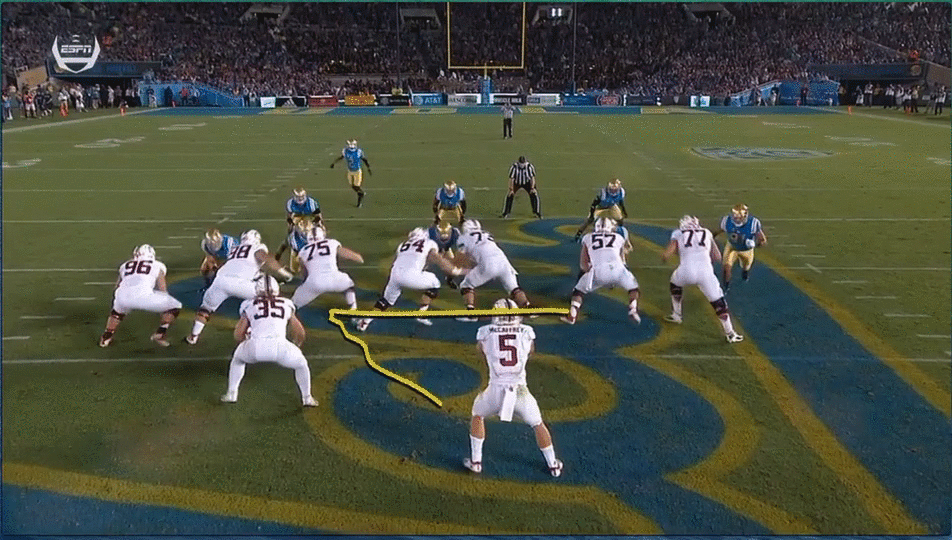 McCaffrey didn't produce a run longer than 13 yards, which is a testament to the line's ability to keep the linemen from getting out to second-level defenders.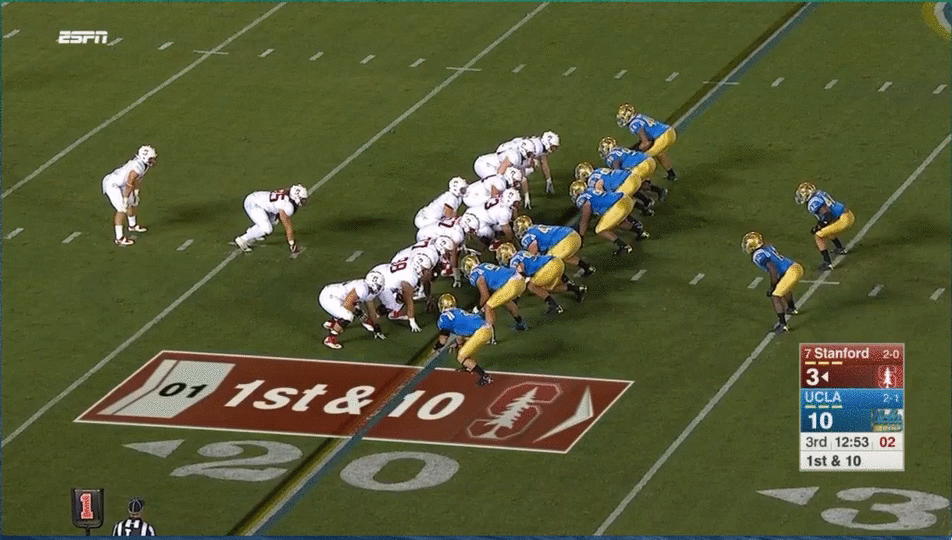 On the play above, Tuioti-Mariner is driven back a couple yards, but it's really because he's working to hold up two guys and prevent guard Nate Herbig, No. 98, from reaching a linebacker. It works and the Bruins limit McCaffrey to a mediocre gain.
Before he got injured, redshirt senior defensive tackle Eli Ankou put on a tremendous performance Saturday. He was a big reason UCLA was able to stand up to the Stanford offense in terms of physicality. Watch him disrupt this McCaffrey run by shedding his block and tripping up the Cardinal star.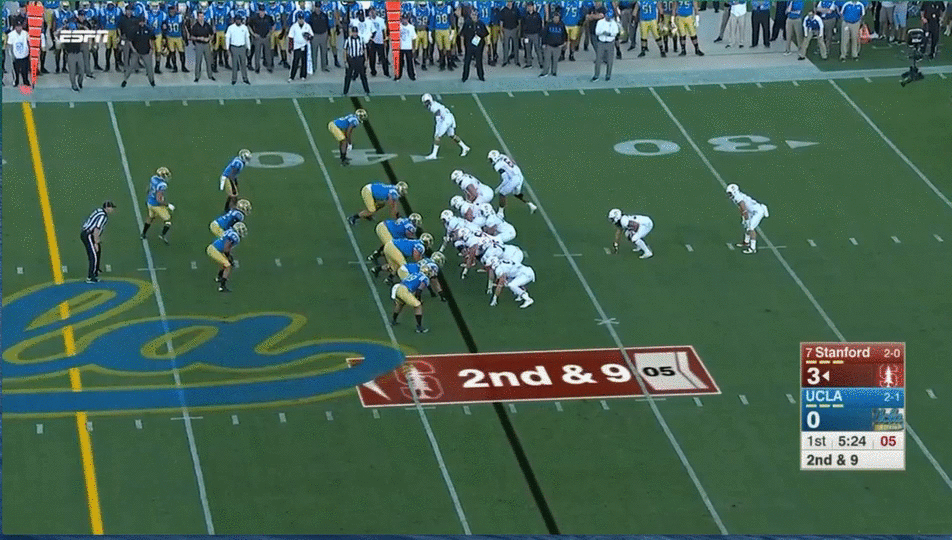 Linebackers: A-
Linebackers coach Scott White said Tuesday that junior middle linebacker Kenny Young has been playing the best football of his life. Looking at the film, it's clearly true. Young is playing freely, finally giving him a chance to put his physical skills on display. He came up with the crucial interception in the first quarter against Stanford, but also produced countless more disruptive plays.
Watch him recognize this screen play, drop back to deter the throw and then chase down quarterback Ryan Burns and lay a hit on him.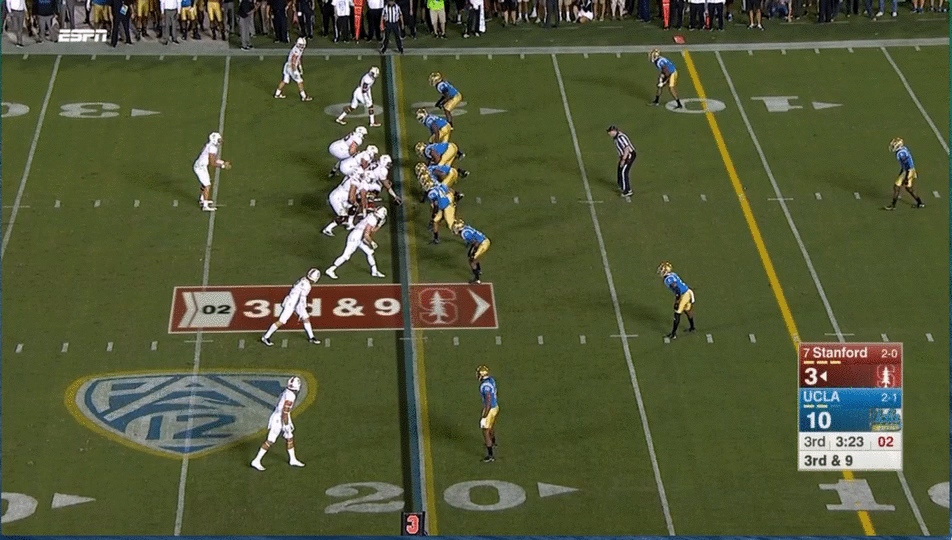 Young just wasn't making aggressive plays like that a couple weeks ago. Now, he's making them consistently. He was the highest-graded member of the Bruins' defense according to Pro Football Focus and was a key piece of the Bruins' plan to stop McCaffrey, using his speed to patrol the field and prevent the Cardinal star from ever finding the edge.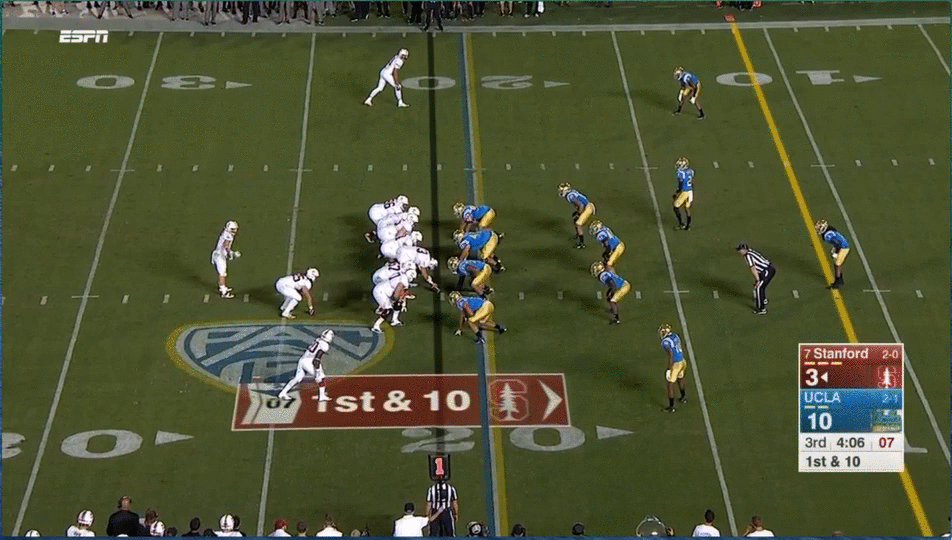 Senior Jayon Brown didn't have his best game against Stanford, but still came up with 10 tackles and often used his instincts to force McCaffrey to cut back.
Defensive backs: A-
Yes, I gave each defensive unit an A-. Call it a cop-out, but I don't feel comfortable giving a straight-up A given the results of the final drive.
Even on that drive, the secondary played very well, forcing Stanford receivers to make difficult catches throughout – aside from the first play, on which UCLA seemed to be in prevent defense.
The Bruin secondary's ability to play lockdown man coverage is fun to watch, and it allows defensive coordinator Tom Bradley to dial up pressure if he wants. Watch how well UCLA covers on this play, even with six men rushing the passer.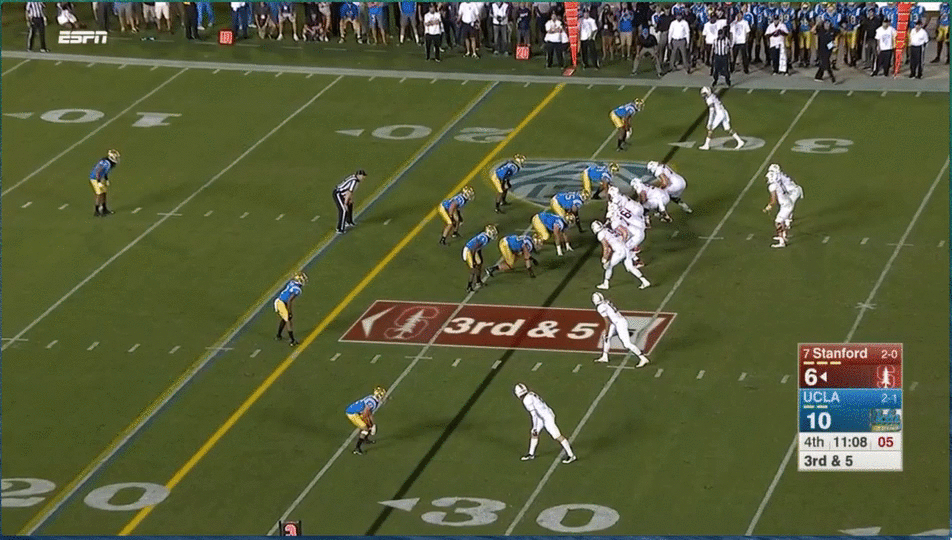 After a rough week against UNLV, sophomore right cornerback Nate Meadors has now responded with two straight strong efforts. He and redshirt senior Fabian Moreau are developing into one of the best cornerback tandems in the conference.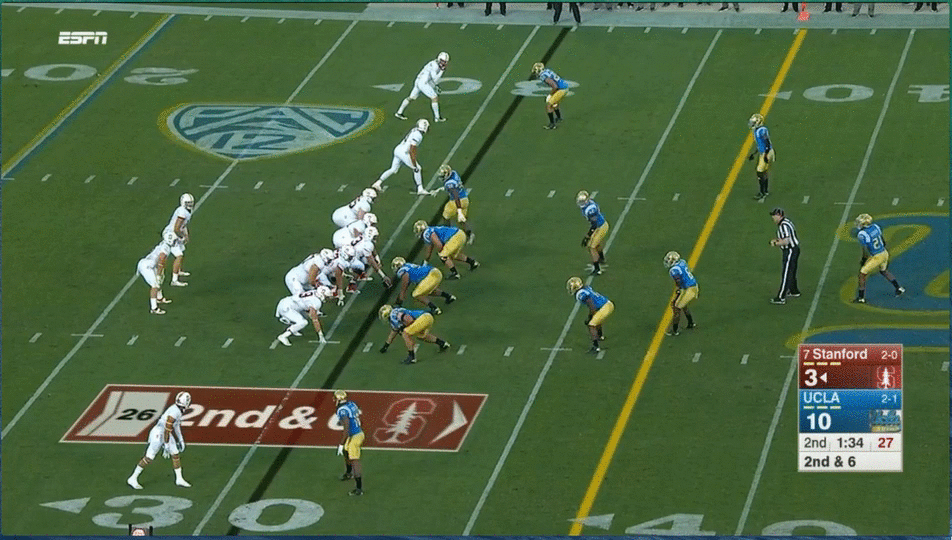 Cummings joined the Bruin as a freshman in 2014 and contributed until he graduated in 2018. He was an assistant Sports editor for the 2015-2016 academic year and spent time on the football, men's basketball, baseball, cross country, women's volleyball and men's tennis beats.
Cummings joined the Bruin as a freshman in 2014 and contributed until he graduated in 2018. He was an assistant Sports editor for the 2015-2016 academic year and spent time on the football, men's basketball, baseball, cross country, women's volleyball and men's tennis beats.