UCLA student groups host presidential debate viewing parties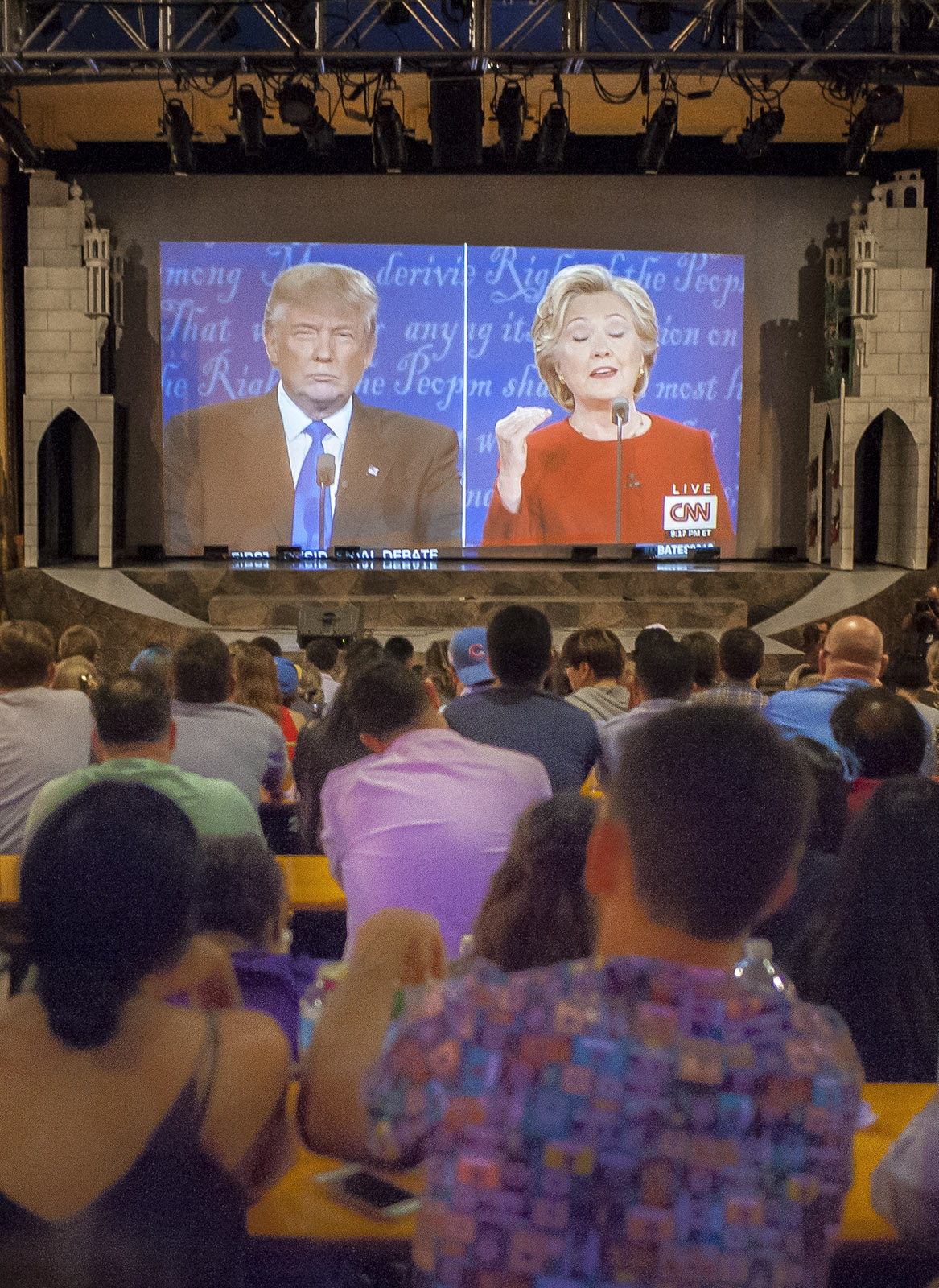 UCLA students and community members gathered at the Crest Theater in Westwood, among other places, to watch the first presidential debate between Donald Trump and Hillary Clinton. (Ken Shin/Daily Bruin)
Sept. 26, 2016 11:15 p.m.
Correction: The original version of this article used an incorrect gender pronoun for Weezie Melancon.
This post was updated on Sept. 27 at 3:35 p.m.
UCLA students watched as presidential candidates Hillary Clinton and Donald Trump exchanged verbal blows on national television.
At viewing parties throughout campus and Westwood hosted by several campus organizations, students came together to see the next president lay out their future plans for the country.
About 200 students clapped and laughed at the debate viewing party held at the De Neve Learning Auditorium by the Office of Residential Life. Others let out sighs of exasperation.
ORL organizers decided to host the debate in order to get students more involved with the electoral process, said Josh O'Connor, assistant director of leadership and involvement for ORL.
[Election coverage: UCLA and USC begin competition for student voter registration]
He added ORL also partnered with BruinsVote!, a coalition of campus political groups working to register voters, and will allow the organization to visit students in the residential halls to register them to vote.
O'Connor said ORL hosts viewing parties in every election season and had large ones during the 2004 and 2008 presidential elections.
When Clinton discussed her plans to increase the national minimum wage, push for gender pay equity and pass paid family leave, students at ORL's viewing party applauded and gave shouts of approval.
Students frequently laughed and occasionally dissapproved of Trump's comments. For instance, students booed when Trump made a comment supporting stop and frisk, a law enforcement tactic which some argue is a form of racial profiling.
Many attendees said they thought the debate was interesting and entertaining, but should have been more informative.
Ethan Waldman, a second-year applied mathematics student, said he thought the debate was not very serious because candidates were more interested in attacking each other than discussing issues.
"I never thought I would see a debate like this in my life," he said. "I don't think I've ever seen candidates attack each other this much."
Sally Oh, a third-year human biology and society student, said she would have liked the two candidates to have a more substantive debate.
"I felt like they were just digging up old scandals rather than talking in-depth about issues," she said.
Some students said they thought Clinton performed better in the debate.
Julio Mendez, a second-year political science student, said he thought Clinton performed better because she acted in a more cool and collected manner.
"She was definitely more presidential," he said. "Trump's rude language during the debate showed he wasn't qualified."
[Related: Bruin political groups gear up for the upcoming election season]
Celina Avalos, a second-year international development studies student, said she thought Clinton provided better solutions than Trump.
"Hillary showed it's not just about blaming China or blaming Mexicans," she said. "We have to work together if we want to achieve something."
At the Crest Theater on Westwood Boulevard and Wilshire Avenue, student political groups including Bruin Democrats, Bruin Republicans and Vote for Our Future hosted their own debate party.
Weezie Melancon, president of the Crest Theater, said she wanted to host the watch party in conjunction with UCLA and make it a safe gathering place for political groups across the spectrum.
Emily Cohen, events director for Bruin Democrats and Haley Nieves, external vice president for Bruin Republicans, helped organize the event.
Cohen, a second-year molecular, cell and developmental biology student, said she wanted the debate to educate people on different candidates' policies.
The watch party also had food trucks and debate discussion panels between Trump campaign staff and Bruin Democrats overseen by a nonpartisan moderator.
Melancon said she wanted to have a nonpartisan moderator during debate panels before and after the debate to make it clear to everyone that it was safe to cheer.
"The idea is to get everyone under one roof and get people talking to each other rather than watching at home and posting on Facebook," Melancon said.
Melancon added she hopes the Crest Theater can host the watch party for the next two presidential debates in October.
UCLA Library also hosted a debate watch party in Charles E. Young Research Library.
The next presidential debate will be on Oct. 9 at 6 p.m at Washington University in St. Louis, Missouri. ORL will host a viewing party at the De Neve Learning Auditorium for this debate as well.
Contributing reports by Jeong Park and Ryan Leou, Daily Bruin senior staff.
Bharanidaran was the News editor from 2017-2018. He was previously a news reporter for the campus politics beat, covering student government and the UCLA administration.
Bharanidaran was the News editor from 2017-2018. He was previously a news reporter for the campus politics beat, covering student government and the UCLA administration.