Triathlete overcomes hurdles after car accident, focuses on positivity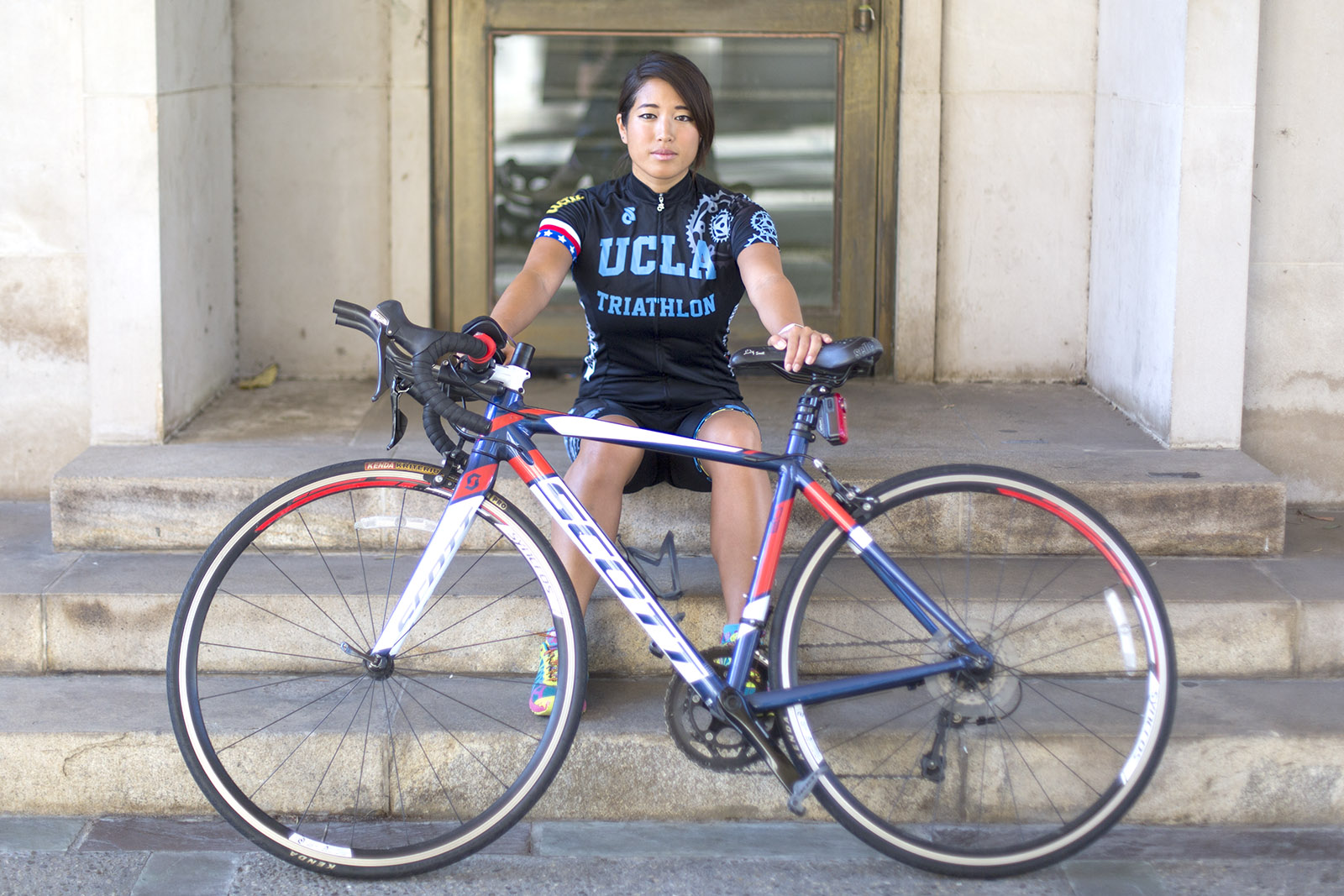 Nako Nakatsuka, a doctoral student in chemistry and member of the UCLA Triathlon Team, got into a severe car accident two years ago. She is now training for an Olympic triathlon. (Keila Mayberry/Daily Bruin staff)
Sept. 22, 2016 11:32 p.m.
Nako Nakatsuka is training for her 11th triathlon since she was hit by a car two and a half years ago, which left her with a concussion, back bruises and permanent tissue damage on her gluteus.
Nakatsuka, a graduate student in chemistry and member of the UCLA Triathlon Team, was involved in the accident in April 2014. She has since entered 10 races and is now training for an Olympic triathlon at the end of October.
After the accident, the driver's insurance company sued her for damaging the car, instead of reimbursing her for her medical bills and the bike's damage, Nakatsuka said. She added she thinks this is partly because LAPD officers did not file a report for the accident.
In the months after the accident she was burdened by medical bills, lawyer fees and academic and emotional stress, which brought her close to depression, she said.
But Nakatsuka said she was able to regain emotional stability by setting goals for herself to help focus her energy on positive things.
"I told myself 'After two months you are going to start swimming (and) after this long you are going to start running'," Nakatsuka said.
She added she tries to take better care of herself, gives herself more rest time to heal up and has recently started doing yoga.
After getting 53rd place out of about 500 female participants in the USA Collegiate Club National Championships this April, she began training less to focus on her studies. But she is trying to get back to racing with the October race 'Trick or Tri,' which consists of 1.5 meters of swimming, 24 miles of biking and 6.2 miles of running.
[Related: Dozens gather for UCLA's first-ever Bike (Re)cycling event]
She said she aims to start running 30 miles a week and swimming three times a week.
She added that she usually starts to run 50 miles a week a few months before big races like the Nationals.
Nakatsuka said her biggest accomplishment thus far is her performance in the annual conference race, the March Triathlon Series, in which she improved from winning 73rd place in her first year to 15th her fourth year.
She added she advanced from being in the top seven in her team of about 40 athletes last year, to top four this year.
Although she recovered from the concussion and bruises she suffered after the accident, Nakatsuka said she still has permanent tissue damage on her gluteus. She added she wasn't able to receive timely treatment for it because she couldn't afford an fMRI, Nakatsuka said.
Nakatsuka's coach, Brady O'Brian, was also hit by a car in November and suffered from more serious injuries, she said. She said seeing her coach in a coma and near death made her realize how lucky she was.
"This year, I really tried hard for the first time." Nakatsuka said, "It's partly because I wanted to prove I was better and … and I wanted our team to win for (our coach)."
Nakatsuka said at first she had difficulty returning to cycling training due to the trauma and expense of a new bike.
O'Brian said he thinks training in indoor cycling facilities helped Nakatsuka gain confidence to cycle again.
[Related: Tips and tricks for optimizing the UCLA biking experience]
"It made her feel like 'I could ride my bike next to my friend, I could ride it hard and be safe while doing it' – that was a big thing for her," O'Brian said.
After Nakatsuka came to a settlement of $2,000 with the insurance company that sued her, she created a GoFundMe page to pay for her remaining expenses. The page, which raised over $9,000, received attention from cyclist communities and companies.
"It's crazy to see how there is a huge cyclist community when you go look for it." Nakatsuka said.
She added she thinks Los Angeles doesn't have a bike-friendly environment, so the cyclists in the city should stick together and receive more education on how to gather evidences when involved in car accidents like hers.
"On a positive light, I realized good people still outnumber bad people," Nakatsuka said. "And those are the people who are going to make a difference – it's a happy ending."