Bruins for Hillary discusses game plan for election season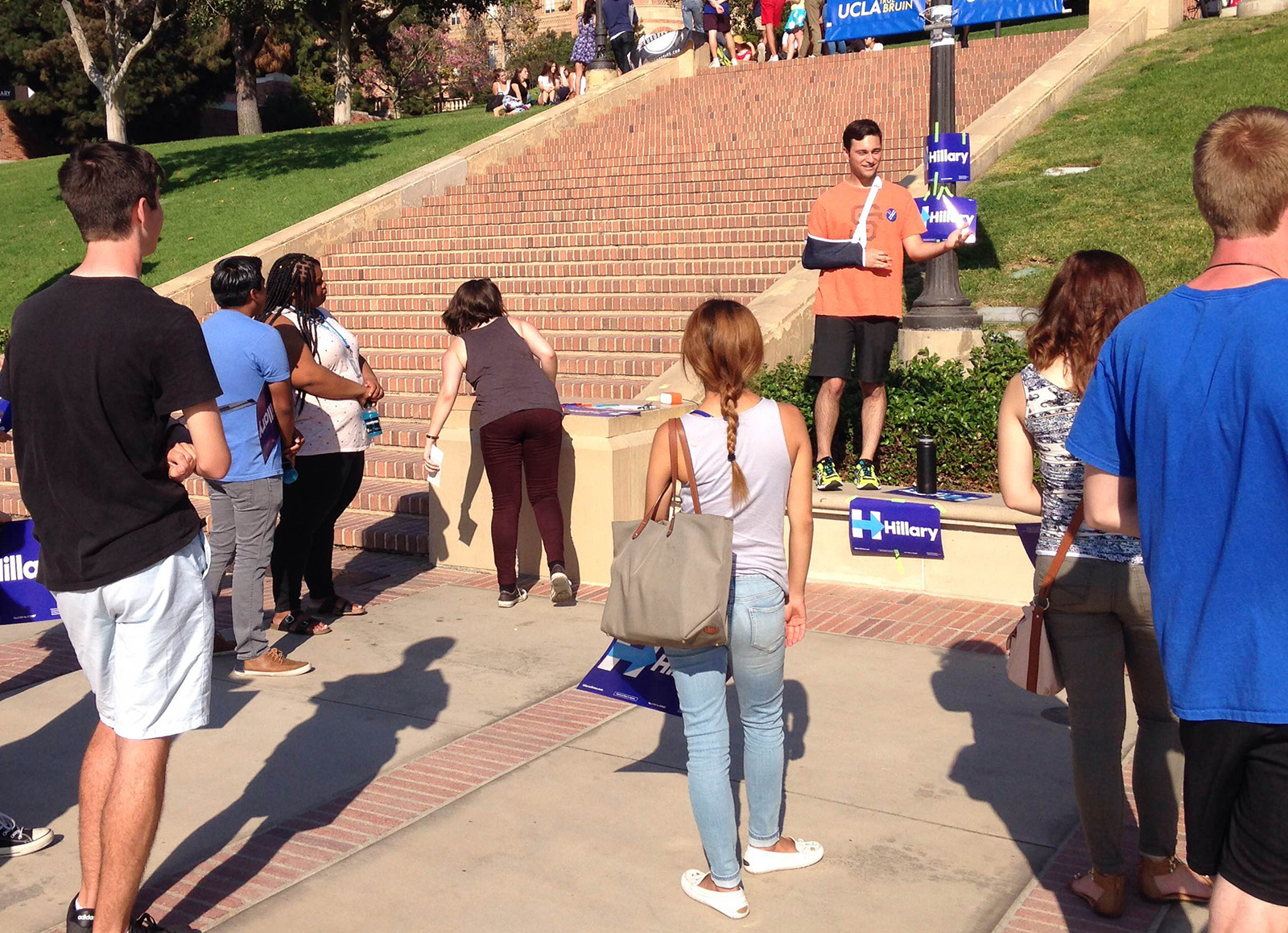 Bruins for Hillary, a new student group, had its first official club meeting Wednesday in front of the Janss Steps. (Ryan Leou/Daily Bruin senior staff)
September 22, 2016 2:29 am
UCLA students supporting Hillary Clinton's presidential campaign kicked off their first meeting as an official club Wednesday afternoon.
About 20 students gathered at Janss Steps as part of the new student group, Bruins for Hillary, to discuss their reasons for supporting Clinton.
Though Bruins for Hillary will coordinate with Bruin Democrats on some campaign events, like phone banks, it will primarily focus on the presidential election, said Jessica Chase, Bruins for Hillary president and third-year political science student.
[Related: Experts predict Clinton win during Hammer Museum lecture]
Chase said she founded the club after her internship with the Clinton campaign in Northern California.
"We had a very active Bruins for Bernie club last year," Chase said. "But after the nomination, many people got excited about (Clinton), and we had a good response at the Enormous Activities Fair."
Bruins for Hillary plans to reach potential voters by conducting phone banking and remotely contacting swing state voters, Chase said. They will also join other Southern Californian Clinton supporters in canvassing around Las Vegas suburbs.
"While Hillary's campaign focus for California is more on the fundraising side, we have the capability and young volunteers who want to travel and make differences," Chase said.
Bruins for Hillary will plan early trips to Nevada to focus on identifying neighborhoods where future outreach by the Clinton campaign might make a difference, Chase said. She added the club will follow the Clinton campaign's lead in its support for Catherine Cortez Masto, the Democratic candidate for the U.S. Senate running to replace Sen. Harry Reid. She said Nevada's proximity to California and status as a swing state make it a prime target for canvassing.
"Nevadans are used to seeing volunteers from California for almost every presidential election," Chase said. "It shows we are enthusiastic enough about our candidate to travel hundreds of miles to campaign for her."
Chase added she thinks Donald Trump has made several states more competitive than usual, like Arizona or Florida, which Bruins for Hillary could target with voter outreach phone calls as election day draws closer.