Boba shop Lollicup opens new Ackerman location, replaces Relaxtation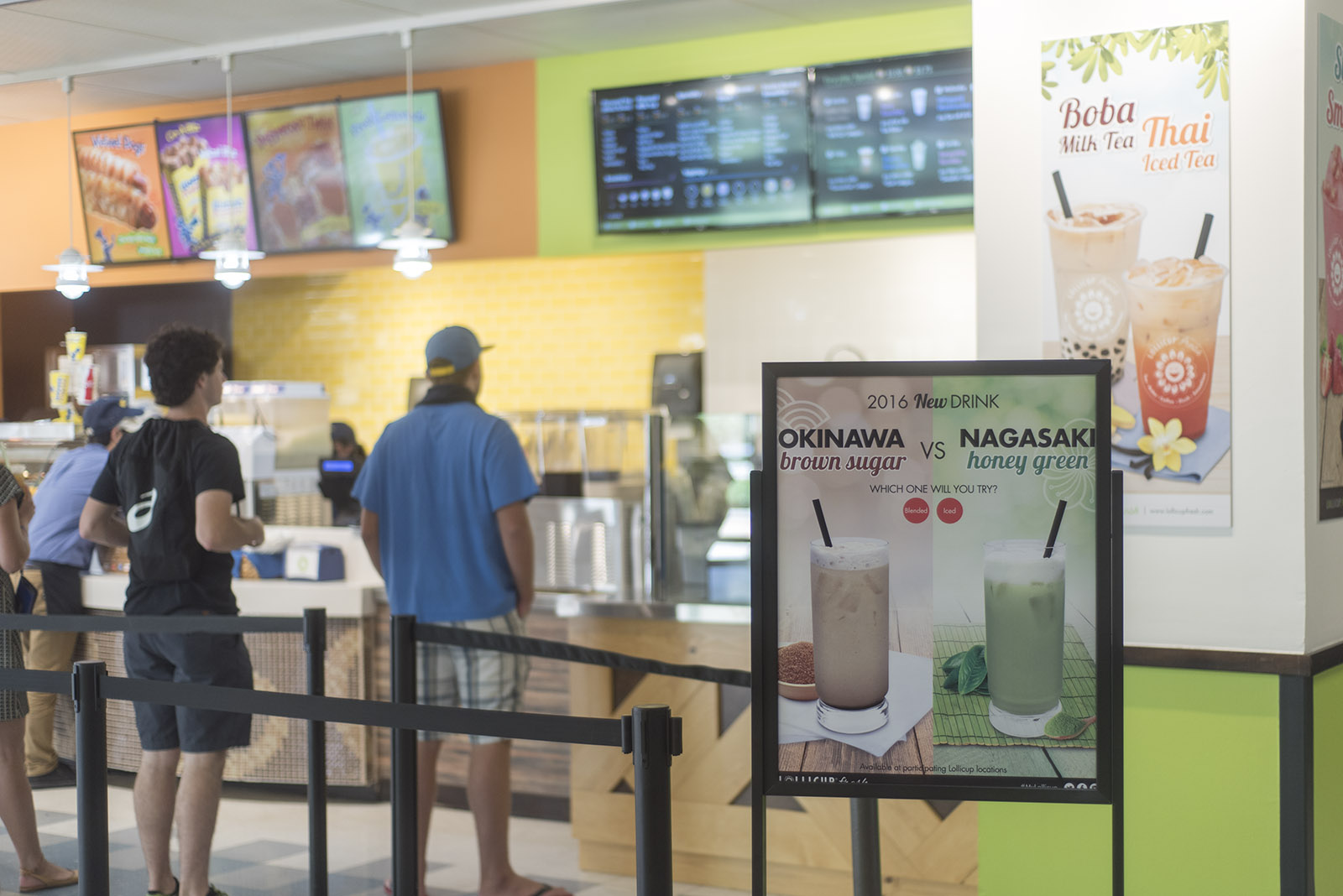 Lollicup Fresh is the newest shop to open its doors in Ackerman Union, providing students with Everyday Special drinks and other beverages. (Mackenzie Possee/Assistant Photo Editor)
Lollicup Fresh, a beverage and food franchise, opened a new location Thursday in Ackerman Union.
The shop replaced Relaxtation, another boba store next to Wetzel's Pretzels, which closed Sept. 1. Lollicup Fresh offers flavored milk tea, slush and smoothies, with different sweetness levels and toppings. It also offers weekly Everyday Specials drinks, such as "Smoothie Sunday" and "Taro Tuesday."
Associated Students UCLA board members have been looking to replace Relaxtation for about two years, said Cindy Bolton, the ASUCLA director of food service. Relaxtation opened in 2001 and ASUCLA bought the rights to the store in 2007, she said.
[Related: Game On! in Ackerman Union to be replaced by custom printing service]
ASUCLA wanted to upgrade and go with a more commercial retail brand, Bolton said. She added they aimed to improve quality, products and recipes.
"The whole boba category (of shops) has changed and we didn't really change with the marketplace, partially because we didn't do anything new with Relaxtation," Bolton said. "Lollicup will have a team of people who will update recipes and do new things as time goes on. We've caught up with the current trend."
Relaxtation's success had been declining over the past few years, but it was still profitable because of the expanding marketplace for boba, Bolton said. However, the ASUCLA board expects Lollicup will be even more profitable.
Bolton added she informally searched for feedback about well-known boba brands by talking to other board members and student employees who drink boba regularly. Lollicup seemed like a popular choice, she said.
Lollicup at UCLA will not offer food like it does at some of its larger locations, which sell items like popcorn chicken and fried calamari, Bolton added. She said some of the food would directly conflict with other stores in Ackerman Union. Items from Relaxtation, such as shaved ice desserts with toppings, will not be replaced because they were not very popular.
[Throwback: UCLA to get taste of Relaxtation]
Bolton said Lollicup officials were enthusiastic to add a location at UCLA, partially because the company's CEO and co-founder Alan Yu is a UCLA alumnus. Lollicup provided most of the investment for the storefront and cosmetic changes, which is unusual, she added.
"Lollicup did a good portion of the investment, which is one of the reasons why it was such a great deal for us," Bolton said. "Some places just share the expenses, but they really took this on and … wanted to be on campus."
Additional expenses, for things such as small wares and operating equipment, will come from ASUCLA's capital funds, she said.
Construction included a dual cosmetic improvement for both Wetzel's Pretzels and Lollicup, Bolton said. Both stores received new fixtures, tiles and paint.
Svetlana Kizilova, an architecture graduate student, said she likes the drink quality and customer service at the new Lollicup shop more than CoCo Fresh Tea and Juice in Westwood.
Juyeon Park, a third-year political science student, said she likes that she can choose the sweetness level, but she thinks the quality is about the same as other boba shops. She said she will visit the store often because it is at an accessible location on campus.
Nicole Kwon, a third-year anthropology student, said she has only tried Lollicup drinks at other locations, but she thinks students can predict what the quality will be like since it is a chain store.