Women's soccer defeats Long Beach State 2-1 with dominant offense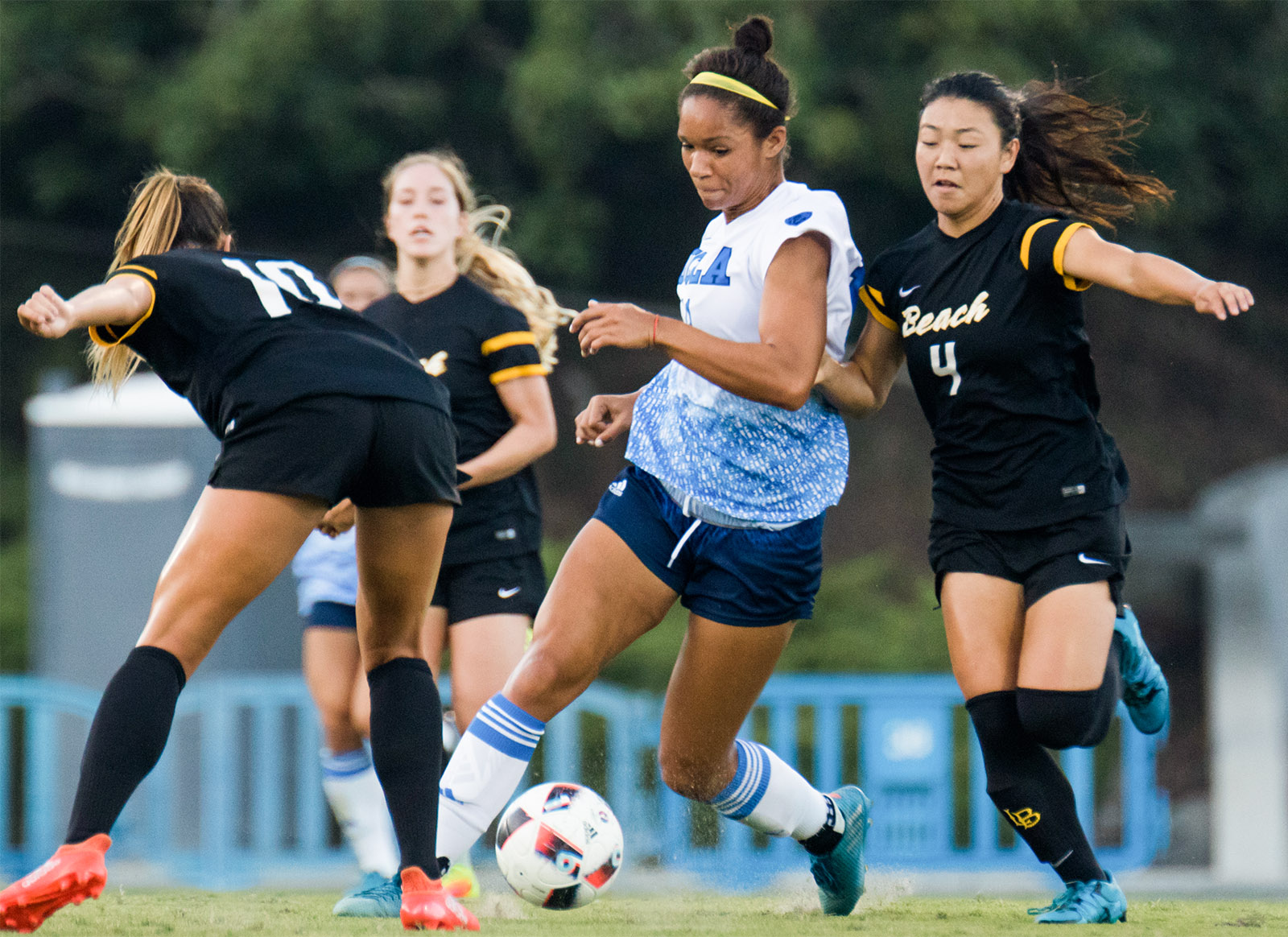 Senior forward Darian Jenkins scored the go-ahead goal for UCLA in the 57th minute. It was her fourth game-winning score and her team-leading sixth goal of the season. (Austin Yu/Daily Bruin senior staff)
Tough games bring out the good and bad in a team.
The 2-1 victory for No. 11 UCLA women's soccer (6-2-0) over unranked Long Beach State (4-4-1) did exactly that.
The Bruins' offensive firepower dominated for the first 45 minutes behind senior Darian Jenkins' aggressive play.
The forward constantly popped up in dangerous positions and grabbed the game-winner midway through the second half for her sixth goal of the season – already eclipsing her total from last year.
Jenkins pointed to the work she put in over the summer as the catalyst for her offensive growth.
"Getting better with my back to goal and turning, when to turn, when to lay it off and things like that," Jenkins said. "Just getting more confident in positions where I'm getting the ball more, I think is a big thing and just having more fun."
While Jenkins' continued success has been key for the Bruins, other players were also performing at a high level in the attack.
Redshirt freshman Anika Rodriguez led an intelligent performance against the 49ers on Sunday, assisting on both goals.
[Related: UCLA's 2015 recruiting class off to a good start in 2016]
In the 15th minute, Rodriguez found space between Long Beach State's midfield and back line to slide a well-weighted ball to senior Amber Munerlyn. The forward ghosted in behind the defenders with a perfectly timed run and took a few touches before beating the goalkeeper near the post for her second goal of the season.
"All of our midfielders, I love playing with them because they always look to feed the forwards and look for the through balls to get us in," Munerlyn said. "(Rodriguez) did a great job with that. She hit me and Jenkins today. Props to her."
[Related: Munerlyn's highlight goal finishes off UCLA's 5-0 win over SDSU]
Rodriguez also crafted the Bruin's go-ahead goal in the second half winner, slipping the ball into Jenkins who finished on the slide.
"(Rodriguez) was killing it today," Jenkins said. "She beat a couple of players and dribbled across the face of the goal. I kind of stayed out of her way, and she found a slip pass between the two defenders. I just placed it."
But, UCLA was unable to put in the complete performance it hoped for. The team dominated the first half, forcing Long Beach State back into its third for long stretches of time.
An inability to turn this dominance into a multi-goal lead kept the 49ers in the game – something they capitalized on early in the second half. The Bruins came out flat after halftime and gifted the visitors a goal after a botched clearance to tie the score 1-1.
"What concerns me is that we haven't necessarily put 90 full minutes of just dominating a game," Cromwell said. "We've had some good starts against other teams and then come out slow in other halves. Those are situations where we have to get ahold of the ball and make them chase us like we did in the first half. When you have the momentum and you're dominating the game, you got to put them away."
The Bruins' inconsistency stems from missing key players on both sides of the ball. Senior midfield Annie Alvarado left the game early after getting hit in the face.
"The ball hit Alvarado in the eye. We weren't sure if we were going to have her back tonight. Gabrielle Matulich got hurt tonight," Cromwell said. "Jessie Fleming's had a knock. We held her out as much as we could. She played a little bit, but she wasn't 100 percent."
Despite the injuries and inconsistency, UCLA ends its tough non-conference schedule on a positive note.
"That was the last game we needed out of conference," Jenkins said. "Where people are pressing, where people are playing crazy formations and you had a team where it's just a grind."
Bribach joined the Bruin as a sophomore in 2016 and contributed until he graduated in 2018. He spent time on the gymnastics, women's basketball, women's soccer and beach volleyball beats.
Bribach joined the Bruin as a sophomore in 2016 and contributed until he graduated in 2018. He spent time on the gymnastics, women's basketball, women's soccer and beach volleyball beats.