UCLA skilled workers take to the Hill to protest unfair wages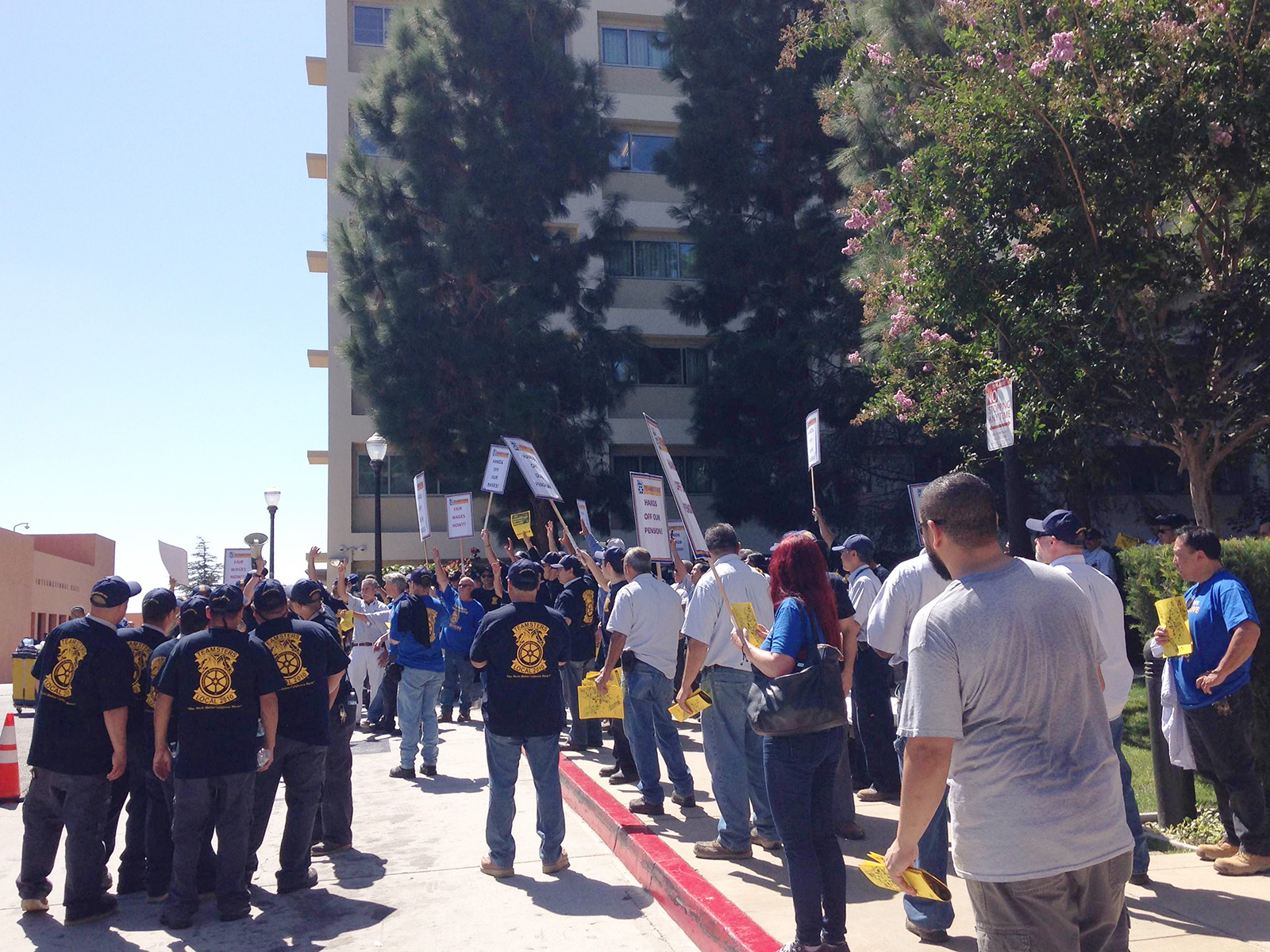 Members of Teamsters Local 2010, the union representing UCLA skilled trades workers, protested what they called a low wage proposal during Friday move-in. (Ryan Leou/National and higher education editor)
September 16, 2016 9:40 pm
Correction: The original version of this article incorrectly stated the Teamsters proposed a 58 percent wage increase. In fact, they proposed a 38 percent increase.
About 150 union members chanted "We want a raise" and "Who does the work? We do the work" as they handed out yellow flyers to students and parents moving into the residential halls Friday morning.
The union members waved signs as they marched down the Hill, protesting what they called an unfair wage proposal during contract negotiations.
Teamsters Local 2010, the union representing the UCLA Skilled Trades bargaining unit, or K4, organized the rally. K4 includes electricians, carpenters and plumbers, among other skilled workers.
Union workers said they protested as new students moved into the dorms because they wanted to inform parents of potential safety issues.
The flyers claimed UCLA does not require some workers to have skilled-trade qualifications while doing complex electrical or plumbing work, which could lead to fires or gas leaks.
Jon Kramer, who serves on the union negotiating committee and is a plumber at Ronald Reagan UCLA Medical Center, said he thinks current wages are about 24 percent below prevailing wage, or the wage paid to the majority of workers within a particular area.
"Depending on classification, some trades might be $10-$12 an hour behind their peers," Kramer said.
Teamsters proposed a 38 percent base salary increase in less than three years, while UCLA initially proposed a 14 percent wage increase over four years in negotiations that started on Aug. 30, according to UCLA spokesperson Rebecca Kendall.
Scott Maer, a plumber with UCLA Facilities Management, said he has worked at UCLA for 25 years, but hasn't received a pay raise in four years.
Maer also said he thinks UCLA hires contract workers without subjecting them to background checks or verifying their licenses to save money on lower wages.
"(Union workers) need to be recertified every two years," Maer said. "We pay $300 to take a hands-on exam with different devices to show we're competent."
Maer added he thinks if UCLA uses unlicensed contractors, their mistakes could cause serious health problems for the entire campus. For example, workers could incorrectly install backflow devices, allowing industrial water to contaminate the drinking water supply.
"Those devices could be either installed incorrectly or not at all by outside contractors," Maer said.
Kendall said she thinks UCLA has not given union workers a pay raise because the union that previously represented the skilled workers engaged in bad faith bargaining and walked away from them before they could reach an agreement with UCLA.
Kendall also said that some forms of work must be contracted out, as mandated by the California Public Contract Code. She said when that happens, safety comes first.
"(UCLA's policy) ensures that a contractor meets all requirements related to bonding and insurance, and any other requirements necessary to safely complete the project, before a contract is awarded," Kendall said. "For larger jobs they have to (contract out) because of the California Public Contract Code. The university doesn't do it to save money."
Robert Leonard, Teamsters representative, said he thinks skilled workers should be paid relative to their experience.
"Skilled journeymen are like P.h.D's in their fields," Leonard said. "They go through a five-year apprenticeship, on-the-job training and exams."
UCLA and Teamsters have agreed on over half the contract, including various terms and conditions of employment affecting the bargaining unit. However, they have yet to agree on wages and other non-economic proposals, including the insourcing of all building and maintenance projects, Kendall said.
The union plans to protest on the Hill again on Saturday morning. Teamsters members also protested Friday at University of California, San Diego in support of UCLA workers.