Bruin political groups gear up for the upcoming election season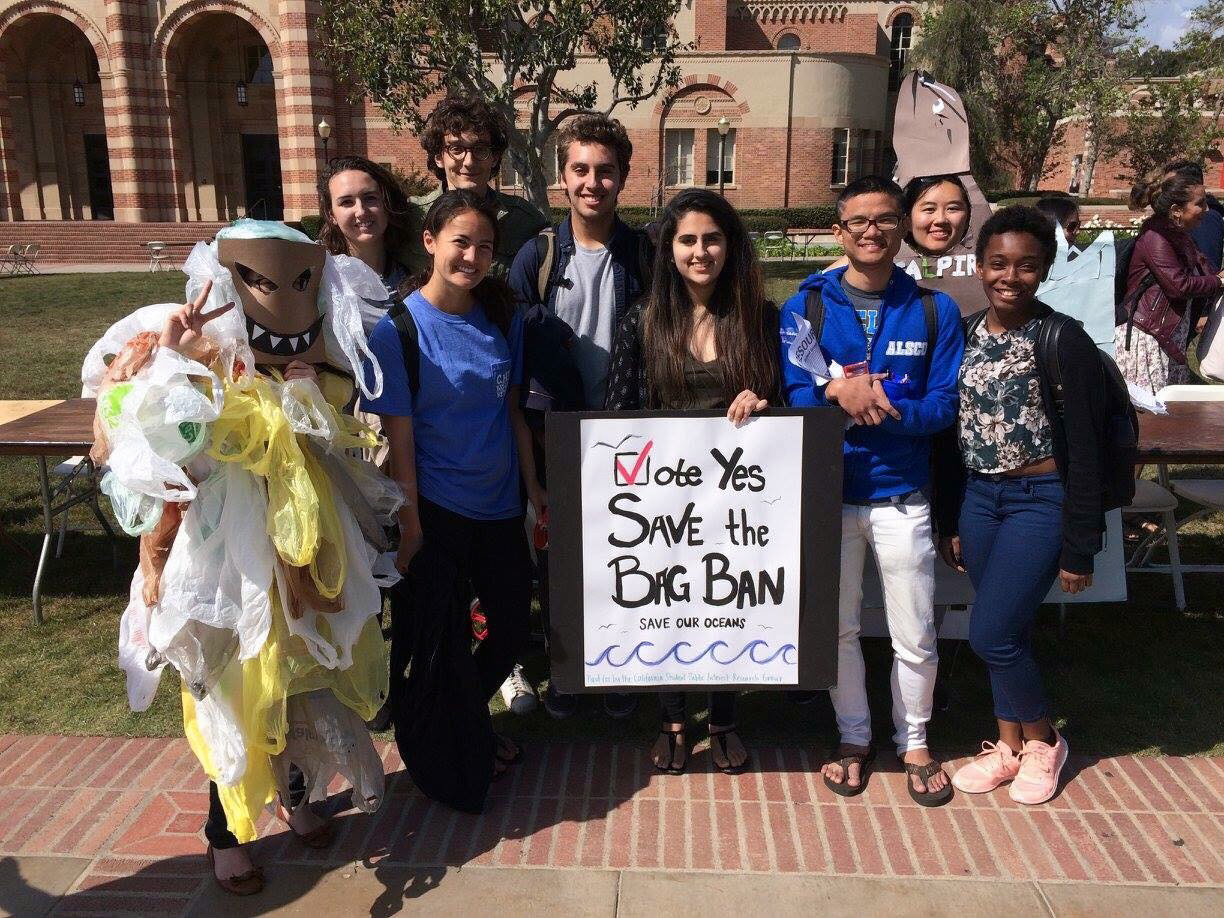 CALPIRG will continue to advocate for Proposition 67, which seeks to reaffirm a statewide ban on plastic bans that the state legislature passed last year. Other student groups are also gearing up for election season. (Courtesy of Jamie Kennerk)
There are 48 days between the first day of classes and election day on Nov. 8.
As students return to school, UCLA political organizations seek to push their message: Your vote matters, even in one of the bluest states in the country.
There are 17 ballot propositions, 20 California State Senate seats, 80 California State Assembly seats, 53 congressional seats and the first open seat for the U.S. Senate in California since 1992, giving voters a lot of opportunities to make their voices heard.
Students are planning more efforts to ensure voters are educated about this year's election, by registering as many voters as possible and reaching out to voters through canvassing and phone banking.
The California College Republicans will deploy its members every weekend starting in the middle of September to campaign for various local candidates, said Haley Nieves, Bruin Republicans external vice president and Los Angeles regional vice chair of the California College Republicans Party.
Members of the Bruin Republicans will also participate in canvassing door-to-door in key districts and reaching out to voters through phone banking, although the club itself will not be as involved in campaigning, said Alex Rhim, Bruin Republicans president and a fourth-year political science student.
The Bruin Democrats will canvass for local candidates such as Henry Stern, a UCLA School of Law lecturer running for a State Senate seat in northwestern Los Angeles County, said Chad Cracraft, external vice president for Bruin Democrats and third-year political science student.
Some student groups are looking at the propositions on the ballot as an opportunity to bear fruit on their months, if not years, of advocacy work.
Students for Sensible Drug Policy plans to invite speakers and hold events to support Proposition 64, which seeks to legalize recreational marijuana usage in California, said Christian Kramme, a former president for the club.
"You don't have to be a pro-cannabis to be pro-legalization," said third-year microbiology, immunology and molecular genetics student Kramme. "If you're not pro-legalization, then you're pro-cartels, pro-losing taxes, pro-incarcerating a bunch of people. … It doesn't make sense."
[Related: Student aims high with medical marijuana delivery business]
California Public Interest Research Group, or CALPIRG, plans to hold events supporting Proposition 67, which would affirm the state's ban on plastic bags. The organization collected more than 6,000 signatures in 2014 in support of the Los Angeles' ban on plastic bags.
"We've been working on this for almost 10 years," said Jamie Kennerk, a UCLA chapter chair for CALPIRG and a second-year political science student. "This is our do-or-die effort."
Leaders of the student political groups said that though they will focus on more local races, they also view the presidential election as a way for voters to stand for what they believe in.
Bruin Libertarians believe the election is a chance for them to say no to both major parties and their candidates, said William Muetzenberg, president of Bruin Libertarians and a third-year political science student.
Muetzenberg condemned Republican presidential candidate Donald Trump's stance on undocumented immigrants, and said the student organization wants to work with Latino groups on campus to call for an immigration reform.
Muetzenberg also said the Democratic presidential candidate Hillary Clinton was not nominated fairly, because he thinks party leaders worked to create an advantage for her during the primary. He said these are reasons people should not vote for either of the major party candidates.
For Bruin Democrats, Cracraft said the election is about standing for candidates who embody what the club sees as democratic values – liberalism, diversity and equality.
"We think (the) candidates (that) the Democratic Party puts forward … achieve that goal," Cracraft said.
Cracraft said his club is planning to campaign for Clinton in Nevada, where recent polls put Clinton ahead by 2 percentage points.
Nieves, a third-year political science and international development studies student, said she thinks the election is an opportunity for conservative students to be proactive instead of reactive to what they call a liberal cultural tide, like the legalization of gay marriage.
"Conservatives are constantly in a reactionary stage, but we come to a point that we are no longer reactionary," Nieves said.
Nieves said a lot of college Republicans are conflicted about supporting Trump. Bruin Republicans decided not to take a stance on Trump, after declining to endorse him or any other Republican candidates in the primary.
[Related: Bruin Republicans discuss Donald Trump, upcoming primary]
But Nieves said she still wants to campaign around Trump's slogan "Make America Great Again."
"The slogan generates a sentiment of nostalgia and a desire to return back to the constitutional principles on which our republic is founded," Nieves said.