Bruin Bash 2016 will have increased security for crowds, wristbands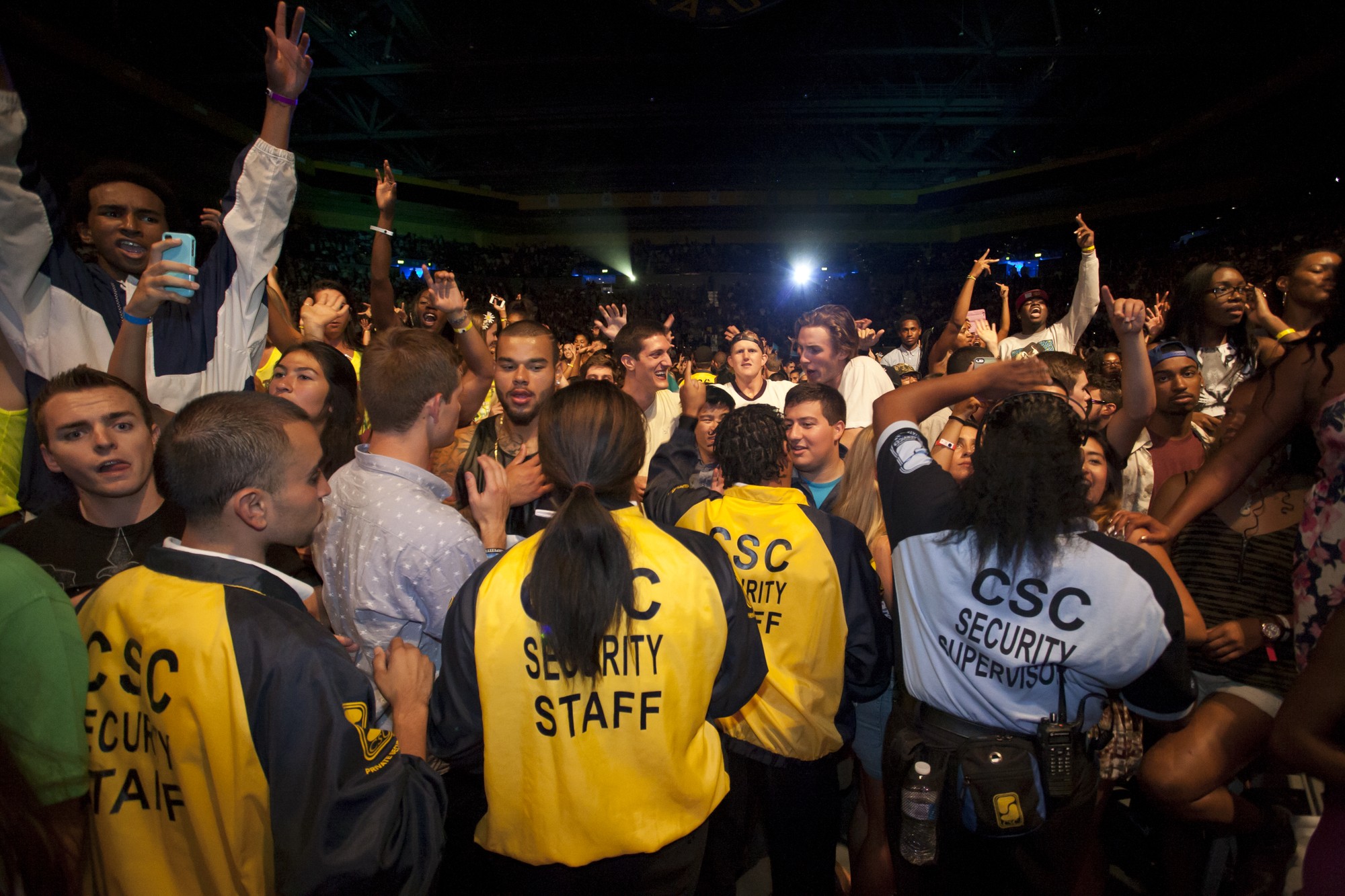 The Cultural Affairs Commission and Campus Events Commission have hired a new security company to staff this year's Bruin Bash. Last year, Contemporary Services Corporation staffed the event.
UCLA will enforce new security procedures at this year's Bruin Bash to increase student safety.
The undergraduate student government's Campus Events Commission and Cultural Affairs Commission, which organized the event, hired a new security company and introduced more thorough wristband precautions, said Jordan Dang, the Undergraduate Students Association Council Campus Events commissioner.
The organizers chose the security company Professional Security Consultants, Dang said. The number of security officials will stay relatively the same, but the rules and expectations for the company will be greater than last year's, he said.
[Related: CEC and CAC finalize 2016 lineup with third artist]
Security will be posted at specific areas to better monitor students and be more efficient at reporting problems, Dang said. Organizers will require the security officials to keep a closer eye on student activity to prevent issues like overcrowding.
"Last year, we had some people wandering to other sections when security wasn't watching," Dang said.
Dang said he and USAC Cultural Affairs Commissioner Amy Shao met twice with UCPD, the Fire Marshal, an EMT representative from UCLA Ronald Reagan Medical Center and a PSC consultant to discuss the event's layout and negotiate the total capacity.
The number of floor seats was slightly reduced to a little under 2,000 students, and the 100/200 level tickets stayed at around 7,000 to 8,000 students, he said.
The floor level's capacity was based on safety concerns such as the number of emergency exits and restrooms, but also on new factors such as current construction next to Pauley Pavilion, Dang said.
Organizers will also remove chairs from the floor level, which will also impact the capacity because the floor will now be an open area with no aisle, Dang said. The chairs limited students' ability to move and dance, and were considered a tripping hazard.
"We wanted to make sure the floor capacity was at a number where as many students as possible could enjoy the event but still safely exit if there were any issues," Dang said. "It may look like the floor could have accommodated more students, but that was the greatest number we could have without jeopardizing student safety."
Last year, five students were transported to the hospital because of the heat and the crowd during wristband distribution. This year, UCLA also introduced the lottery system to avoid overcrowding. The lottery required students to log in with their BruinCard ID and enter to win either a 100/200 level ticket or a floor ticket, according to the Bruin Bash website.
Organizers will also separate the floor and 100/200 level ticket lines and have a movable water cart for students waiting in line to get their wristbands to prevent dehydration, Dang said.
There are three types of wristbands, one for each level of seating, so security can easily identify which sections students belong to. Last year, some students tried to change their wristbands with markers to enter other sections, which led to overcrowding, Dang said.
This year, the wristbands have a more distinct, complex design that will be kept secret until the event, to prevent students from reproducing them in advance, he said.
Shao said students have never been allowed to transfer wristbands, but the rule will be more strictly enforced this year.
"Your BruinCard will be scanned at the door and a staffer will ensure photo identification and snap on the wristband for you," she said. "Unlike last year's paper wristbands, these are snap-on plastic wristbands that can't be taken off unless someone cuts them off."
[Related: Ty Dolla $ign to headline Bruin Bash 2016]
Shao said she is concerned some students may be scammed into buying tickets this year only to show up and find they cannot use another student's wristband.
Dang said the commissioners didn't want there to be a market for wristbands. Organizers who catch students selling wristbands online will report them, and their wristbands will become void, he said.
Dang added he thinks if wristbands could be sold more easily, more students would sell their tickets at a higher price to make a profit, he added.
"I've seen tickets on sale for over $100," Dang said. "I think that's ridiculous, no students should be scammed for a free school event like this."
Some students expressed concern that the lottery system was unpredictable.
Nicolas Gist, a rising second-year statistics student, said he thinks the lottery system is better than last year's system, but it could be improved. He said he won a ticket and his friend didn't, and he wishes they could go together.
Gist added he thinks students should be allowed to buy or sell tickets online, since there was no guarantee with the lottery system.
"We need a system that would allow reselling of tickets and avoid crowds at the same time," he said.
Tanera Van Diggelen, a rising second-year psychobiology student, said she did not attend Bruin Bash last year but would not consider going to a concert if she couldn't sit with her friends.
Shao said there has never been a guarantee for tickets for Bruin Bash, because the number of wristbands is limited by the venue's capacity. She said students who did not get a floor ticket like their friends had the option to resubmit for the 100/200 lottery.
The organizers have been planning for Bruin Bash since July with multiple walkthroughs and meeting, to ensure the day goes as smoothly as possible, Dang added.
"We're well aware that issues may arise during this festival and concert that we didn't foresee," he said. "We're trying our best to make sure that if anything happens, we're prepared and can respond in a way that's beneficial to students and staffers."
Wristbands for students with floor seats will be distributed Monday at the Central Ticket Office from 10 a.m. to 4 p.m. and wristbands for students with 100/200 seats from 12 p.m. to 4 p.m.
Contributing reports from Kuhelika Ghosh, Features and student life editor.