Alumna's startup gives students a chance to explore new career paths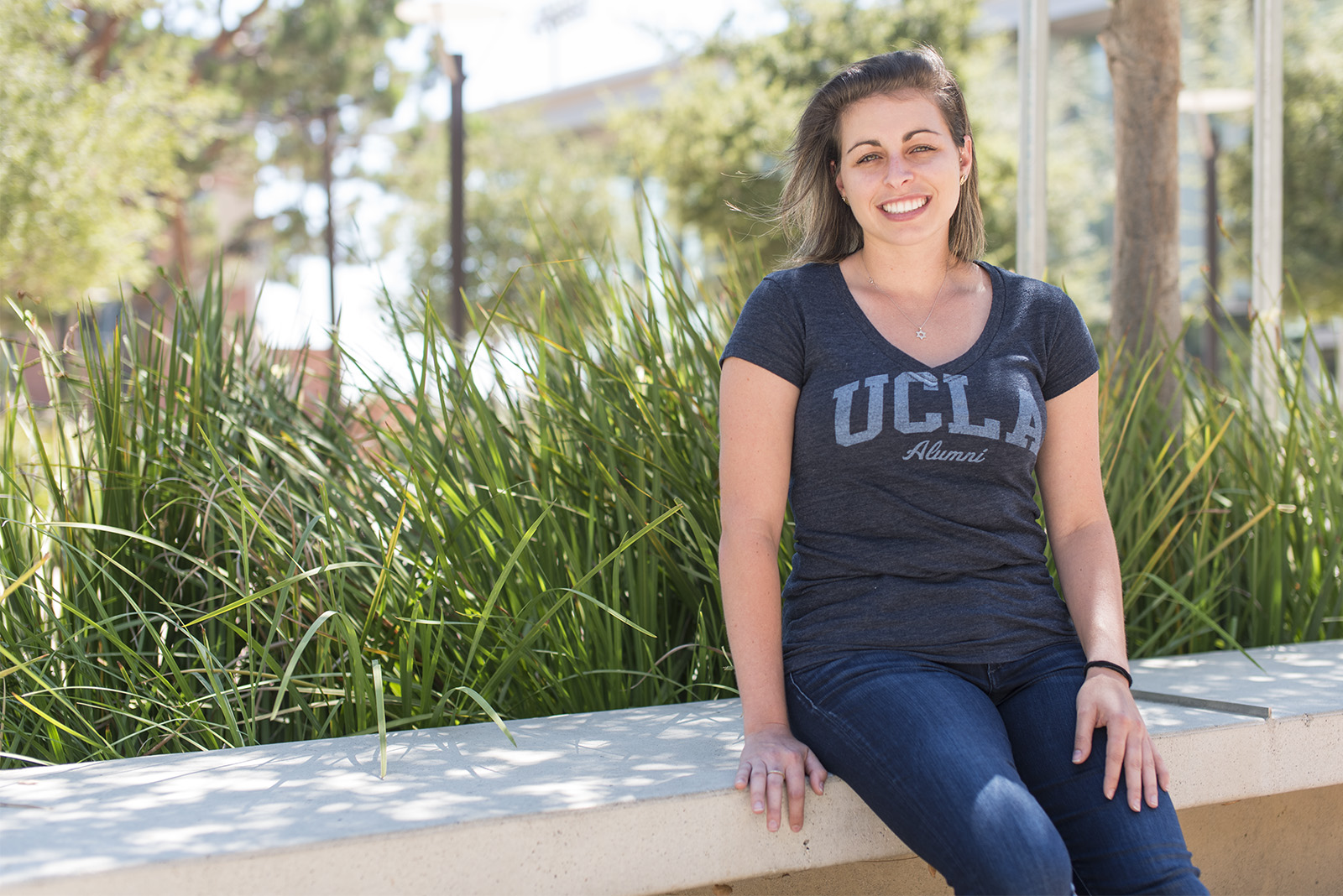 Nicki Klein founded a career development platform called Betagig in 2016, with Melissa Hargis. Klein and Hargis, who both made drastic career switches, came up with the idea for Betagig while in San Francisco for a hackathon. (Miriam Bribiesca/Photo editor)
Nicki Klein sat idle at her corporate job in the years after graduating from UCLA, wishing she could find a career as captivating as the Legos and puzzles she played with for hours as a child.
After trying three uninspiring jobs, Klein found in coding what enthralled her as a child playing with Legos and puzzles – building and problem-solving.
Since then, Klein has become a software developer and won the 2016 Launch Hackathon for her career development platform Betagig, which allows users to "beta test" a career by shadowing professionals.
"We are creating a 'try before you buy' (model) for careers," Klein said. "So many people don't know what they want to do or think they know what they want and … realize it's nothing they thought it was going to be like."
[Related: Use of career resources can ease GPA stress]
Klein founded Betagig in 2016, with Melissa Hargis, a former Spanish professor, who she met at a coding bootcamp. Klein and Hargis, who both made drastic career switches, came up with the idea for Betagig while in San Francisco for a hackathon.
"We were walking in Golden Gate Park … and Melissa said, 'Wouldn't it be cool if there was an app where you could literally trade lives with someone for a day?'" Klein said. "And I said, 'No, it would be cool if there was an app where you could trade careers with somebody for a day.'"
They took the idea to Launch Hackathon, where they won $250,000 in funding and were admitted into the Launch Incubator, an organization that helps develop startups.
Hargis said the duo felt intimidated competing against 1,500 experienced coders, who were mostly men.
At the hackathon, they dressed as 15th-century queens, wearing "Game of Thrones"-style gowns and silver crowns on their heads.
"I don't think anybody expected the two female developers, dressed in queen outfits, to win," Klein said. "Part of why we dress up is because we're the only females in the room and so we stand out without standing out. We just want to show people it doesn't matter who you are, you can still win."
Hargis said they enjoyed dressing up for hackathons and attended a previous one in cheerleader outfits to defy stereotypes about women in tech by wearing anti-cliche costumes.
After their win, Klein and Hargis hired interns from their bootcamp network to build the platform and ended up with an all-female engineering team, Klein said.
"It was an accident, to be honest," she said. "It just so happened that mostly females reached out. Men did too, but the women committed."
Klein said it was a different vibe from a conventional, male-dominated developer environment since they were just five women, coding all day in a house overlooking the San Francisco Bay.
Klein said she studied psychology and linguistics at UCLA and though she was interested in technology, she never saw a career for herself in the field. She didn't pursue computer science because she didn't believe it was a field she could succeed in, she added.
Klein added she thinks many women discover the science, technology, engineering and math fields later in life after switching careers several times.
"If I had had the opportunity to shadow (a developer) in college, it may have piqued my interest and I might have switched (to computer science)," Klein said.
[Related: prime: Cracking the gender code]
Hargis said she started her undergraduate studies at Purdue University in computer science but switched to Spanish after two years because she didn't understand what she was doing in her classes.

Hargis said she has seen her students struggle in choosing career paths in almost 10 years of teaching Spanish.
"We wanted to help college students find the perfect fit for what they should study," Hargis said. "Students are … spending a lot of time and money (and) it's unfortunate that our system is so lacking in transparency."
Klein said they launched Betagig over the summer to test the platform, initially offering limited shadowing positions and companies. She added seven students signed up after the soft launch and two were offered longer-term positions.
Cameron Klein, a fourth-year history student at UC Santa Barbara, said he used Betagig to shadow at Los Angeles City Hall and Transamerica, an insurance, investment and retirement company. He was offered an internship at Transamerica at the end of the shadowing process.
He said job shadowing can offer a more complete picture of a career than internships can. He said he thinks students are given minor responsibilities in some internships, but at Transamerica, he sat through meetings and learned about building client relationships.
Cameron Klein said while he isn't ready to choose a career yet, Betagig gave him the opportunity to explore a field different from his major.
Betagig has been nominated for Tech.Co's Startup of the Year competition. The platform will relaunch Sept. 23 with a redesigned website and 52 partner companies in California, Klein said.
"Something students are really lacking is exposure to different industries," Klein said. "You can network all day long but you don't know what you're getting yourself into until you get there, step in the door and sit in the office."