Project Literacy helps students across LA throughout summer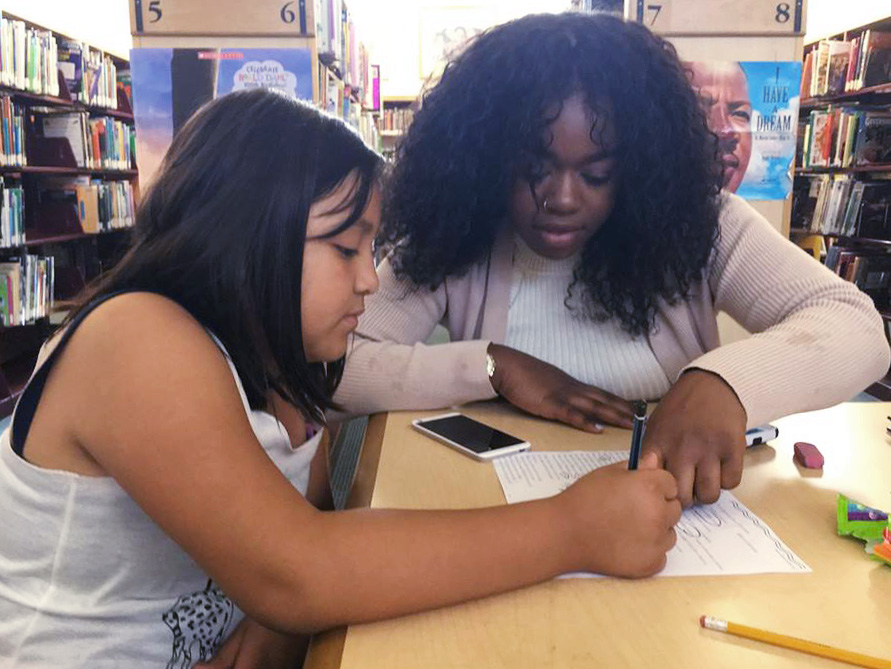 Project Literacy, a UCLA organization that helps students and adults from underserved areas improve their English skills, continued its tutoring sessions in the Baldwin Hills Library during summer session A. (Courtesy of Avantika Mundkur)
Catherine Segura, a fifth-grader from Los Angeles, waited eagerly for her tutor every Friday this summer, excited about the new articles she would read.
She likes to read about animals, but sometimes needs help understanding the material, said Katherine Lewis, Catherine's tutor and a site director for Project Literacy.
Lewis, a rising third-year history and political science student, has been working with Catherine for two years through Project Literacy. The organization helps students and adults from underserved areas improve their English skills, and continued its tutoring sessions in the Baldwin Hills Library during summer session A, Lewis said.
Lewis said Catherine and her siblings wait for their mom to come home from work most days so they can practice English together. Catherine's mom is a single, working mother and often comes home late, but she feels relieved that her daughter can spend Friday afternoons in the library when school is not in session.
Avantika Mundkur, ProLit co-director and a rising fourth-year neuroscience student, said children in the communities they serve sometimes fall behind in English, and during the summer they can forget what they learned during the school year.
Many schools ProLit visits can only afford to hire temporary teachers, who are switched out throughout the school year, Mundkur said. The schools also have a high teacher to student ratios of about 1 to 30. And, like Catherine, many students from these communities don't have their parents to help them with school work, because they work long hours, she said.
The lack of resources for families and schools in these communities can lead to lower literacy levels, Mundkur said. But Lewis said she hopes the summer tutoring sessions helps students stay engaged.
Each tutoring session is about an hour and a half long, Mundkur said. After going through the curriculum, students play games related to the day's theme. On one day, for example, the students pretended to trade produce in a fake market, following a food-themed lesson, she said.
Since children don't have homework during summer, tutors used curriculum they develop weekly, which includes reading comprehension and grammar worksheets, Lewis said.
The curriculum includes readings that follow different themes related to culture and current events. For instance, some readings cover topics such as global health, cultural appropriation and the upcoming presidential election, Mundkur said.
The organization also gives parents a list of books that represents students' cultures to make the books they read more relatable to their students, Mundkur said.
Lewis said she reads to Catherine before asking her to read them herself.
"I learned in a seminar that hearing someone else read it and understanding the way it's supposed to sound helps kids understand a text better," Lewis said.
Varun Bhadha, who graduated from UCLA in 2015 and volunteered for ProLit this summer, said he thinks small goals push children forward more effectively. When working with his students, he would assign five pages in ten minutes rather than a whole book for the summer.
Bhadha said that though the students may not finish the assigned reading goals, he thinks reading 20 pages is better than not reading anything for an entire summer.
"She brings me flowers she picks up from the bush every time, and she got upset when I missed even one session," Lewis said, "I have been going every single week since then."
Catherine's infectious happiness keeps Lewis coming back every week, she said.