UCLA brings children together at annual pediatric craniofacial picnic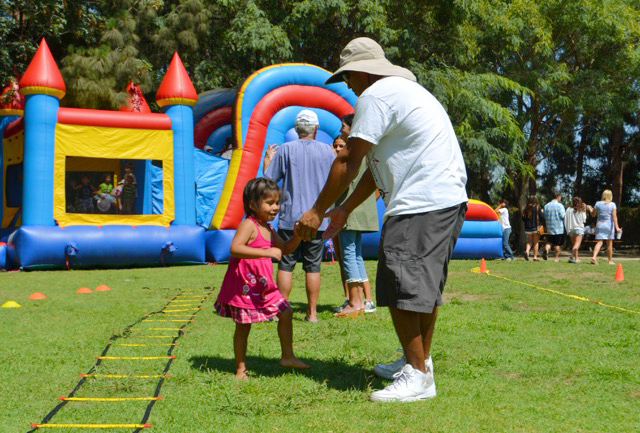 Children played at the UCLA Sunset Canyon Recreation Center during a picnic hosted by the UCLA Pediatric Craniofacial Program clinic, which helps treat cleft lips and palates. (Courtesy of Justine Lee)
For one day each year, kids with craniofacial anomalies spend time with each other and their families at UCLA's Sunset Canyon Recreation Center lawn.
At the annual UCLA Pediatric Craniofacial Program picnic, held Aug. 6, kids of all ages will be able to play games, paint their faces and jump on bounce houses. These children are UCLA patients with congenital abnormalities or acquired craniofacial anomalies.
Craniofacial anomalies include cleft lips and cleft palates, said Justine Lee, an assistant professor of surgery in the division of plastic and reconstructive surgery at the David Geffen School of Medicine. Less common diagnoses include craniofacial microsomia, a condition in which half of the face is underdeveloped in comparison with the other side of the face, she added.
Lee has been working at UCLA with children diagnosed with these conditions since 2013 and will be organizing this year's event.
Because these conditions are facially visible, children often face a tougher time than their peers in school, Lee said.
"They're often the only kid in their school with an issue like this," she added. "The picnic is a time for them and their families to come together, have fun, meet each other and have a bit of a support system."
Shilda Avila, a 17-year-old patient of the clinic, has been attending the picnic for 10 years and said she looks forward to the balloons each year.
Born with craniofacial neurofibromatosis, Avila has a genetic condition involving developmental changes in the nervous system, muscles, bones and skin, often resulting in tumors on the face.
Avila's mother, Beatrice Avila, said she was also born with neurofibromatosis, although she faced a milder condition than that of her two daughters.
"I wish we had a picnic (like this) when I was growing up," Avila said. "My experience was a bit more difficult at school. The girls have a very healthy environment school-wise."
Avila said she raised her daughters to be comfortable with their situation and encouraged them to explain their condition to strangers who may not understand.
"(I just hope) people treat them like they're typical kids, to be respectful and to be kind because they have feelings," Avila added.
She said the picnic is an event her girls look forward to each year because they can be around other kids of similar backgrounds and for the picnic's activities. Like her daughters, Avila said she enjoys talking to the other parents and families who have undergone similar experiences.
Hodges is the Enterprise Production editor. Hodges was previously a News reporter.
Hodges is the Enterprise Production editor. Hodges was previously a News reporter.