Luskin Conference Center reaches final stages of construction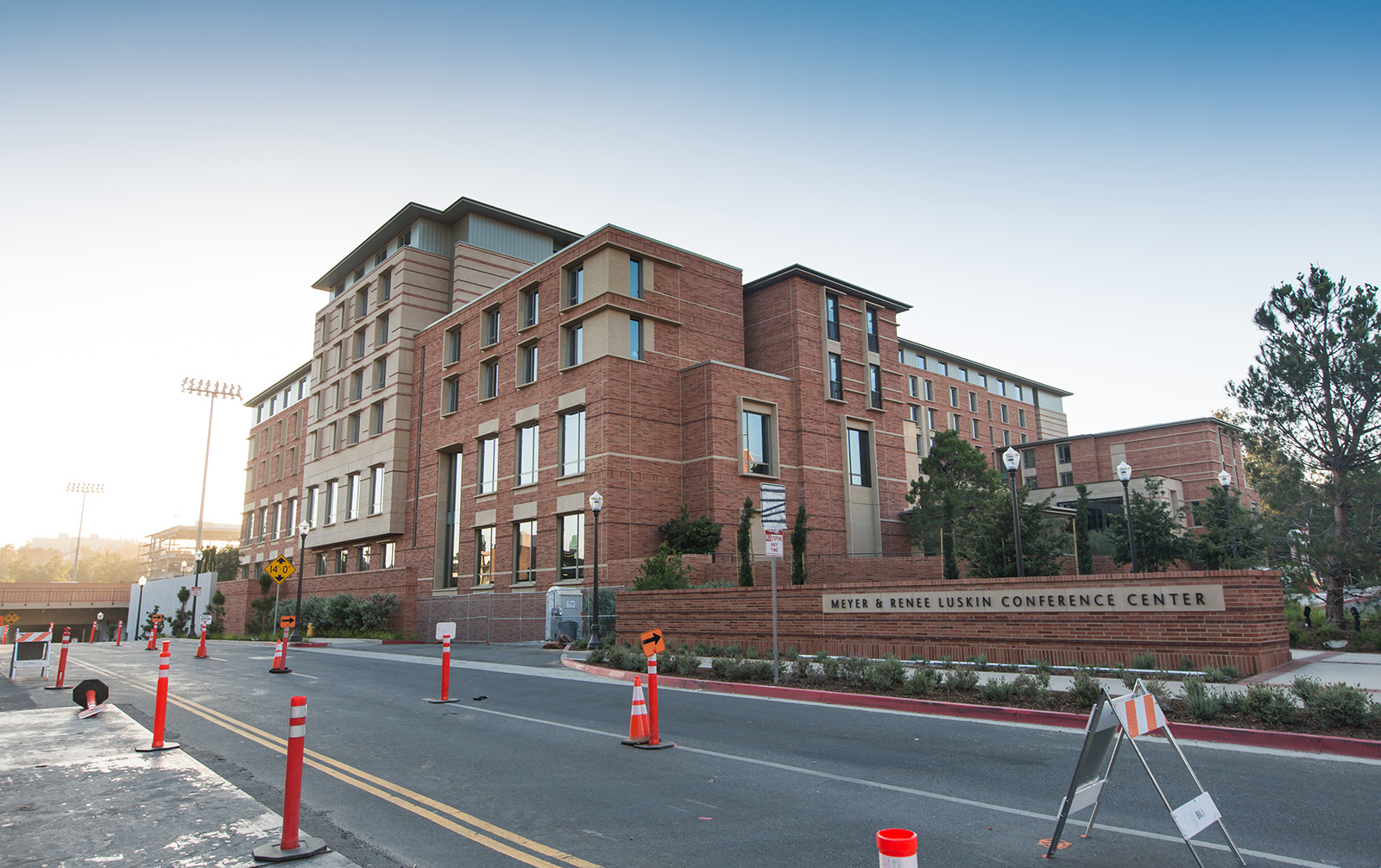 The Meyer and Renee Luskin Conference Center is almost complete. The $162 million project started in 2013 and will have about 250 guests rooms and 25,000 square feet of meeting space. (Austin Yu/Daily Bruin senior staff)
This post was updated July 25 at 9:45 p.m.
Construction of the Meyer and Renee Luskin Conference Center is now complete, as the center prepares for its soft opening Aug. 7.
The center will host a grand opening event Oct. 7.
The center, which is partly funded by a $40 million donation from alumni Meyer and Renee Luskin, cost a total of $162 million to build, said Peter Angelis, assistant vice chancellor of housing and hospitality services. Officials did not use funds from student fees or taxpayers.
Construction of the center began in 2013 and it is now about 99 percent complete, Angelis said. He added the remaining work includes simple cosmetic touch-ups.
The center will be equipped with 254 guest rooms, 25,000 square feet of meeting space, a ballroom, a restaurant and a lounge, according to a UCLA press release.
Angelis said it will also offer hotel rooms to accommodate friends or families visiting students, and attendees of conferences held at UCLA.
The Luskin Center was designed to host academic conferences, Angelis said. It will feature indoor and outdoor breakout spaces, board rooms with full conference call capabilities, meeting rooms with specially designed acoustics and nutrition hubs outside meeting rooms for attendees to grab healthy snacks. Each of the 29 meeting rooms is also fitted with audio and visual equipment, Angelis said.
"(We have designed) the layout of the meeting space so that it's most conducive to campus academic needs," Angelis said.
For more than a year, the Center has been taking reservations for groups who want to hold conferences, Angelis said. Reservations for people who want to stay in the hotel have been open for the past four weeks, he added.
Now that construction is complete, the center's staff is continuing to focus on hiring employees, Angelis said. The center has received more than 6,200 applicants, and has hired 160 full-time staff and about 80 part-time staff since they began hiring in March.
In February, UCLA students and workers from the American Federation of State, County and Municipal Employees 3299 union held two protests demanding a contract that would allow employees to work at the new center. AFSCME 3299 represents thousands of workers across the University of California, according to its website.
However, in a letter to the editor written in May, Angelis states the Luskin Center had been encouraging AFSCME members to apply to several positions since April and was transparent in the hiring process.
Angelis said the Center is accepting applications from UCLA students, and aims to hire as many as possible.
"This would be a really good training opportunity for students because it helps (students gain experience) not only in hospitality, but in a variety of other industries," Angelis said.
Some students said they think the center is a good idea because of the convenient location. Others said they do not see the need for the conference center and wish the funds had been allocated elsewhere.
Sally Oh, a rising third-year human biology and society student, said she thinks it is unlikely she or her family will use the conference center.
"While it would be convenient to have the possibility, I'm assuming staying there wouldn't be the most affordable," Oh said. "I see it as a good resource to have and would refer people I know to use it."
Oh added she would not personally seek a job at the Luskin Center, but she can see how it might be an attractive job opportunity for students on campus.
Kylie Chen, a rising third-year statistics student, said she thinks the conference center seems superfluous because it will not be used by most of the student body.
"I think it's expected that UCLA will build all these new buildings, but I don't think the conference center is wholly necessary," Chen said. "The university is just looking for ways to make even more money."
Edwin Oon, a rising third-year biochemistry student, said he thinks building the conference center was a good idea because UCLA attracts many people for various reasons.
"Before, there weren't very many places to stay overnight near campus, so this will definitely be a convenient alternative for visitors," Oon said. "I probably wouldn't consider using it because I live close by."
Contributing reports by Ryan Leou, Daily Bruin senior staff.
Hodges is the Enterprise Production editor. Hodges was previously a News reporter.
Hodges is the Enterprise Production editor. Hodges was previously a News reporter.