Afrikan Student Union holds vigil in honor of recently lost black lives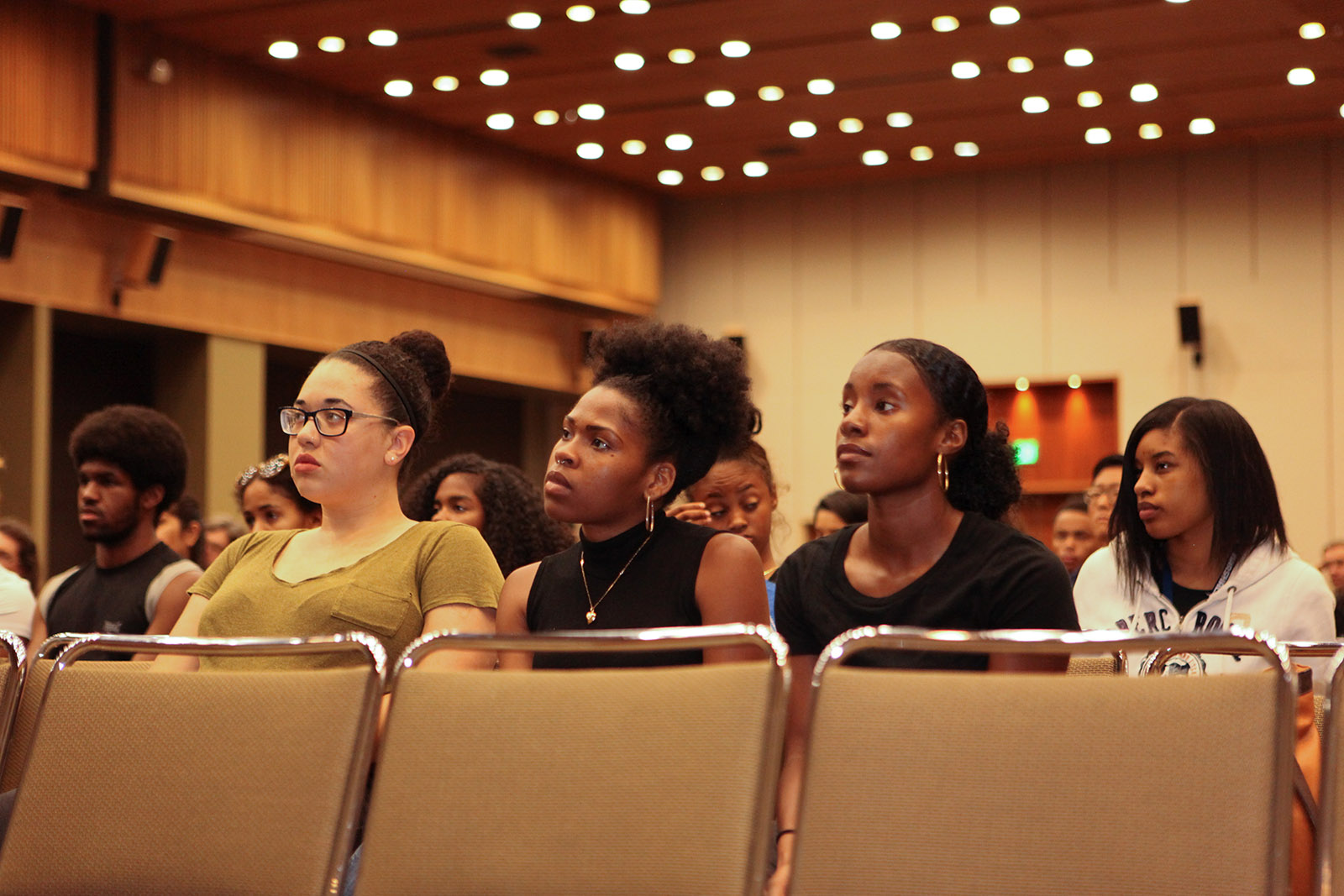 Audience members listened to vocal performers and speakers at a vigil Wednesday organized in response to recent deaths of black men at the hands of police. (Courtesy of Todd Felderstein)
Students, faculty and alumni listened to vocal performances and speeches at a vigil Wednesday to honor black lives lost to police violence.
The Afrikan Student Union organized the vigil in Carnesale Commons to help students cope with recent police shootings. About 50 people attended the vigil, which featured student performers, guest speakers from the UCLA faculty and administration and an open mic session.
Tiara Latimer, programming coordinator for ASU and rising third-year sociology and gender studies student, told the crowd that the large number of tragedies have desensitized the public, preventing the community from grieving.
"It's OK not to be OK," Latimer said. "The hurt and pain should not be here, but still we see no justice, no peace."
Police recently shot two unarmed black men in separate incidents in Minnesota and Louisiana, both of which were captured on video by bystanders.
Police officers in Baton Rouge, Louisiana fatally shot Alton Sterling at close range while he was pinned to the ground. A few days later, a police officer in Falcon Heights, Minnesota shot and killed Philando Castile as he reached for his wallet during a traffic stop. Both deaths sparked outrage and led to requests for the Department of Justice to open investigations into the police departments involved.
Vice Chancellor of Diversity, Equity and Inclusion Jerry Kang spoke about the complexity of racism and people's implicit biases. He also said he thinks the absence of intent does not excuse racist acts.
"I want to remind people that the little things, the acts of careless indifference, create a system that will lead to violence," he said.
Kang added he hopes the vigil helped attendees cope with recent events with other members of the UCLA community.
At the event, Academic Advancement Program Director Charles Alexander told students a police officer shot and killed one of his family members. He ended his remarks with a call to fix what he called a broken system that led to the deaths of black men and women like Trayvon Martin, Sandra Bland and Eric Garner, among others.
Safiya Noble, an assistant professor of information studies, said she thinks it is important to remember community and identity, especially in the face of hostile environments.
Noble added she thinks one possible method of dealing with racism is to actively study the causes and motivations behind it.
"It's not enough just to know these brutal things are happening in (our) community," Noble said. "We need to find (a) pathway forward."
Several students in the audience said they were grateful ASU gave them the opportunity to share their thoughts about how police violence and racism affect them with other community members.
Donovan Kimsey-Wade, a rising-third year mathematics student, said he attended the vigil because he wanted to mourn with other Bruins over the deaths of Sterling and Castile.
"I feel there has been a lack of grieving, and interaction from the UCLA community as a whole," Kimsey-Wade said. "When ASU brought forth something for us as Bruins to engage with, I had another reason to go."
Kimsey-Wade added he was particularly touched by the message from a preacher who said he thinks love is the only solution to the hate between groups.
"He took us to church and showed us how only light can drive out darkness," Kimsey-Wade said.