UCLA groups to receive increased funding to address food security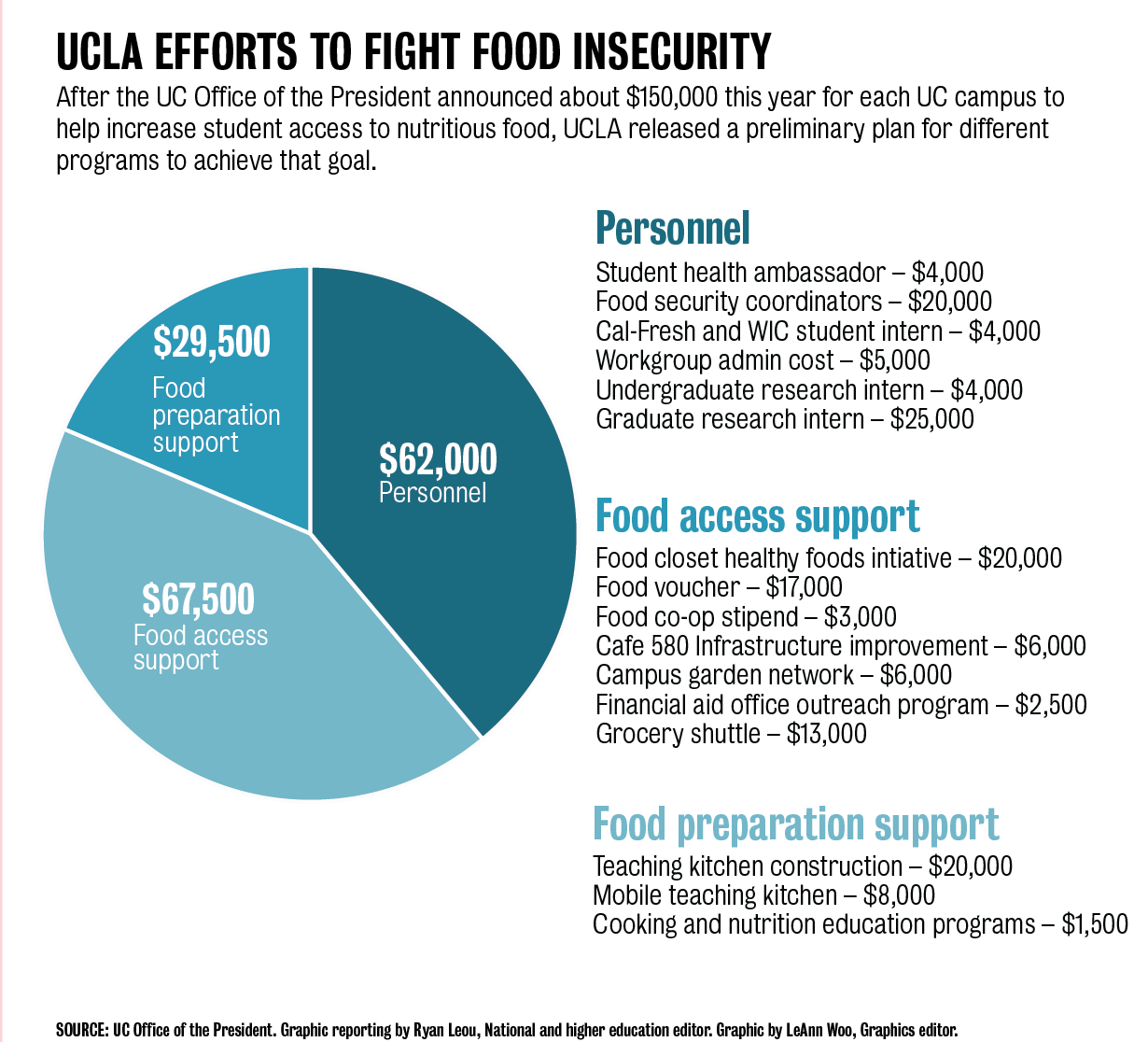 Correction: The original version of this article stated the meal voucher program is sponsored by the CPO and can be used at local restaurants. In fact, the meal voucher program is sponsored by the Economic Crisis Response Team and vouchers can be used at restaurants on campus.
UCLA food security organizations are preparing for an increase in funding from the University of California.
Last Monday, UC President Janet Napolitano announced the Office of the President would give $3.3 million in funding over two years to help campuses address food insecurity. Each campus will get $151,000 a year.
Napolitano announced the funding after the UC released the results of its online survey on food security. About 40 percent of nearly 9,000 respondents said they had either reduced or skipped meals because of financial troubles.
UC spokesperson Claire Doan said in an email statement the UC would transfer the first round of funding to individual campus food security work groups, which were formed at Napolitano's request last year. Each UC campus' work group will receive a lump sum Aug. 1.
The work groups, which operate under the UC Global Food Initiative, or GFI, are task forces made up of students, faculty, researchers and staff involved in food access or food security work. The task forces received $75,000 last year, allowing them to improve access to healthy foods.
With the additional funding this year, the task forces will be able to improve and expand their services, said Tyler Watson, a member of UCLA's task force and a graduate student in environmental health sciences.
UCLA's Food Security Work Group will divide the $151,000 allocated to the campus among its member programs and initiatives, including the Community Programs Office, the Healthy Campus Initiative and research efforts. This year, about $20,000 will be allocated to CPO to purchase healthy foods, according to funding plan documents.
CPO Internship Director Rohit Maharaj said the food closet started providing healthier food options, like fresh fruits and vegetables last year and got positive feedback from students. The food closet receives about 1,500 pounds of food each week. Because transactions are anonymous, CPO does not keep track of who or how many students use the food closet.
The CPO distributes meal vouchers that can be redeemed at some  campus restaurants and dining halls under a program sponsored by the Economic Crisis Response Team.
Wendy Slusser, associate vice provost for HCI, said the initiative supports projects under the GFI and connects different programs and leverages resources on campus.
Slusser added HCI is working to increase food literacy, awareness of financial aid options and academic programs about food, like the food studies minor and cooking classes.
About $2,500 of the $151,000 allocated to UCLA will fund a financial aid office outreach program to inform students of the food resources available to them. Another $1,500 will go toward cooking and nutrition education programming.
"By enhancing food literacy we can teach students living on strict budgets that they can still navigate to enhance food security along with other resources," Slusser said. "Focusing on this subject has (led to) discussions around how to enhance the student experience in a way that won't make them worry about food."
Watson said the task force held monthly meetings to gather input from its members. He added the group spent several months working on a funding request, and while they didn't know how much money the UC would award, they were confident they would receive some funding.
"(The plan) includes supporting and expanding existing programs, such as the CPO Food Closet and the meal voucher program, and creating new efforts such as teaching kitchens and CalFresh outreach," Watson said.
Watson also said working with the GFI has allowed UCLA's task force to learn from other campuses and borrow ideas. For example, the task force plans to create a mobile teaching kitchen, an idea taken from UC Santa Barbara.
The mobile teaching kitchen will be a mobile cart used to make cooking presentations, he said. The project will receive about $8,000 from UC funding.
Another $20,000 will help build a full kitchen somewhere on campus, and $6,000 will go toward a campus garden network to grow food.
Watson said he also formed focus groups with UCLA students to learn about their experiences, beliefs and behaviors relating to food access. Some of his preliminary findings reveal that worrying about food access can stress students and hurt their academic performance.
Students want the university to increase awareness of existing resources, like the CPO Food Closet, and create new resources, Watson said. He added students have also said they also want opportunities to learn life skills, like cooking.
The results from Watson's focus groups and the UC food security survey will help the task force prioritize programs and efforts over the next two years, he said.
Doan said the UC also developed a systemwide action plan to address food insecurity tailored to the needs of individual campuses while maximizing coordination among them.
"Campuses will determine the best way(s) to maximize their funds and report back to (the UC Office of the President), which coordinates and oversees the systemwide effort," Doan said in a statement. "By allowing campuses to determine their project plans, they're able to serve the unique needs of their respective student populations."