UC employee union petitions for implementation of overtime laws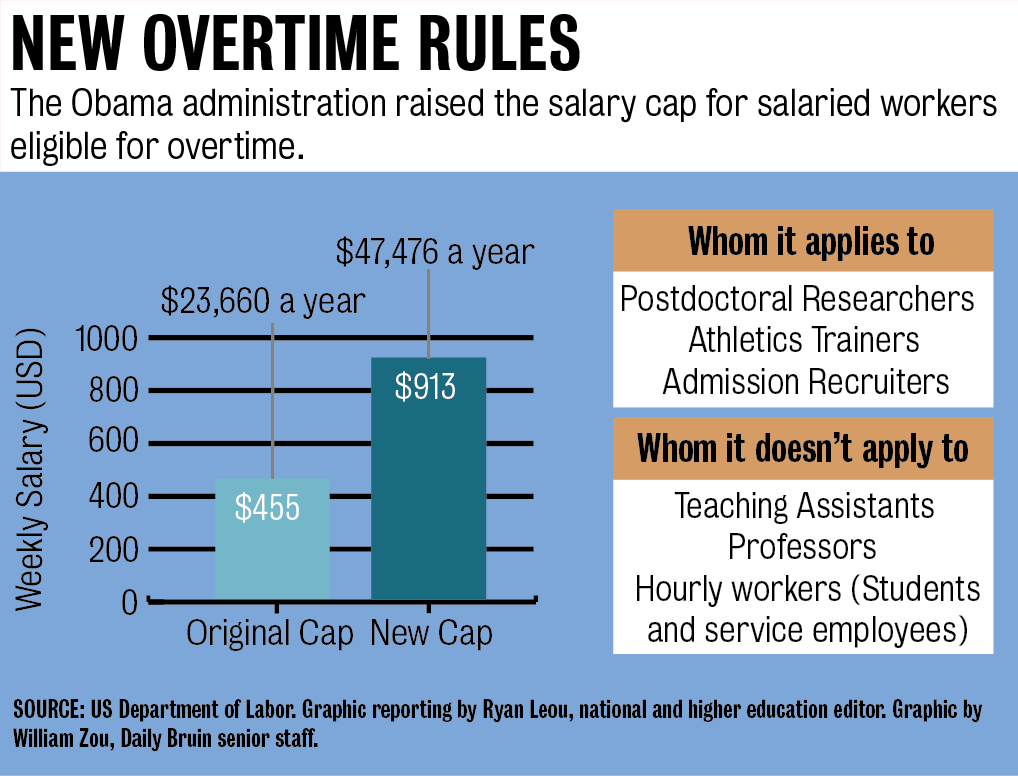 A union representing University of California employees launched a petition asking the United States Congress to allow implementation of new overtime rules.
The petition launched Thursday by United Auto Workers 5810, the union representing about 6,000 postdoctoral scholars across the UC, garnered about 1,000 signatures during the first day it was released, said Jacob Burstein-Stern, union spokesperson.
Burstein-Stern said the union aims to urge members of the California U.S. House of Representatives delegation to continue their support for the new rules.
The new rules, announced by the Department of Labor on May 18, stated executive, administrative and professional salaried employees who make less than $47,476 a year now qualify for overtime pay under the Fair Labor Standards Act. The previous threshold was $23,660 a year.
The new overtime pay policy was set to be implemented in December, but a House of Representatives subcommittee controlled by the Republican party is trying to block the new rules. A National Institutes of Health funding bill introduced Wednesday included language prohibiting the Department of Labor from enforcing them.
Postdoctoral scholars, athletic trainers and admissions officers, among other UCLA employees would have qualified for overtime pay under the proposed policy.
Anke Schennink, president of the union, said she thinks opponents of the new rules, including employers who would have to pay higher wages, lobbied Congress members to block implementation of the new rules in the funding bill.
"The petition is a way to show our support to allies in Congress who are in favor of this rule," Schennink said. "The new rule has broad support among scientists, and we want (our allies) to stay strong and not accept a weakening of this rule."
Schennink added she thinks the new rules are important to postdoctoral scholars at the UC because they cannot afford to live in areas around campus, like Westwood, San Francisco or San Diego on a typical starting salary.
"The starting salary (for postdoctoral scholars) is about $43,000," Schennink said. "Universities are losing great scientists to other careers because they can't afford the basics where they live."
She added she thinks postdoctoral scholars are the driving force behind publications and millions of dollars worth of grant applications, thus they should be paid higher salaries.
Schennink said the union will work to ensure the Department of Labor will be able to implement by the designated date.
Lawmakers can remove the House of Representatives bill language that prohibits the new rules from being enforced.