Shorter life sciences core series to debut in fall with video lectures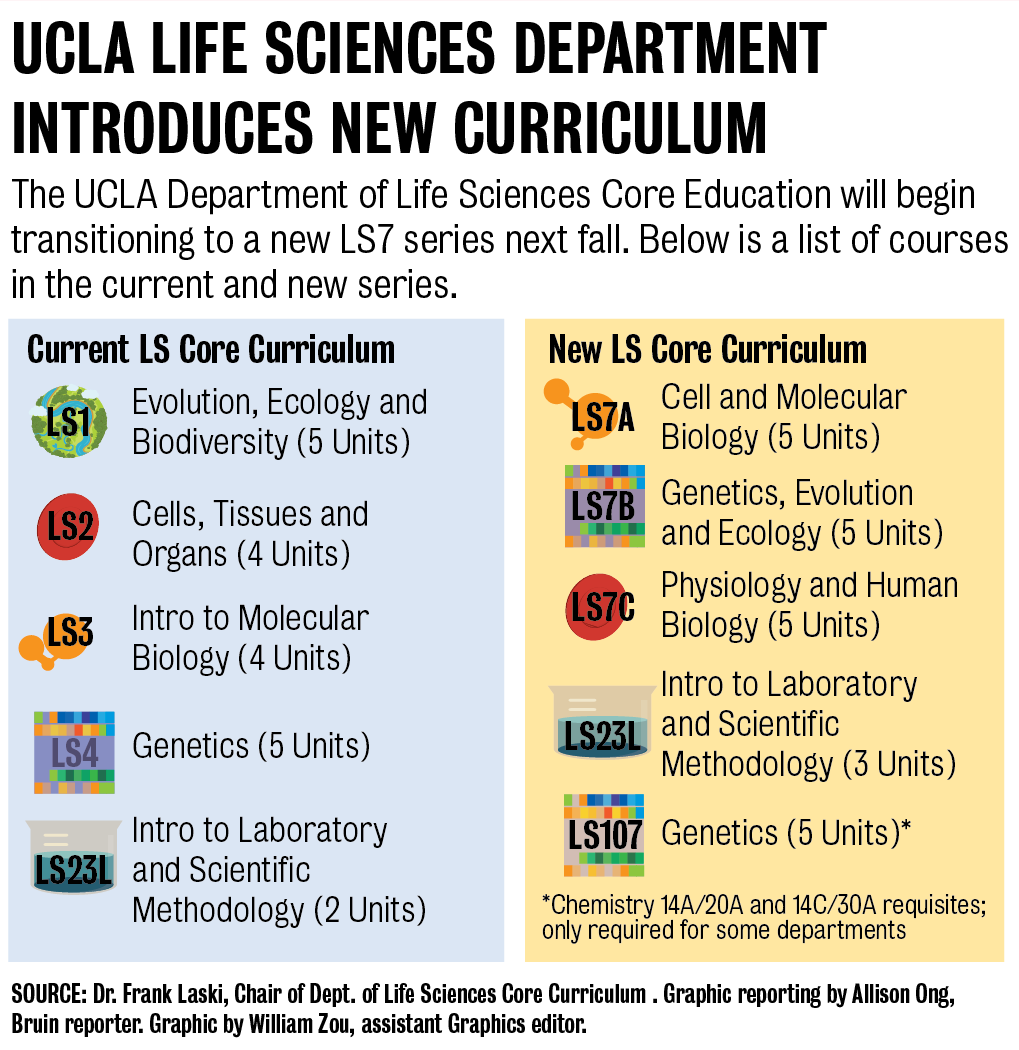 A new life sciences series will begin replacing the current Life Sciences Core Curriculum with video-based lectures in fall 2016. The new series will shorten the existing course sequence by one quarter.
The Department of Life Sciences Core Education designed the Life Sciences 7 series to increase student retention and reduce the time needed to earn a degree, said Frank Laski, chair of the LS Core Curriculum. LS7 courses will no longer require math or chemistry prerequisites, potentially enabling students to begin the series as freshmen and enter their major earlier.
A survey of more than 1,000 biological sciences students at UCLA revealed that 59 percent enrolled in Life Sciences 4: "Genetics" in their third or fourth year, delaying entry into their major, Laski said.
"(Prerequisites) were a hurdle," he said. "We were losing students before they took our courses. (Now), for students who want to start with LS courses, it will be available to them."
The LS Core Curriculum is required for all life science majors, such as psychobiology and physiological science. The current series is comprised of five classes that cover topics from the macroscopic field of ecology to the microscopic field of molecular genetics.
The new series will be split into Life Sciences 7A: "Cell and Molecular Biology"; Life Sciences 7B: "Genetics, Evolution and Ecology"; Life Sciences 7C: "Physiology and Human Biology"; and Life Sciences 23, Laski said. An upper-division Life Sciences 107: "Genetics" course will eventually replace LS4, but may not be mandatory for all departments. The courses must be taken in order.
The series will also align more closely with community college courses so transfer students can gain credit for LS material before coming to UCLA, Laski said. About 57 percent of incoming life science transfer students who entered UCLA from 2011 to 2013 needed to take Life Sciences 3: "Introduction to Molecular Biology", since their community college credit failed to cover UCLA's courses. 72 percent of these transfer students had to take LS4. Taking these courses as upperclassmen put transfers at a disadvantage, he said.
The LS7 series will also test the efficacy of the flipped classroom format, which replaces traditional in-class lectures with videos watched at home, Laski said. Laski and microbiology, immunology and molecular genetics assistant professor Elissa Hallem introduced the method two years ago in a class of 24 LS4 students. Students use class time to begin homework with the help of their teachers and peers.
The department based the flipped classroom revision on a study, which found active-learning structures are beneficial and decrease the gaps in academic achievement between students from advantaged and disadvantaged backgrounds. The series will emphasize depth over breadth to focus on critical thinking and data interpretation, Laski added.
Lauren Dinh, a rising third-year neuroscience student, enrolled in LS4 with a flipped classroom format last year. She would watch pre-recorded video lectures in her dorm room one or two nights before class. When students gathered in the lecture hall, professors reviewed concepts or answered questions, she said.
"I liked the flipped classroom method better because it obliged me to stay on top of each lecture and prevented me from procrastinating," she said.
The program received $1 million from the National Science Foundation to develop online course material and web-based tools for tracking student learning, Laski said. The University of California Office of the President also granted $110,000 to the department for creating flipped classroom videos.
Nadia Sellami, a discipline-based education research fellow, has taught LS3 with a flipped classroom format for three quarters. She said she thinks students are initially confused when they are held accountable for weekly assignments and videos.
"In traditional lectures you can potentially do nothing (all quarter) and cram for the exam – that's it," Sellami said. "But that's a really bad study habit. (Flipped classrooms are) preventing that."
In fall 2016, faculty will test the curricula and online material on 50 freshmen in LS7A, Laski said. Those students will finish the new series in spring 2017, but full LS7 courses with spots for 360 students will open in fall 2017.
According to the department's website, all students in the current LS series cannot switch to the new series. The department plans to offer its last batch of current LS courses in winter or spring 2018.
"Hopefully students will be able to graduate in time and be able to get excited about their majors right when they start (at UCLA)," Sellami said.
Contributing reports by Connie Zhou, Daily Bruin contributor.