Students from HBCUs conduct research through UCLA summer program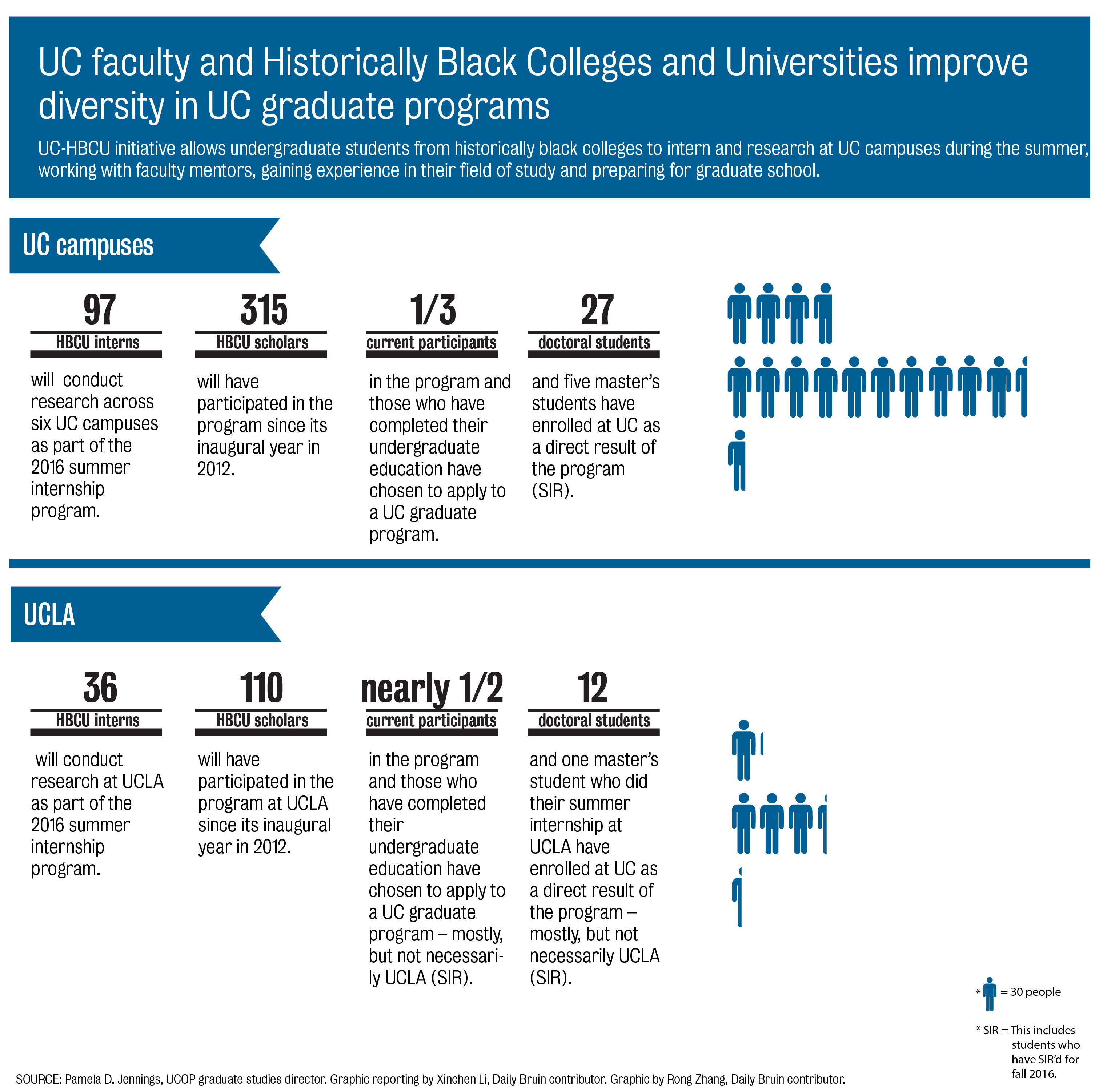 Students from historically black colleges and universities are gaining research experience through a University of California summer research program.
The UC Office of the President launched the UC-Historically Black Colleges and Universities, which funds research projects that are open to undergraduate and master's degree students from HBCUs, said Anne Dela Cruz, diversity, inclusion and admissions director of UCLA graduate division. The initiative aims to prepare students for graduate school, she added.
The initiative calls for research proposals from UC faculty members in any department, Dela Cruz said. Research projects of the initiative start from June and last for eight to ten weeks, she added.
Students in the program can participate in an internship with a one-year grant or a pathway project with a three-year grant, Dela Cruz said. An internship supports students through the year of their involvement in the initiative and a pathway project supports students' scientific study into their graduate study, she said.
Both options allow students to work with UCLA scholars on a summer research project, Cruz said. The program also covers transportation, housing and dining fees of participants, she added.
Tiara Moore, a rising second-year doctoral student at UCLA, said her biggest strength when applying for the graduate program at UCLA was her experience in a marine science project of the UC-HBCU initiative in 2013.
"(Interviewers) asked me if I had conducted any research and published any articles," Moore said. "I was glad to have done both since I was once part of the UC-HBCU initiative."
Students from HBCUs receive mentorship and guidance on in-depth research, said Henry Burton, an assistant engineering professor who leads a research project in the initiative.
"Some of the students from (HBCUs) said they had never met an engineer of color before entering graduate school," Burton said. "The UC-HBCU initiative exposes students to other students and scholars of color who are ambitious in professional scientific studies."
"Having an example by their side (encourages) students (to) pursue their own career path in science if they want to," Burton said.
Participants of the UC-HBCU initiative are exposed to first-hand research experiences, from collecting and analyzing data to writing their own papers, Dela Cruz said.
For example, students involved in a marine science project in 2013 learned to scuba dive and collected samples of marine flora such as coral reefs in Indonesia, said Paul Barber, professor of ecology and evolutionary biology. Students then returned to UCLA to analyze the samples in laboratories.
"Many students from the HBCUs never have such a devoted participation of a research project before they joined in this initiative," Barber said.
Moore said the first time she conducted her own research was in the marine science project. She said exploring different aspects of research before entering graduate school helped her build confidence in her own academic career.
"I had to design my own experiment, collect my own data and write professional research reports," Moore said. "I would not be exposed to such an integral research process before grad school without the (UC-HBCU) initiative."
Now as a peer mentor of the HBCU initiative, Moore said she hopes her experience can serve as an example for incoming participants to build confidence in themselves.
Students enrolled in the initiative can also bring fresh ideas to research projects, said William Hsu, an assistant professor in radiology who was involved in the initiative last year.
"Participants become more confident in (envisioning) their future academic and career pursuits beyond achieving their bachelor degrees," Hsu said. "Meanwhile, the faculty members and researchers also learn to reflect on things they used to take granted for and refresh their own ideas."
The program will accept applications for the 2017 HBCU program in October.