UCLA class of 2016 enters a weak but improving job market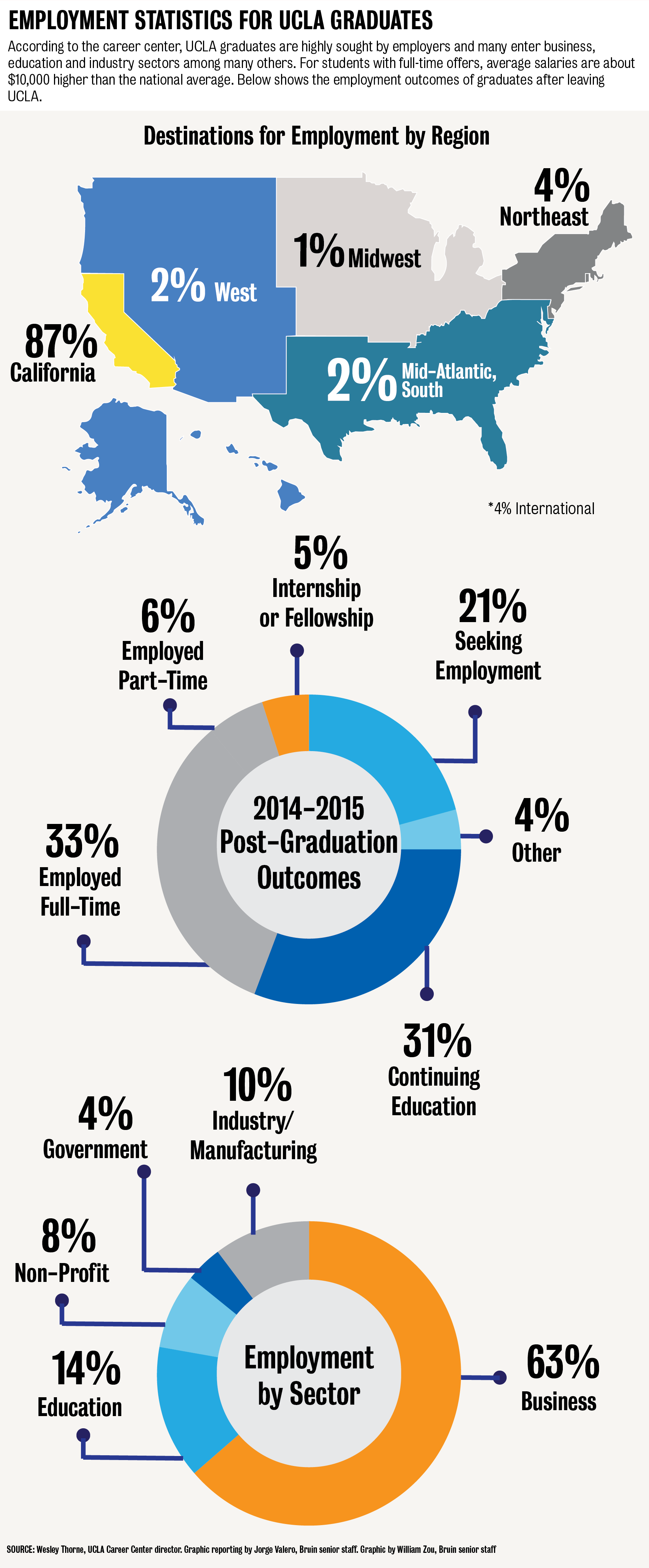 UCLA graduates will enter an improved job market in June but may still face challenges finding full-time employment after graduating.
According to the UCLA Career Center's 2015 First Destination survey, about 33 percent of UCLA graduates with bachelor's degrees had full-time job offers within six months. About 21 percent of graduates were still looking for full-time work six months after graduating and others were employed part time, held internships or went to graduate school.
The average salary for graduates with full-time offers was $60,558, which is about $10,000 higher than the national average, said career center director Wesley Thorne.
"These numbers are encouraging for the class of 2016 as well, and show that UCLA (graduates) are highly sought by employers," Thorne said.
Thorne added a recent College Grad survey found many industries, including accounting firms, financial services and the government sector, are hiring more students than in recent years.
The majority of people who did find full-time work after graduating began their job search more than six months prior, Thorne said.
Though graduates with four-year degrees have better employment prospects, many only find part-time jobs, said UCLA Institute for Research on Labor and Employment director Chris Tilly. In addition, the job market for college graduates is still worse than it was before the 2008 recession, Tilly said.
According to a recent study by the Economic Policy Institute, the current national unemployment rate for young college graduates between the ages of 21 and 24 is 5.6 percent, Tilly said. In September 2008, the unemployment rate for graduates was 5.7 percent.
Young college graduates continue to have lower wages and entry-level jobs as well, Tilly said.
"A lot of young people are struggling to survive on their own, and have trouble finding and affording a place to live and a car to get them around," Tilly said. "As a result, more young grads are living at home than ever before."
Thorne added students should try a variety of approaches when looking for work, including attending career fairs, using campus resources and networking with alumni who have been successful in the job market.
Most employers look for graduates who have specific skill sets, including communicating information confidently, working well in groups and demonstrating leadership skills, Thorne said.
Tilly said he thinks students should not get discouraged if their first job after college is not their dream job.
"Employers are generally skittish of hiring alumni who they suspect will be unsatisfied with the job," he said. "It's important to remember your first job likely won't be your last."