UCLA community on faculty reactions, confusion surrounding murder-suicide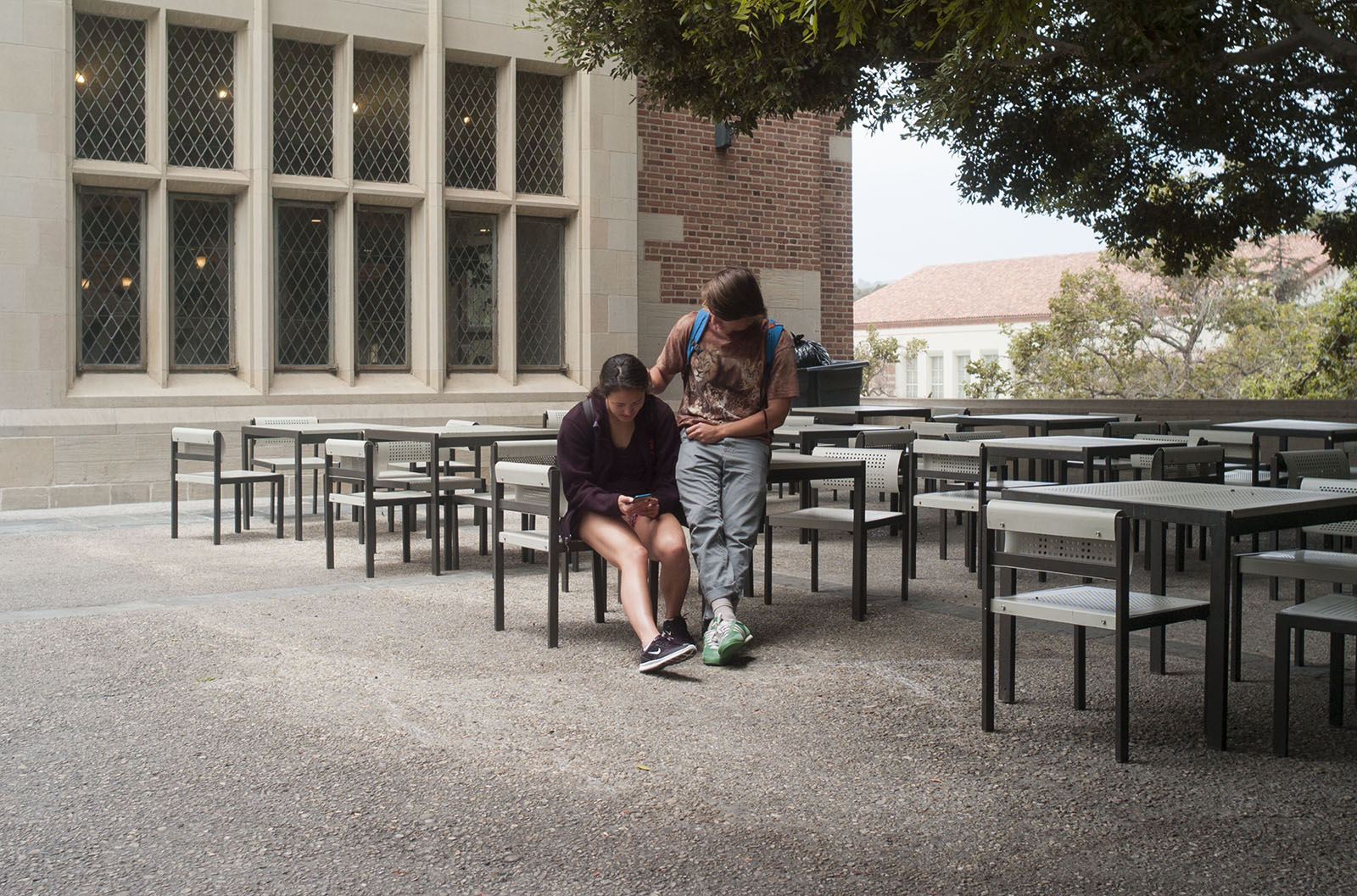 Students process the news of the shooting outside Kerckhoff Hall. (Ken Shin/Daily Bruin).
Thousands of students checked their phones Wednesday morning after receiving an alert about police activity on campus. The next notice was more dire.
"Shooting at Engineering 4. Go to secure location and deny entry (lockdown) now!" the BruinAlert said.
Tommaso Bulfone, a fourth-year human biology and society student, who was in class when the alert was sent, said students began closing the blinds and barricading the doors.
But in other locations, the response was characterized by a lack of urgency.
READ MORE: Full coverage of Wednesday's murder-suicide, campus reactions.
Salwa Zahid, a third-year molecular, cellular and developmental biology student, said students continued to study in Powell Library as the situation unfolded.
"I heard people in other buildings were bolting their doors shut," Zahid said. "(Here) no one was really screaming or moving around a lot."
Tracy Nguyen, a second-year psychobiology student, said she saw people calmly crossing the De Neve crosswalk toward campus even after she received a second alert ordering students to proceed to a lockdown.
Nguyen added she thinks it took an hour and a half after the first BruinAlert for staff to fully lock down the Hill.
In some morning classes, professors also allowed students to come in and out of classes despite the lockdown announcement.
Armin Takallou, a second-year human biology and society student, said students spoke up to say they did not feel comfortable with their professor continuing the lecture.
"The professor said he was going to keep lecturing until someone told him to stop," said Takallou. "It didn't sound like the professor was very concerned."
Takallou added he thinks it would have been helpful if professors followed a planned protocol during the lockdown.
Students on lockdown shared hearsay about multiple shooters throughout campus, scores of casualties and high-powered weapons across social media networks and by word of mouth.
Hannah Ross, a first-year undeclared student, woke up to her roommate watching news coverage of the shooting on her laptop.
Ross said she heard numerous rumors about shooters on the Hill, including gunmen near Sproul Hall. Officials later confirmed there was only one shooter in the Engineering IV building.
"It was way more scary than it needed to be," she said.
Ross remained in a friend's room during the lockdown watching live video of the campus response.
When officials sent out an official alert declaring the campus as safe, students streamed out of their shelters, phones glued to their ears as they assured friends and family of their safety.
Noel Battle, a fourth-year sociology student, spent two hours under lockdown in Community Programs Office in the Student Activities Center before she heard the order declaring the campus safe.
"Some people rushed out as fast as they could, but some were still quietly sitting on the ground when I left," Battle said. "They were hesitant and taking their time to leave."
Jacqueline Bravo, a fourth-year economics and Spanish student, said the campus response to the shooting left her confused and shaken.
"There were so many rumors flying around, but you're locked down and don't actually know what's happening," Bravo said. "You think that something like this could never happen here, but you're actually living it."
Contributing reports by Allison Ong, Janae Yip, Evolet Chiu, and Laurel Scott, Bruin staff.
Pauker was the managing editor from 2017-2018. She was previously an assistant news editor for the City beat and a reporter for the City beat.
Pauker was the managing editor from 2017-2018. She was previously an assistant news editor for the City beat and a reporter for the City beat.