Editorial: Campus murder-suicide reveals gaps in emergency preparedness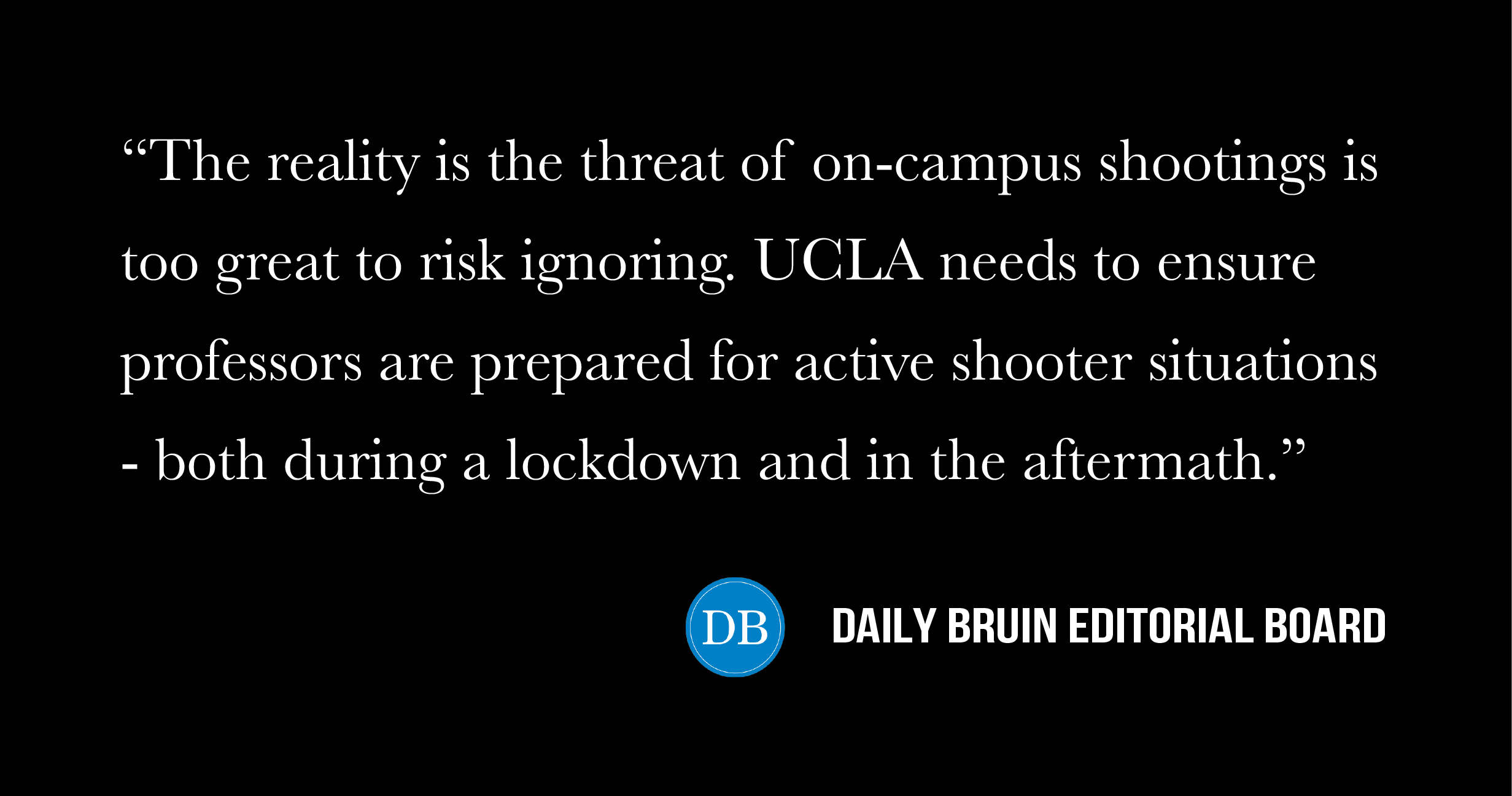 This post was updated June 2 at 12:50 a.m.
A murder-suicide in the Engineering IV building put UCLA in the national spotlight Wednesday. What followed was a score of hot takes about campus shootings and gun regulations from media outlets worldwide.
Despite the frenzy of rumors and misinformation spreading through social media and across the student body, the UCLA community itself remained relatively calm. The Office of Emergency Management correctly utilized BruinAlert to promptly disseminate accurate information and instruct students to safety.
The incident, while thankfully not as dire as rumors threatened, revealed other shortcomings in UCLA's preparedness during lockdowns.
The Office of Emergency Management most urgently needs to prepare faculty better. Several students reported that their professors and teaching assistants continued to lecture during the lockdown instead of devoting their full attention to securing the room.
The reality is that the threat of on-campus shootings is too great to risk ignoring. UCLA needs to ensure professors are prepared for active shooter situations – both during and after a lockdown. A manual detailing safety procedures during an active shooter situations is available, but this information isn't common knowledge. That's a problem. Administrators must implement policies that guide students and faculty in the face of crises.
Preparation can only go so far when some facilities are inadequately equipped to protect students and faculty. Several news outlets reported the ingenious ways some students and faculty barricaded doors they couldn't lock or those that opened outward. While the students' creativity is certainly commendable, it shouldn't be necessary.
Executive Vice Chancellor and Provost Scott Waugh addressed these concerns in a press conference early Wednesday evening, saying officials would investigate potential vulnerabilities in various facilities. This is a good first step moving forward, yet the office must ensure more effective measures are actually implemented.
Ultimately, improving immediate security measures is not enough. Counseling and Psychological Services was ready for students after the lockdown ended, extending its hours to accommodate potential increased need, but several professors and teaching assistants insisted on proceeding with planned instruction.
The university should ensure faculty members know how to accommodate students after an incident. Professors need to recognize not all students will be able to recuperate from the emotional stress this incident may have inflicted.
In an ideal world, we would not need to prepare for situations like Wednesday's incident. Or any other version of it. But the reality is that UCLA is just like any other place in the world, at risk and in need of preparation.