Campus lockdown disrupts final exams, class presentations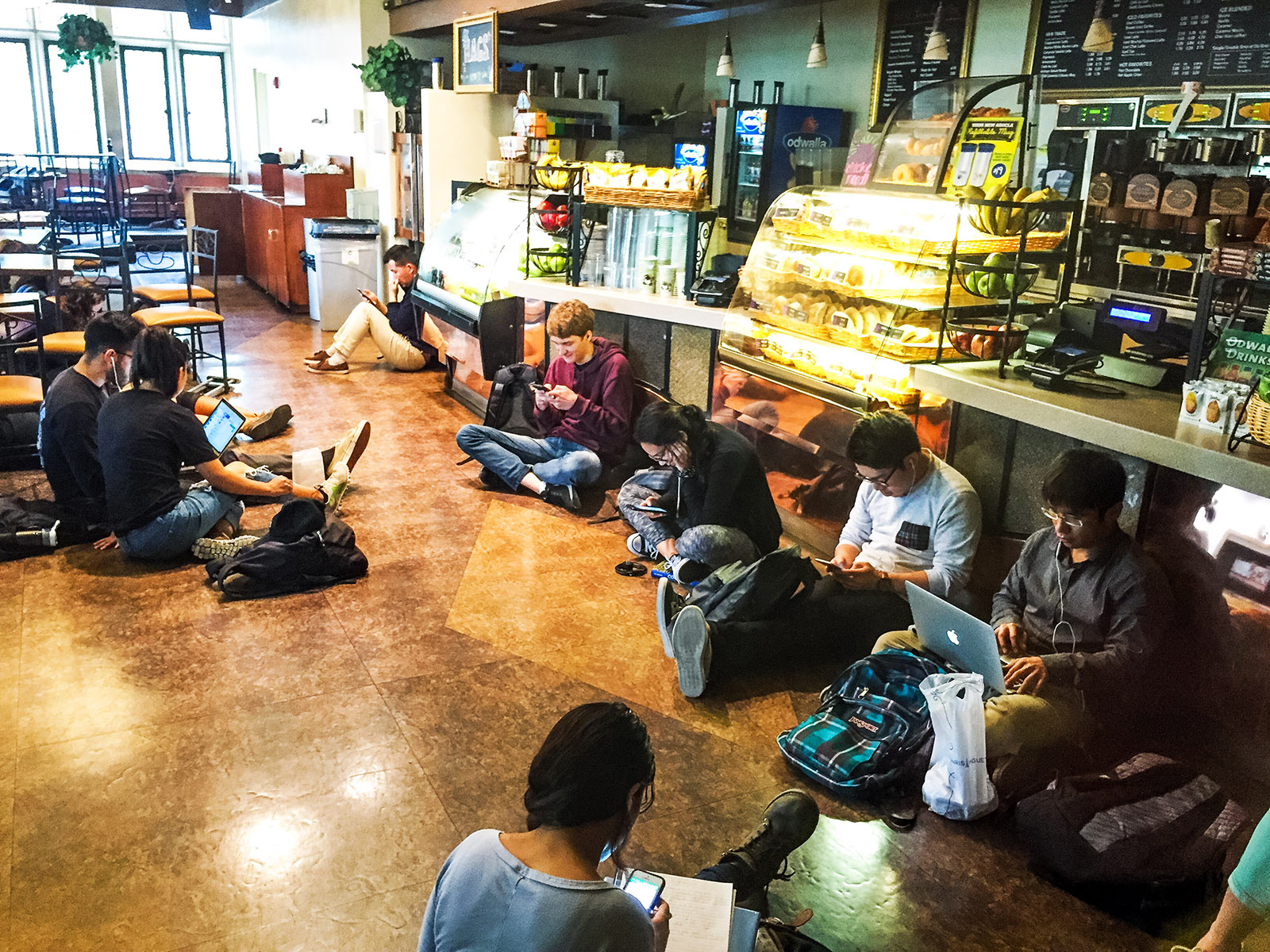 Students continue schoolwork in Kerckhoff Coffee House during the campus lockdown on Wednesday morning. Some professors maintained their finals schedules despite the emergency and opposition from students. (Angie Wang/Daily Bruin senior staff)
Correction: The original article incorrectly stated Shannon Wheeler's last name as Wilson.
A student stood up in class Wednesday morning to protest the professor who continued to lecture during the campus shooting.
"I don't think you're taking this seriously," the student said, according to a classmate. "People's lives are in danger and we're just sitting here in class."
The classmate, second-year physiological science student Erika Monasch, said her professor yelled at students for having their phones out during class, and told them not to believe what they were reading online.
Some students said the campus lockdown highlighted the need for better understanding of emergency procedures.
At 10 a.m., students received a BruinAlert that reported an active shooter on campus and advised them to stay inside. All classrooms, campus buildings and residence halls went into lockdown.
READ MORE: Full coverage of the Wednesday's murder-suicide, campus reactions
However, many professors continued teaching and holding finals.
Melissa Platero, a fourth-year political science student, said her friend texted her in disbelief that her professor asked students to leave their shelter for an exam.
In an email, statistics lecturer Vivian Lew said students still had to take their online final at either 11 a.m. or 1 p.m.
"So leave this area if you are in (it) and find a computer," Lew said in the email.
The email was sent 15 minutes into the lockdown, Platero said. A few hours later, Lew sent another email excusing students who were not able to take the final.
"We assume our number one priority should be our education, and that's relatively correct," Platero said. "But if your first thought after a school shooting is … 'How am I going to study for my final today?' that's (a problem)."
She added she thinks taking finals should not be a concern for students in a dangerous situation like a school shooting.
Statistics department chair Mark Handock wrote a statement defending Lew, who he said is one of the department's best professors.
In the statement, Handock said Lew sent the email before being aware of the specifics of the shooting. She later apologized to students for her email.
Lara Jhaveri, a third-year French and global studies student, said she was about to begin a presentation in her class in Dodd Hall when students started receiving BruinAlert messages about the active shooter. She added her professor told her and her partner to continue with the presentation, which made her feel unsafe.
"I had to continue a presentation while (an active shooter situation) was going on," Jhaveri said. "I was on the verge of tears."
Other students said they think their professors' lack of familiarity with safety protocol was upsetting.
Shannon Wheeler, a first-year political science and international development studies student, said she thinks her professor was unfamiliar with proper lockdown procedures.
"She thought it was acceptable to just close the blinds and continue teaching with lights and microphone," Wheeler said. "That could have alerted someone outside the door that there's a classroom full of students, and that's a big red flag."
Other teachers addressed the BruinAlert messages promptly and canceled their teaching plans for the day, said some students. Officials later canceled all classes.
Graciela Ignacio, a third-year biology student, said her art history professor, Bronwen Wilson, moved students to a safer place immediately after the BruinAlert messages.
The class, which was taking their final on the first floor of Dodd Hall, evacuated to the third floor and blocked the door with chairs, Ignacio said.
Wilson told students she was more concerned about their safety than the final.
"I was terrified … on top of being really stressed out after taking a final," Ignacio said. "But I was really happy with what (professor Wilson) did."
Jacco Dieleman, a professor of Near Eastern languages and cultures, said he was in his office when the shooting took place. He immediately emailed his students to tell them class was canceled.
"In a sense (canceling class) deprives them of a chance to learn, but in this situation it was out of the question," Dieleman said.
James Bondurant, student affairs officer and instructional manager for the political science department, said while there is currently no official policy in place for rescheduling finals, extreme situations should allow exceptions.
Janel Munguia, student affairs commissioner for the English department, said the English department also does not have a policy in place for missed exams.
She added it would be up to the individual professors within the department to determine plans for rescheduling finals.
Other department heads were not available for comment.
Contributing reports by Lydiette DeJesus, Andrea Henthorn and Laurel Scott, Daily Bruin staff.