UCLA women's golf shot down in tournament semifinal against Washington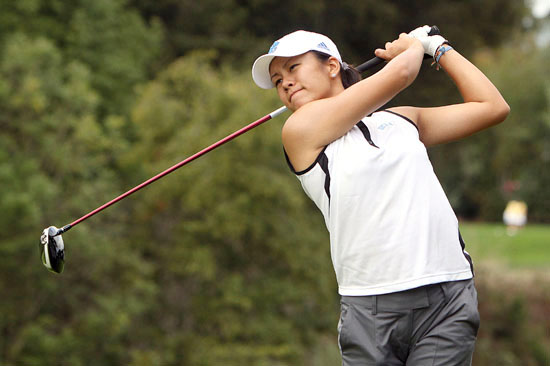 Top-ranked UCLA fell to No. 4 seed Washington on Tuesday afternoon 3-1-1. (UCLA Athletics)
At the close of play Monday, top-seeded UCLA women's golf looked to be in prime position to compete for the school's 114th championship.
Tuesday was not the Bruins' day however, as the Washington Huskies upset them 3-1-1 in the NCAA women's golf match-play semifinal.
UCLA advanced to the semifinals Tuesday morning after beating Oregon convincingly in the quarterfinals 4-0-1, and being the top-seeded team in the tournament throughout all of stroke play, the Bruins had all the confidence before going against Pac-12 rival Washington in match play.
Junior Bronte Law, who has been the Bruins' best golfer all year long and the No. 1 ranked player in women's collegiate golf, beat Washington Husky senior Charlotte Thomas by two strokes in what was UCLA's lone victory in the final matchup. It was the second straight time in which Law had not trailed throughout the course of her match.
Freshman Bethany Wu lost by one stroke to freshman Julianne Alvarez, who took the lead after five straight holes in which the matchup was tied. Alvarez held on to that lead, giving Washington its first victory of the match.
Junior Hadas Libman was beaten by freshman Wenyung Keh for Washington's second victory of the match. Libman trailed by only one stroke after the 15th hole, but Keh clinched the victory during the 17th hole.
Senior Louise Ridderström also lost by just one stroke on a playoff hole in her final match to freshman Sarah Rhee. Rhee came down from a three-point deficit in the final three rounds to force a playoff hole, where she beat Ridderström to advance Washington into the finals.
Freshman Lilia Vu tied with senior Ying Luo to round up the Bruins' scoring in the semifinal. Luo had claimed the 17th hole to tie up the matchup when play was stopped because of Washington winning its third matchup to advance.
The results were disappointing for the Bruins who seemed poised to play well after a composed performance throughout the weekend. Wu, Law and Ridderström had all finished in the top 11 of competition stroke play, where UCLA had taken the stroke play title to be the top seed before they lost to Washington.
The Huskies will face second-seeded Stanford for the title on Wednesday, who advanced after beating No. 6 Duke 3-2-0.
Full schedule of events available here.