Gov. Brown submits proposal to increase UC Scout budget by $4M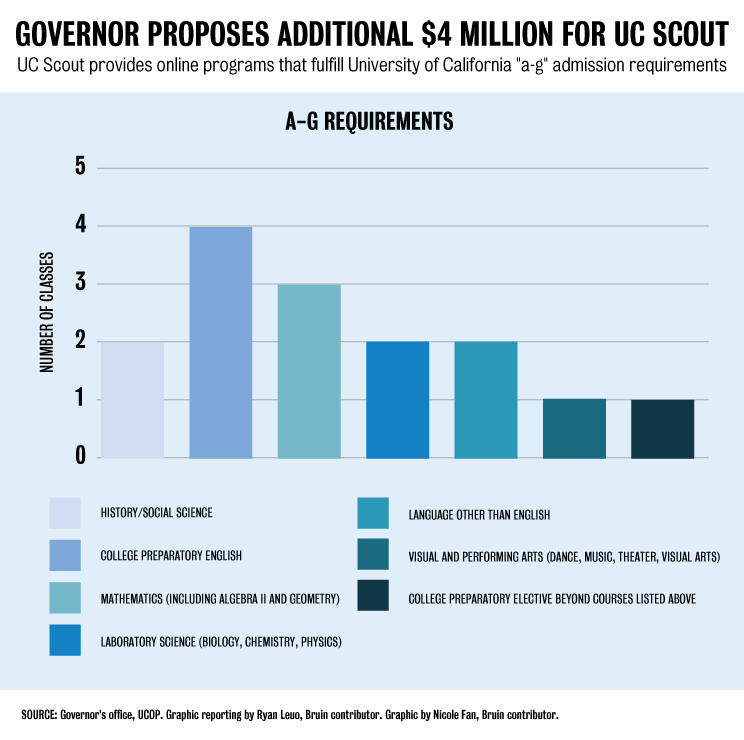 Gov. Jerry Brown proposed $4 million to expand a program that allows high school students to take UC-required courses and Advanced Placement courses online.
The funding, proposed in Brown's May budget revision, would update and add new courses to UC Scout, a program that offers A-G and AP courses, according to the budget revision. A-G courses are high school classes required for admission to the UC system.
UC Scout's online materials can be used to supplement A-G or AP courses in schools. Students can pay to take a class on their own and receive course credit. Schools can also purchase an online course and offer it, if the class is not currently an option for its students.
Lynda Rogers, executive director of UC Scout, said the funding would be used to create additional online courses and update older courses. She said the current program covers most major A-G requirements, but some of the original courses need to be updated to comply with new Common Core standards.
The Common Core State Standards Initiative is a federal education program established in 2009 that aims to establish consistent educational standards across the country and help students prepare to attend college or enter the workforce.
To qualify for the funding, the UC will be required to consult with schools to determine what courses should be developed. The UC will be required to report which new courses are selected for development by Jan. 1, 2017 and develop the courses by Jan. 1, 2018.
UC Scout launched in September 2014, and built upon efforts of UC Santa Cruz in 1999 to offer college preparatory classes online. Rogers said about 40 public high schools in California fail to offer the courses necessary for admission to UC schools.
Courses are taught through online instructional videos. New courses will be comprised of dozens of learning modules divided by topic, so individual modules can be updated as curriculum changes.
Rogers said the program aims to provide high-quality AP and college preparatory courses to student. She added a lot of inner-city schools, rural school districts and schools that have limited resources adopted the program.
UC Scout tries to give options and alternatives to ensure no student is left out of the AP program, Rogers said. She added even resources at well-financed schools are limited, so officials from the program work to keep it free.
UC Scout focuses on serving California's public schools, but has also enrolled a few students from out-of-state or private schools, Rogers said.
State funding covers all operation costs – the program receives about $2.2 million annually, but the budget must be reapproved each year, Rogers said. She added the program enrolled about 7,000 students during the 2015-2016 academic year.
UC spokesperson Claire Doan said the University did not request additional funding for Scout. She added she thinks Brown's office included the funding on its own and identified UC Scout as a program Brown wanted to expand.
The Legislative Analyst's Office recommended rejecting the proposal in a report, citing a lack of information justifying the expansion of the program. The report added the proposal did not include enough information about how Brown determined a $4 million amount was appropriate, or how UC Scout would inform schools about the availability of the newly added courses.
Rogers said UC officials inform schools about the program through visits to school districts.
Representatives from Brown's finance department did not respond to requests for comment about why he proposed to increase the program's funding.
The California Legislature will vote whether to approve the state budget proposal by June 15, and Brown will sign it by June 30.