UCLA doctoral students win $100,000 grant to research data recovery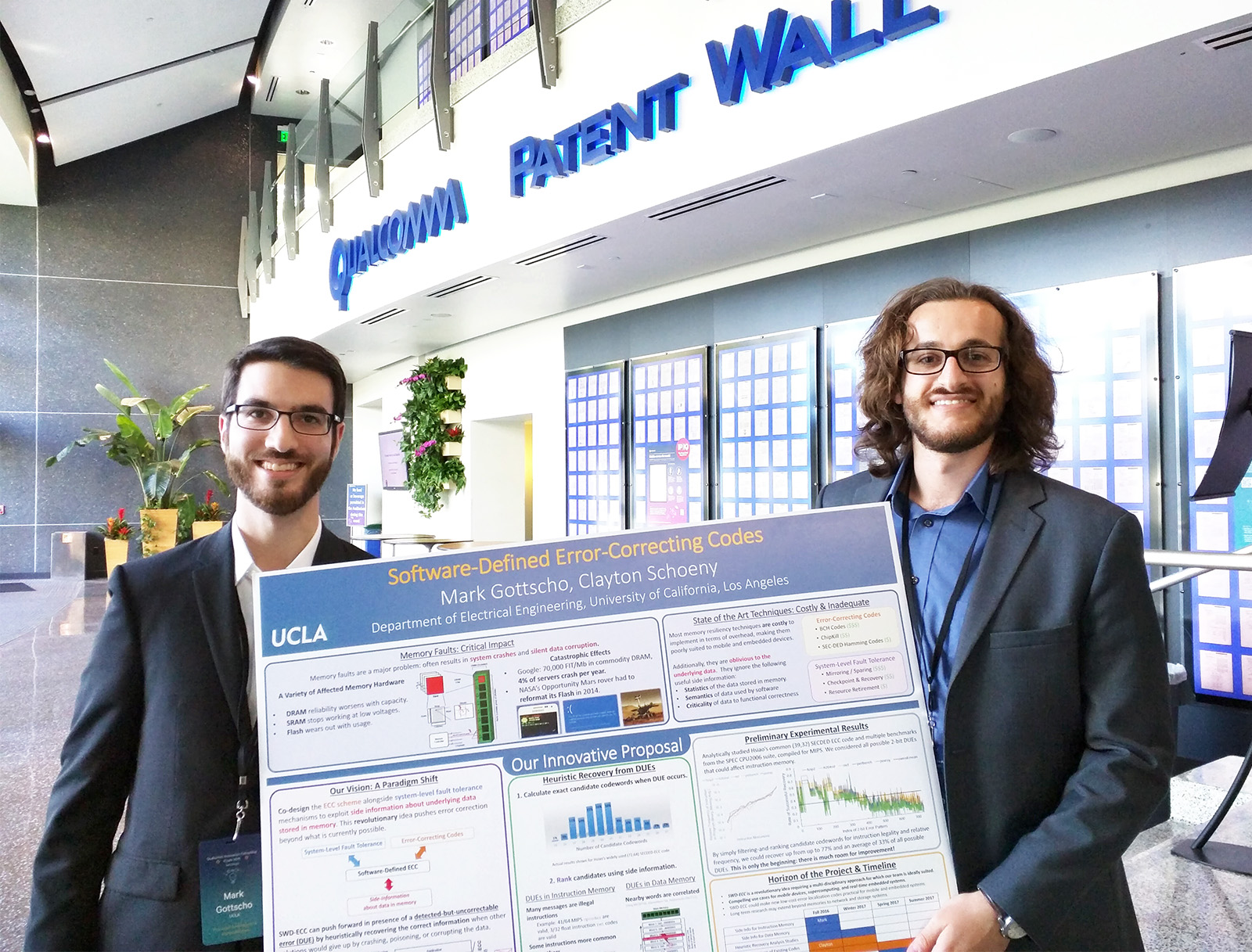 Electrical engineering doctoral students Clayton Schoeny and Mark Gottscho won $100,000 to develop a way to recover data from memory errors. (Courtesy of Clayton Schoeny)
Two electrical engineering doctoral students received a $100,000 fellowship to develop a way to increase the efficiency of data recovery from memory errors that are deemed uncorrectable.
The Qualcomm Innovation Fellowship invests in creative projects proposed by doctoral candidates in technical research fields, according to its website. This year, the company chose two UCLA graduate students in electrical engineering, Clayton Schoeny and Mark Gottscho, as one of eight teams across the nation to receive the fellowship, which includes mentorship by Qualcomm engineers.
Qualcomm is a mobile technology company that engineers breakthroughs in telecommunications. According to its website, it prides itself on the cultivation of innovative projects.
The $100,000 will fund Gottscho and Schoeny's tuition and travel fees, stipends and equipment necessary to support their research once the electrical engineering department receives the money. They said they hope they can increase correction of errors to 66 percent by the end of the year.
The duo's research proposal, titled "Software-Defined Error-Correcting Codes," presents a new way to recover memory errors by using novel error-correcting codes, said Gottscho.
Error rates in computers are increasing because current technology uses smaller wires and transistors to increase power efficiency, Gottscho said. Because smaller transistors and chips wear out more quickly and cause errors, these electronics are more susceptible to failures, he added.

"When there is too much error, the system will either crash or roll back to a checkpoint," Schoeny said. "We are trying to use novel ideas to correct (these errors) – we can't guarantee (the prediction) is correct but (it's) a good guess."
Schoeny and Gottscho said they created a code that can predict information stored in computers that was lost. The code uses basic knowledge of the data context that exists in every computing system.
Gottscho added he thinks their idea is promising because memory and error correction codes are ubiquitous and have large applications in electronics, hardware and even autonomous cars in the future.
"Frequent errors waste time and energy," Gottscho said. "There are a lot of correlations – certain patterns of bits, or smallest units of data, will be more common than others, and we can use something else in the system to tell us what was stored in the memory."
Schoeny and Gottscho said they plan to create a full working prototype by the end of the next academic year. By performing simulations, the students will artificially induce errors and observe how the systems behave.
Puneet Gupta, Gottscho's research adviser and an electrical engineering associate professor, said Gupta first developed this during a meeting with Schoeny's adviser last year.
Lara Dolecek, Schoeny's adviser and an associate professor of electrical engineering, said she also thinks increasing the reliability of computer memory is a necessary step.
"(The idea is) a unique and creative approach combining math and hardware that I believe will have far-reaching implications in technology," Dolecek said.
Gupta added he thinks though the students' research have almost no overlap in terms of skills, the project is valuable to both fields. Schoeny studies information theory, or coding of information, in relation to communication systems and data storage, and Gottscho researches computer architecture and system design.
Gupta said he believes the project will gain attention from companies like Microsoft and Intel if within the year, the custom-built processor and operating system can efficiently recover data from errors.
The pair will have weekly meetings with their advisers throughout the upcoming year to collaborate and create a working prototype.