Campus clubs work together to promote student voter registration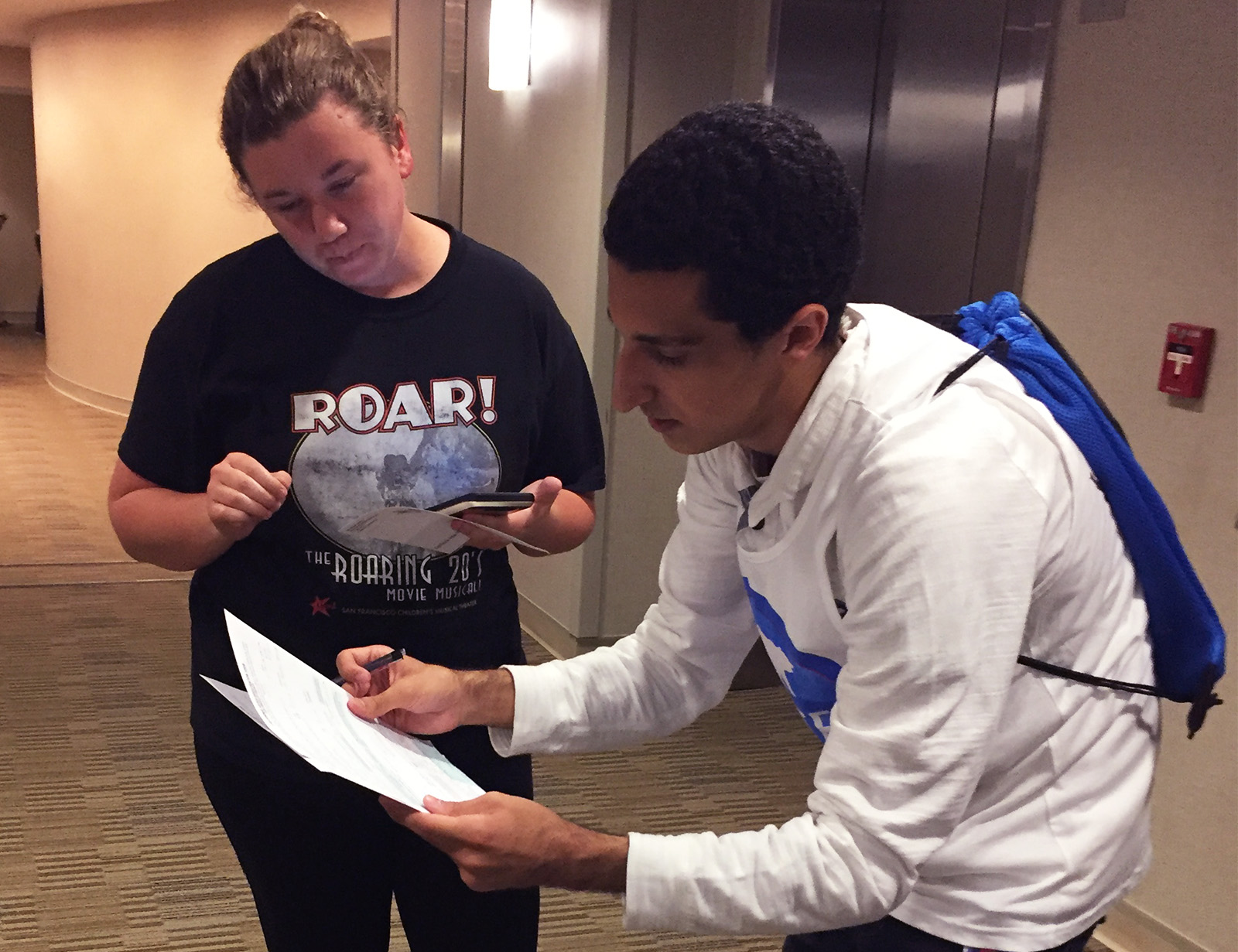 Students volunteered to knock on doors in residence halls to help other students register to vote for the primary presidential election on Tuesday. (Courtesy of Melissa Miller)
Student groups and University of California campus officials are working together to register students to vote for the California primary election before the Monday deadline.
Yara Hejazi, registration director of Vote for our Future, or V4F, and third-year political science student said he thinks student groups aim to address low voter turnout for young people.
Turnout for voters under 30 reached a 40-year low of about 20 percent in the 2014 midterm election, while less than half said they were registered to vote, according to U.S. census data.
Students from V4F, California Public Interest Research Group and BruinsVote! knocked on doors in several UCLA residential halls, trying to register students for the upcoming primary election.
V4F is a nonpartisan student organization dedicated to registering students to vote and providing information about candidates and ballot measures.
Hejazi said the Office of Residential Life agreed to partner with them for the first time because state and federal legislation mandates that the UC encourages students to vote.
He added ORL limited door knocking to two hours a night and required resident assistants to accompany volunteers as they canvassed. ORL also provided lanyards and clipboards to student volunteers.
Student groups that support political candidates also helped register students to vote.
Gabby Martinez, Bruins for Bernie president and third-year political science student, said 20 Bruins for Bernie volunteers have registered students on Bruin Walk every weekday since April.
"We have received a lot of enthusiasm this year (because of) the controversial nature of this year's presidential election," Martinez said.
Martinez said she thinks some students don't register because they don't think their vote matters.
"One way to solve (the lack of enthusiasm for voting) is to demonstrate how registration is a means to putting people you want in office," Martinez said.
Martinez added that her group tabled at one of the BruinsVote! events in Bruin Plaza. BruinsVote! is a nonpartisan campaign sponsored by the Community Service Commission to increase student voter registration and promote campus civic engagement.
Taylor Henry, CSC external programs director, said V4F and volunteers from other organizations registered more than 135 students after the first two days of canvassing on the Hill.
Community Service Commissioner Zack Dameron said BruinsVote! efforts align with CSC's goal to encourage students to be politically involved.
Hejazi said he worked with University Registrar Frank Wada to upload a banner, which reminds students to register, on the MyUCLA home page. About 2,000 people registered through the banner during winter and spring quarters.
Kevin Sabo, UC Student Association president, said UCSA registered 52,000 students in 2012 and aims to register 65,000 students this year. He added UCSA has registered about 5,000 students so far.
UCSA is an organization that advocates for UC students on various student issues.
Sabo added UCSA launched a campaign called UCweVOTE, which includes a competition that encourages UC campuses to register the most students.
He added that he thinks voting is the best way to influence lawmakers because elected officials impact decisions in student funding.
Hejazi said he thinks every election is important, but because there is so much media attention around this year's election, more students may be motivated to register to vote.
"We want to capitalize on that attention, which makes it easier to register people," he said.
The deadline to register to vote in the California presidential primary is Monday. The primary will be held Tuesday, June 7.